Stingray City is the jewel in Grand Cayman's tourism crown. It is an experience like no other, a chance to encounter firsthand the beauty and majesty of one of the ocean's most unique creatures.
Dozens of friendly stingray glide through Cayman's crystal-clear waters. They congregate on shallow sandbars, the same spot they have inhabited for decades, greeting visitors with their quirky smiles and desire for a pat and some squid.
One of the few places in the world these creatures school naturally.
These magnificent animals are found throughout the world, but nowhere else can you get up close and personal with them in the wild.
Pat their silky surface, feed them handfuls of squid, and of course, take a selfie with the magnificent Atlantic stingray. Enjoy them in their natural surroundings but please do not pick them up.
What is Stingray City?
Cayman legend has it that Stingray City was born when fishermen used to gut and clean their catch on the shallow sandbar at the end of each day. Slowly, the stingrays living in the surrounding waters became aware of the complimentary meal and began spending their time at the sandbar.
The creatures became accustomed to interacting with humans and, over time, divers and snorkelers began to realise that the stingrays could be fed by hand.
Now, dozens of stingrays call the two sandbars (one deep enough to dive at, one shallow enough to stand on) home. They spend their days jostling for food and for the affection of visitors.
Stingray City in Style
If you want to ensure this once-in-a-lifetime opportunity is truly an exceptional experience, it is worth choosing luxe, not less.
In Grand Cayman, life begins on the water, and if you're going to spend your day on the blue, do it right. Leave the less expensive tours and crowds behind; this is going to be worth your while.
While you are out on the water, take your time to bask in Grand Cayman's breathtaking coastline. It is almost cliched in its beauty; palm trees sway on pristine, sugar-white beaches with sparkling water in countless shades of blue.
This is the view that puts Cayman on the map, that draws hundreds of thousands of tourists each year. It is a view to be relished, not rushed.
There is beauty here unlike any other place on earth.
The ideal way to enjoy everything Grand Cayman has to offer is slowly, on a private charter with a glass of champagne in hand, and nothing but time ahead.
Your first stop is Stingray City, where the friendly locals will rush to greet your charter. Spend some time getting to know them; feed them, pat them, and enjoy every moment with these majestic creatures.
After Stingray City, take the opportunity to explore the island's surrounds. Stop at Kaibo for a cocktail or two, explore the serenity of Starfish Point, or snorkel in the calm waters off Rum Point.
There are few things as luxurious as pulling your private vessel to the shore and stepping from the boat to the dock. And ending that day with a tropical sunset as your backdrop, with cocktail in hand and surrounded by lapping waves, is a memory that will last for years to come.
Your day, your way
Sail Cayman offer private charters that will allow you to turn a day on the water into a high-end adventure.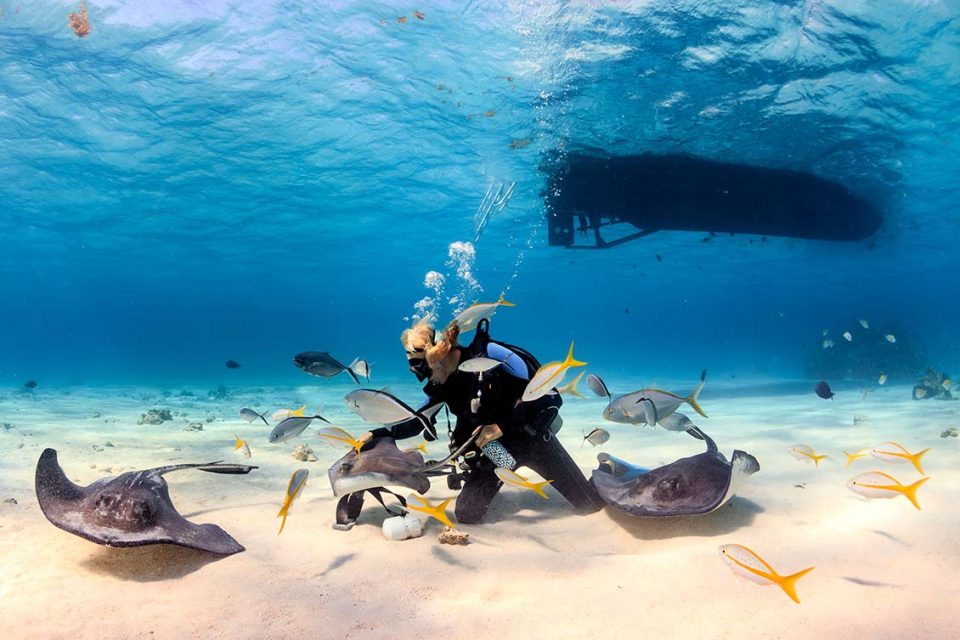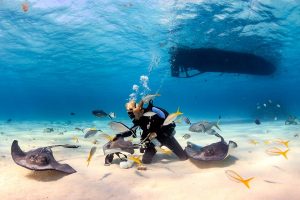 Each company comes with an experienced guide and crew that can share their extensive knowledge of Stingray City as well as the highlights of Grand Cayman.
They can accommodate the trip to suit your style and your pace, whether that's an action-packed day of watersports or a chance to relax on board as you explore the sights of the island.
Stingray City is a must-see in Grand Cayman. But experiencing this unique site, with the freedom to explore and the privacy of a charter, is a memory you will never forget.