Christmas in the Cayman Islands
The Cayman Islands are known for their beautiful beaches and fantastic weather, but most people don't realise they also offer a tropical island escape to enjoy a magical Caribbean Christmas.
Instead of snowflakes, the Cayman Islands offers the perfect setting for a tropical Christmas, that feels like a dream. The palm trees sway and twinkle with fairy lights, the snow-white sand of Seven Mile Beach is warm and soft, and Santa's getting a suntan by the sparkling Caribbean sea. Traditional carols with a reggae twist fill the air creating a lively festive atmosphere.
Christmas in Cayman. It's a tradition unlike any other
If you're visiting our islands and looking to get into the holiday spirit, you've come to the right place. These tropical islands have plenty of events that will allow you to soak up some holiday magic. This beautiful Caribbean setting offers everything one might expect from a colder climate, from Santa's visit to gingerbread houses and a parade (of boats) to stores filled with tempting food and drink.
Celebrating with friends and family
Celebrating Christmas in Cayman does not mean you have to forgo a traditional lunch or dinner. There are countless spots around the island where you can bring together family and friends for a celebration. Whether that means a relaxed brunch, a long festive lunch, or a formal dinner at an upscale restaurant, you will find a place that caters to your needs.
Whether you're a traditionalist or like to mix it up every year, there's something for everyone on Cayman's holiday menus, whether you prefer turkey with all the trimmings or seafood specialties like lobster, shrimp, or conch.
Grand Cayman is home to restaurants that offer all kinds of festive cuisine, whether you're in the mood to dine with family or make new friends at a buffet brunch.
Most restaurants offer special Christmas menus for both Christmas Day and Boxing Day. You could try a luxurious family brunch or a seaside dinner at one of our beach cabanas at the Ritz-Carlton, Grand Cayman; a Christmas Eve feast at Kimpton Seafire Resort or the legendary Christmas Brunch at the Grand Old House on South Sound.
We recommend making a reservation as soon as possible, as many restaurants fill up quickly.
All the lights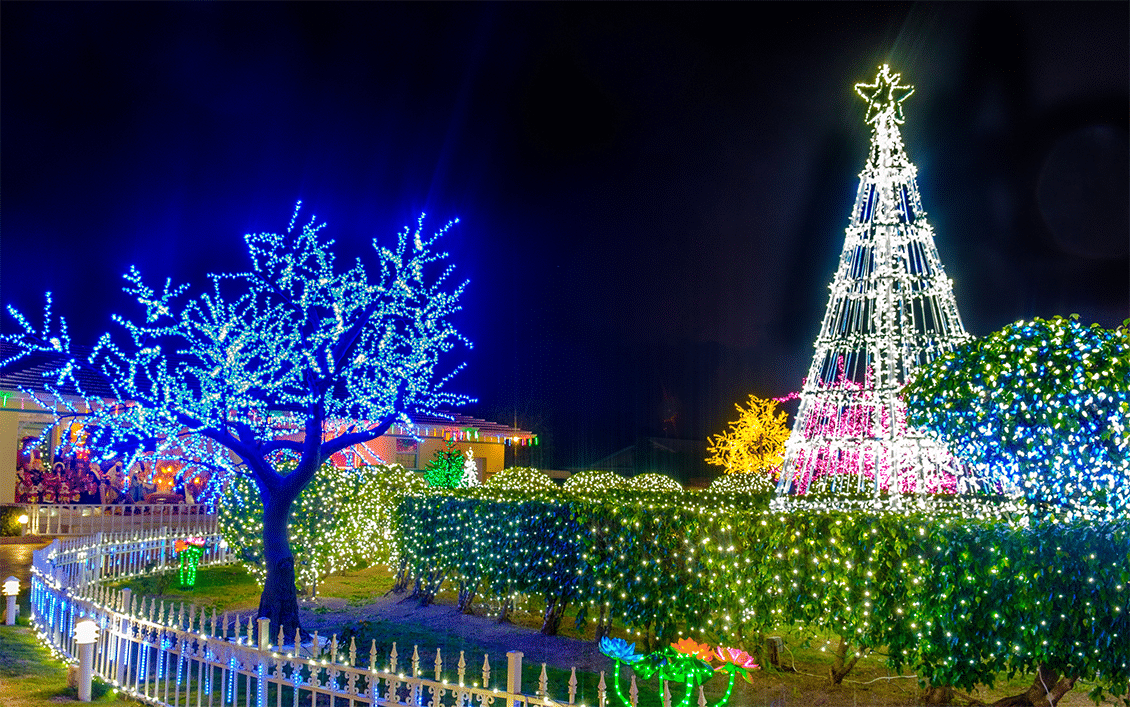 At this time of year, Cayman's neighbourhoods light up with Christmas cheer as residents decorate their homes with festive twinkling lights and sometimes complete nativity scenes in honour of the holidays.
Even the island's roundabouts are beautifully decorated – strung with lights through palm trees and offering a unique twist on the traditional display.
It gets dark quite early in Cayman ¬– the sun sets about 6pm ¬– so you will have plenty of time to watch these spectacular light displays and Christmas scenes that truly capture the spirit of the holidays!
A unique Christmas tree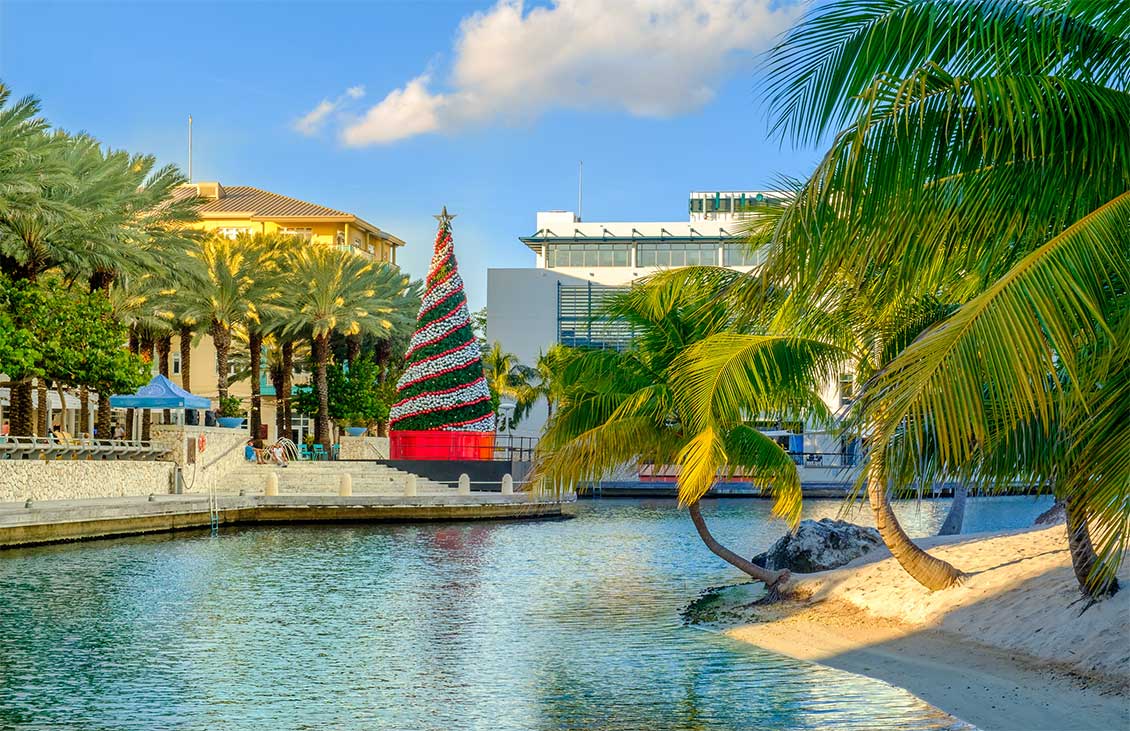 If you're looking for a holiday tradition to start with your family, look no further than the Christmas tree at Camana Bay. It's a sight to behold and draws in families from all over the island. The towering 40-foot tree is a dazzling display of lights with beautiful and captivating decorations. It makes a gorgeous backdrop for your Christmas family photos and is particularly beloved by kids.
New Year's Eve
Celebrate the end of one year and the start of another in style. New Year's Eve is a magical night in Cayman, and it offers the perfect opportunity to celebrate with friends and family or even just by yourself if you want to take a moment to reflect on this year.
Those looking to ring in the new year have a wide range of party options available in Cayman. From beach parties to black-tie events to live music and gourmet dinners. Or, for something more low-key, watch the magnificent fireworks display at midnight by getting together with friends at Seven Mile Beach!
In Cayman, we welcome Christmas into our hearts and homes—and if Santa is listening, we promise we've been good this year!