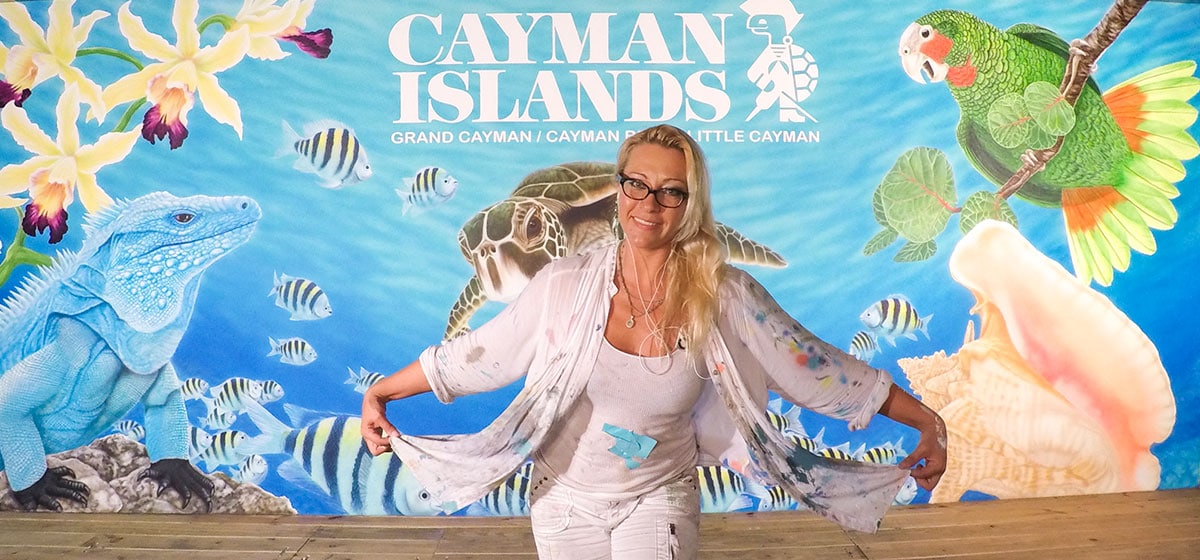 Art has always been an integral part of the Cayman Islands' identity, but now it has come out of the galleries and into the streets. It has exploded in a kaleidoscope of colour and culture.
The Cayman Islands, and Grand Cayman in particular, has become known as a home of modern, innovative art; art that captures the soul, the history, and the joy of the island.
Street art has become a renowned art form in Grand Cayman over the past few years, coinciding with its growing international acclaim.
Throughout the island, walls that were once blank and, often, pockmarked by the passage of time and storms have come alive in righteous colour.
Places beloved by locals and tourists alike have been given a new identity by artists from Cayman and across the globe.
The history of Street Art
Art or vandalism? Street Art's controversial history has often centered on this touchstone debate.
Long associated with gangs and crime, graffiti tipped into the realm of art during the 1970s and 1980s as artists including Jean-Michel Basquiat, Keith Haring, Fab Five Freddy and Blek le Rat revolutionised guerrilla tagging of the urban environment with their distinctive visions.
It is an artform that is both romantic and subversive; it has been, at times, gritty, confrontational, a tool of activism, and utterly whimsical.
Since World War II, when an American soldier's tag "Kilroy was here" inadvertently became an anti-war emblem, Street Artists have often employed their unique public platform for progressive social campaigns. Keith Haring, who lost his life to AIDs at the age of 31 in 1990, promoted anti-drug messaging with his 1986 Harlem mural Crack Is Wack and was a leading voice in AIDS and safe-sex awareness. More recently in Shepard Fary's 2008 poster Hope became the de-facto face of the Obama presidential campaign.
Changing cultural identity
Over the decades, the reach of Street Art seems only to have grown with entire neighbourhoods — Bushwick in Brooklyn, Shoreditch in London, Belleville in Paris — camouflaged by it.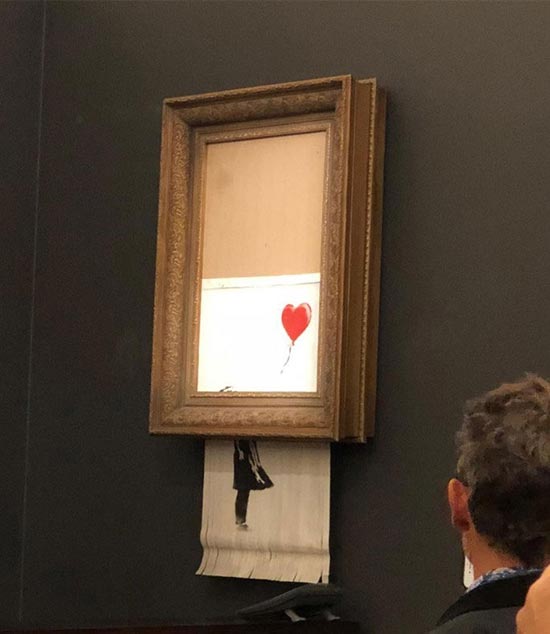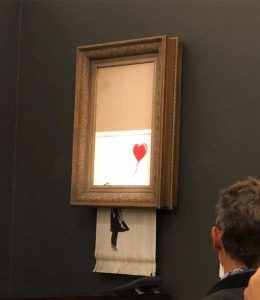 As public attitudes, and even the laws, toward Street Art have become more accepting younger generations of street artists including Barry McGee, Brazilian twins Os Gêmeos and Swoon have garnered institutional acclaim with museum exhibitions devoted to their work.
In the modern era, Banksy has become a household name. From his original London and Bristol base, the anonymous British-born street artist has exported his brand of satirical, rebellious, innovative works to the world. He has staged guerrilla raids in New York, Paris, Jerusalem, Los Angeles, Toronto, Venice, San Francisco, turning blank walls into priceless artworks. It culminated in October 2018, when a framed version of Banksy's Girl with Red Balloon self-destructed during a Sotheby's contemporary art auction, mere seconds after it had been sold for $1.4 million.
A thriving local art scene
Jason Kennedy, a Canadian artist who has called Cayman home for a number of years, captured the island's imagination in 2014 with his effervescent mural of a blue iguana playing the bongos, at Cayman Cabana. The piece captivated crowds who watched Jason bring the work to life over a day, the first time he had created a painting on this scale.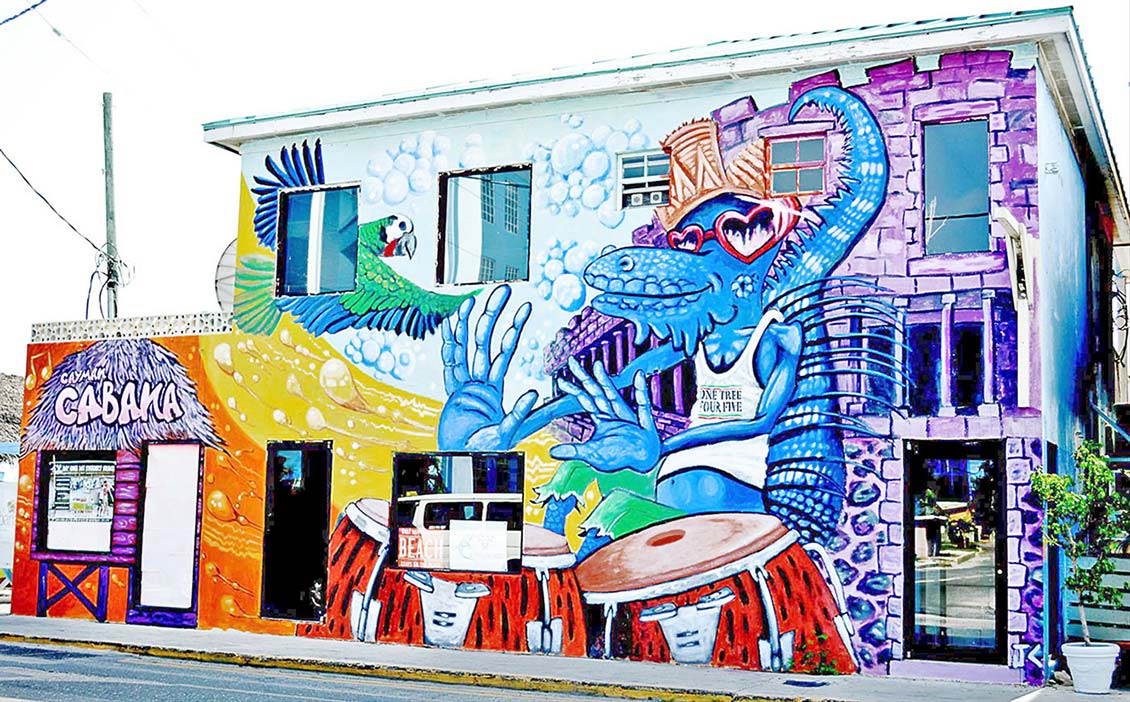 It grew from there. In the past two years, murals have emerged at some of the island's most frequented places; including Esterley Tibbetts Highway, West Bay Road, Mail Boxes Etc, Camana Bay, Singh's Roti Shop, The Cotton Club, Cayman Turtle Centre, and along the George Town Waterfront. Everyone you look is an explosion of colour and culture.
Tansy Maki is a Fine Art muralist, known for her realistic, detailed subjects that focus on Cayman's native flora and fauna. She is also a sculptor, working on many installations island-wide.
While 'street art' or 'graffiti' is often painted with spray cans and stencils, Tansy uses detailed airbrush work and brush painting to define her subjects. As a member of Cayman's community since 2000, Tansy's passion for the Cayman Islands can be seen through her public artwork. "My murals focus on the beauty of Cayman's sea life and animals, I feel it is important to promote and support the importance of Cayman's precious ecosystems as well as its history and heritage," Tansy said.
The mural showcased downtown George Town at the Royal Watler Terminal (shown at top) features the national Cayman flower, Banana Orchid, the Blue Iguana, the Cayman Parrot and Green Sea Turtle.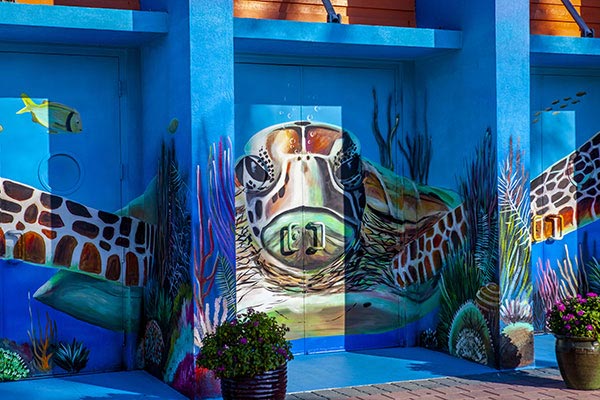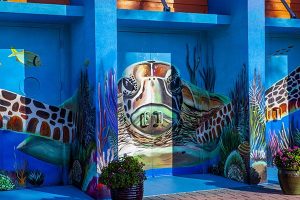 Carlos V Garcia, a Honduran-born, Cayman-based artist is at the forefront of the movement, with close to a dozen murals across the island bearing his signature.
The arrival of KAABOO Cayman earlier this year only increased the public love for street art. Amandalynn, street artist and KAABOO Cayman Festival Director, used the island as her canvas, creating numerous murals inspired by Cayman. "I have found that murals bring communities together, by not only creating a beautiful image but by also creating a destination for people to return to over and over again," Amandalynn said last year.
With more and more murals taking up creative space in Cayman, it is clear that street art has a significant place in the future of art in our islands. It adds vibrancy, culture, and beauty, bringing life to the pockets of the community that are not necessarily frequented by the tourist throng.
Street art is a growing, thriving example of the power of creativity to capture the spirit and soul of a place.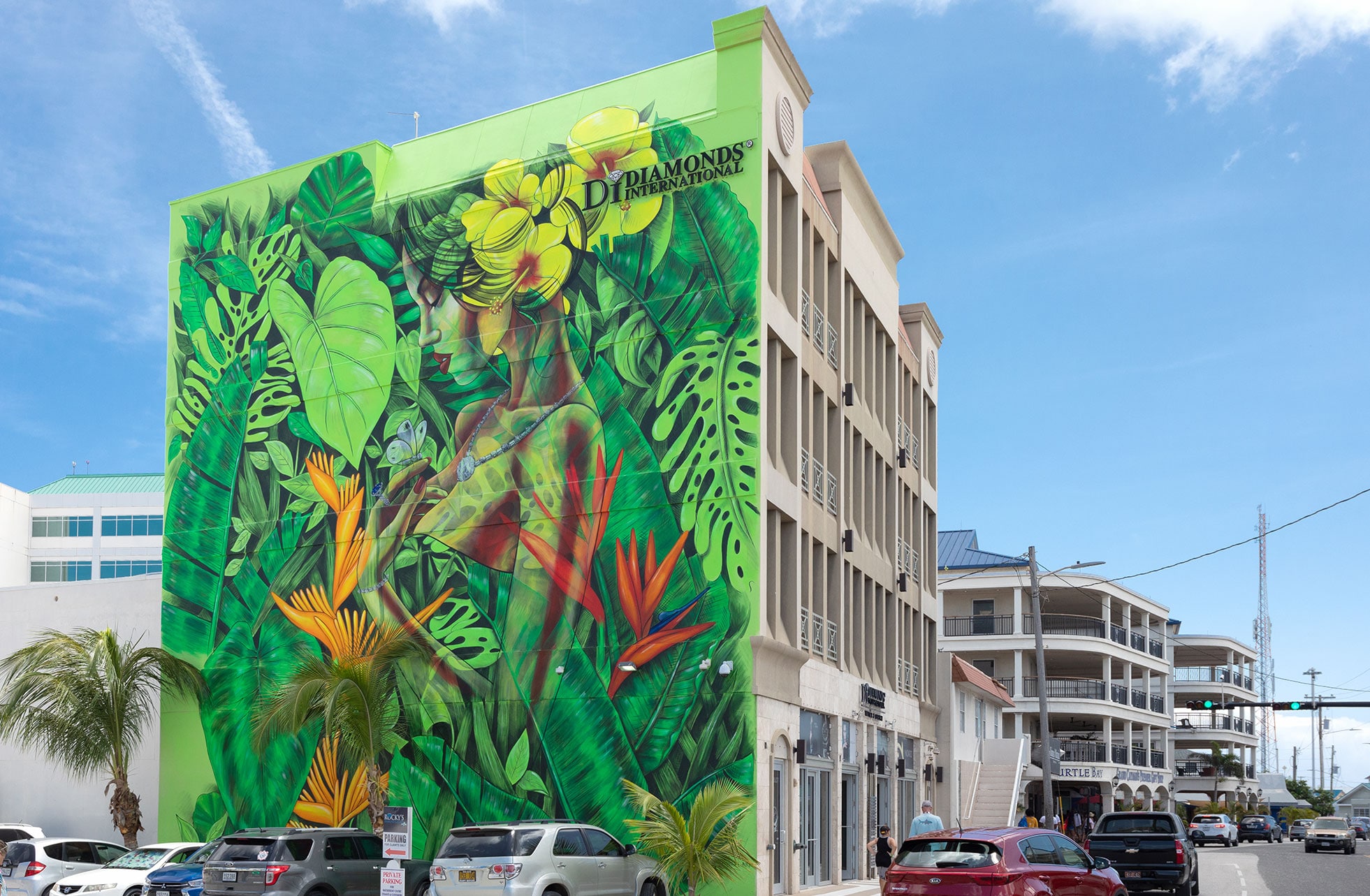 The most recent display of street art in the Cayman Islands can be seen at the four-storey, Diamonds International building in George Town. This is the work of San-Francisco based mural artist Amandalynn, titled 'Little Light of Mine'.