UPDATE: March 8, 2022. In January we spoke with Heather about Heather & Joelle's passion and product. She mentioned they truly believe, as women "There's no limit to what we can accomplish" (the quote, made famous by Michelle Obama). And inspiring they are. Today, we have unit 2 available that remains on the market, "There is still the opportunity for under-construction pricing which is of incredible benefit. Construction is well underway with an estimated completion end of 2022 / early 2023. When construction is complete, prices will increase. Truly an idyllic Caribbean lifestyle with a prime focus on outdoor living including sea views from the roof top terrace, covered pergolas, fitted bbqs and jetted hot tubs."
Two immensely talented and focussed women are the driving force behind a new development that is about to take the residential market by storm for its innovation and design.
Developer Heather Lockington and architect Joelle Meghoo are currently working on their second project together, Blue Palms, a unique example of the women's desire to create beautiful, modern homes that successfully speak to their location. Heather already has one incredibly successful development project under her belt: Cotton Tree, a luxury boutique hotel. Heather's inspiration for the Cotton Tree project came from visits to Strawberry Hills and a few other Island Outpost Properties throughout Jamaica. It was created from scratch and operated, as a highly popular luxury getaway, for eight years before selling. The Cotton Tree development was sold by Heather Carrigan of Cayman Islands Sotheby's International Realty.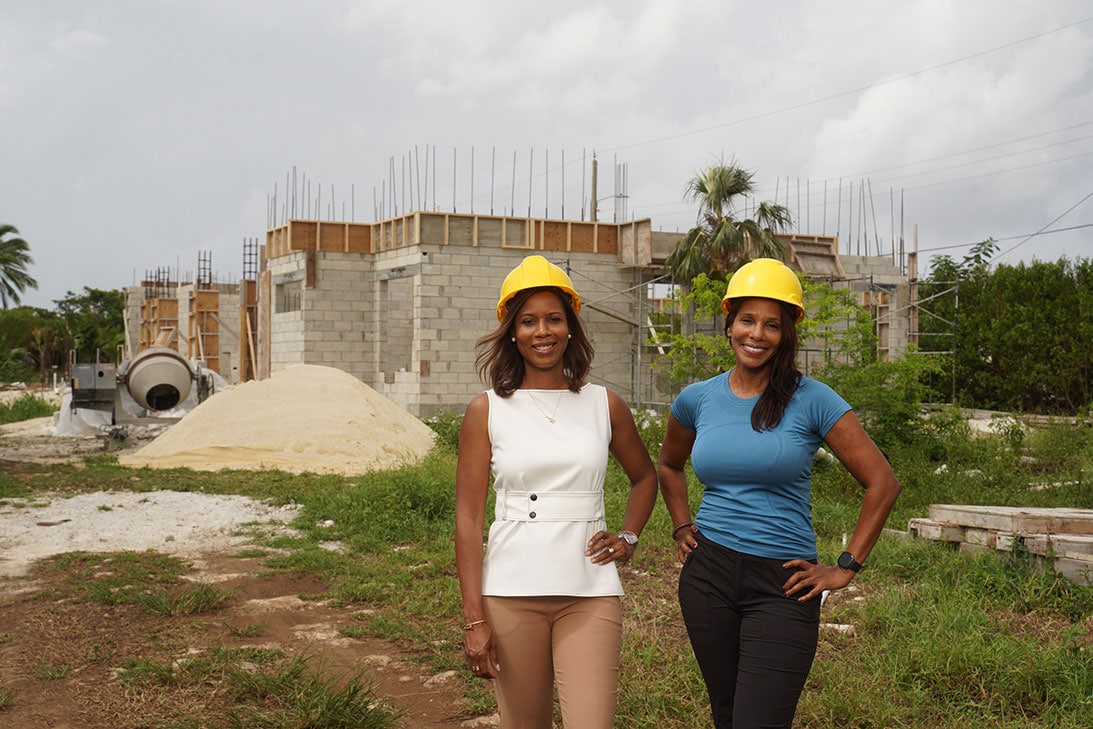 Architect Joelle Meghoo and developer Heather Lockington (right), pictured on-site at their latest project location, Blue Palms.
"I had the idea of developing a luxury hotel, which I successfully built and named Cotton Tree," she advised. "This property was extremely unique to Cayman therefore it was named the islands' first boutique hotel. I later sold my hotel and after doing so I still felt the desire to continue building along the lines of offering the market distinctive properties. Based on this concept, I have decided to develop and sell ultramodern upscale homes that are unparalleled as to what is being offered in the market today."
Blue Palms is a collection of upscale homes, the development of which, Heather admitted, was "an enormous day-to-day learning curve in itself."
"The development of building homes is very new to me; it is diverse and can become complex at times. I am now getting used to facing both the stressful and exciting times with my new project. My theory is to always remain positive and keep an open mind," she stated.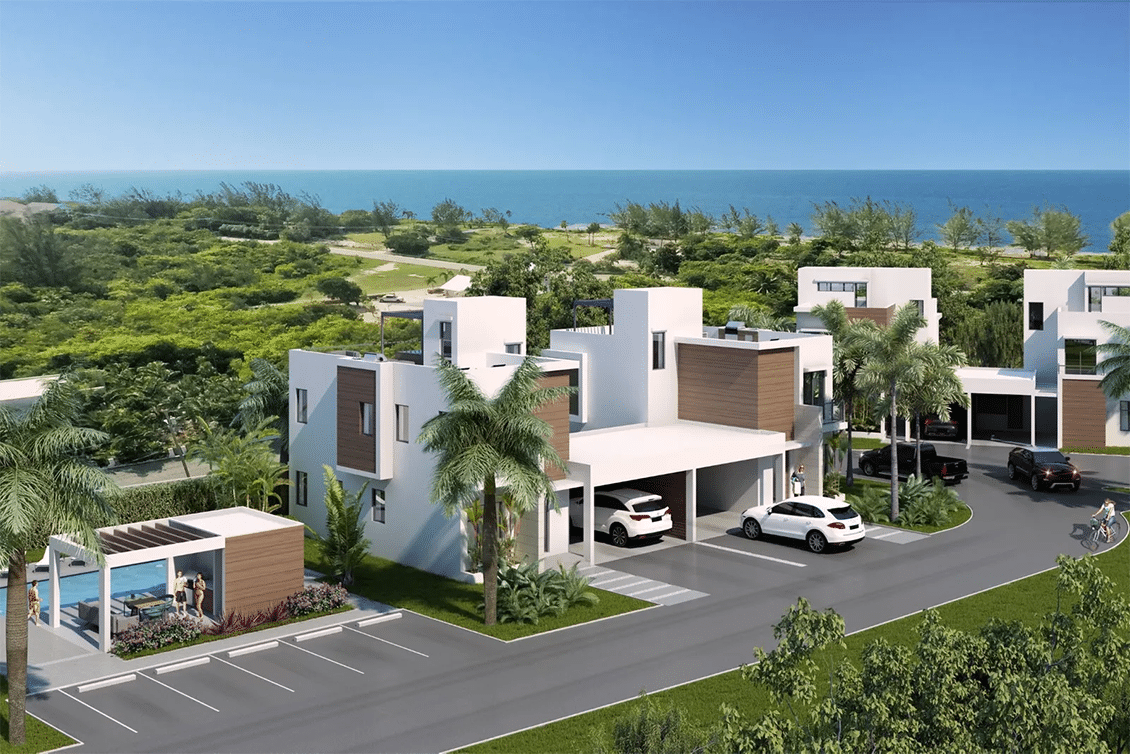 Heather attributed her success to date as follows:
"I have an eye for creativity and a passion for design, so whatever or wherever I develop undoubtedly will be unique – this concept, I believe I am well known for thus making me the success that I am today."
Of the many people from whom she says she has drawn inspiration, two in particular stand out.
"First, is Mr. Chris Blackwell, one of the developers for all of the Island Outposts properties in Jamaica," she stated. "Second, is Joelle Meghoo from MJM Design. After visiting numerous properties developed and owned by Mr. Blackwell, the idea of developing a boutique hotel (Cotton Tree) was born. I decided to make my idea a reality and whilst doing so I connected with Joelle Meghoo. Our personalities and passion for the Cotton Tree project were synced."
Heather praised Joelle's great eye for design and was happy to go with her suggestions and ideas. For Heather's latest venture, Joelle has crafted the perfect design by combining innovation, style, and simplicity.
"She is a true leader and master in her field. I am very appreciative of her work and dedication she applies to the very end," Heather said.
Cotton Tree went on to win second place in Caribbean Life and Travel magazine's awards for Best Small Hotel up to 75 Rooms. 
"Both Joelle and myself are very proud of this award," Heather confirmed. "It also became a member of Conde Nast and Small Luxury Hotels of the World. Adding further, Cotton Tree held a steady 5-star rating on Tripadvisor giving more to the hotel's slogan 'Cayman's Best Kept Secret'. Cotton Tree was also mentioned in the news in quite a few magazines."
Cotton Tree placed second in the Governors Award 2010. This accolade was particularly meaningful for Heather and Joelle, as the recognition came from the local community, and it was awarded to them in the Cayman Islands, by His Excellency, Governor Duncan Taylor CBE.
Joelle has been practicing in Cayman for the last 25 years and moved to the island from Florida where she graduated from the University of Miami with a Bachelor of Architecture.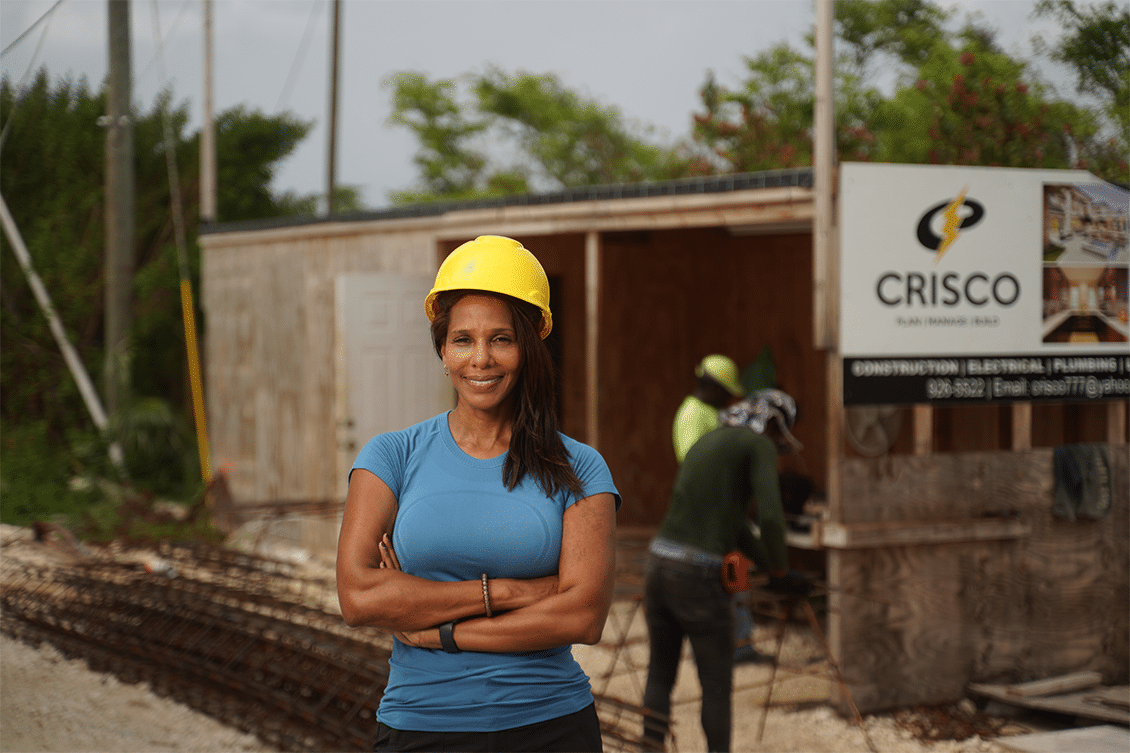 When describing her first project with Heather, she says:
"Cotton Tree was situated on the northernmost point of Grand Cayman and represented the essence of Cayman Kind and designing for a project to fit within the environment."
As far her current project was concerned, Joelle said Heather pretty much gave her carte blanche to come up with a concept that would work for the parcel she had purchased.
"Heather is the ideal client as she's not about maximising the number of units on the site, which is how we're able to come up with such a unique product," Joelle advised. "Heather, being a resident of West Bay and wanting to preserve its distinct charm, motivated us to offer intimate contemporary homes within a community setting."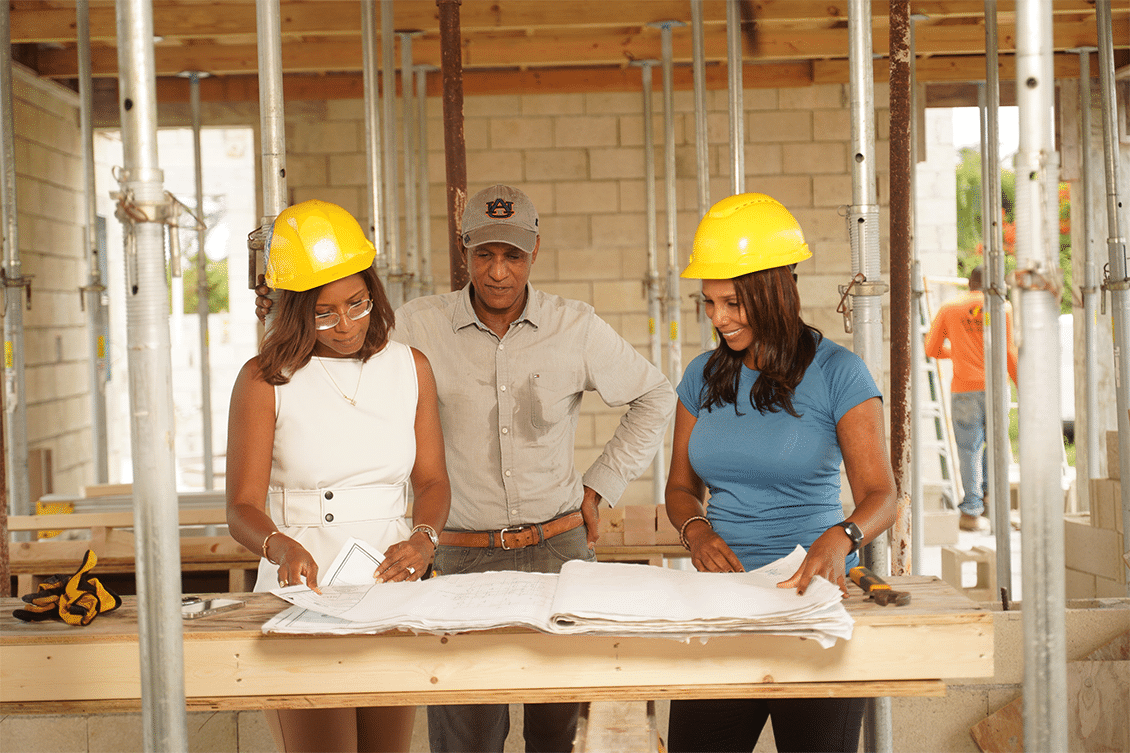 Joelle said she and her team could have proposed a dense apartment complex on the site, however Heather was always conscious of the surroundings, wanting to offer a unique product. The uniqueness of the Blue Palms duplex project is down to the lack of shared walls, and instead, a courtyar
d with a privacy wall connects the two units. An open carport allows the north east breezes to pass through to naturally cool each courtyard.
"The end result is a duplex that feels more like a semi- detached home with open plan living and a roof terrace capturing 360 degree views," Joelle confirmed. "Ultimately, our approach to development is to fill a gap and offer what we describe as 'timeless tropical modern design' which encompasses barefoot luxury at its best."
Any project wouldn't be possible without working with the right team. The team at Blue Palms works well together by sharing ideas, having open lines of communication, understanding each other, and sharing the same vision for the project.
"The team includes Joelle and Michael Meghoo from MJM Design, CRISCO building contractors (namely Daphine and Chris), financial consultant Ms. Lori Moncrieife of Legacy Solutions, Mike Kenna, project manager of DDL Studio, myself, and a few carefully chosen real estate companies, including Cayman Islands Sotheby's International Realty" said Heather.