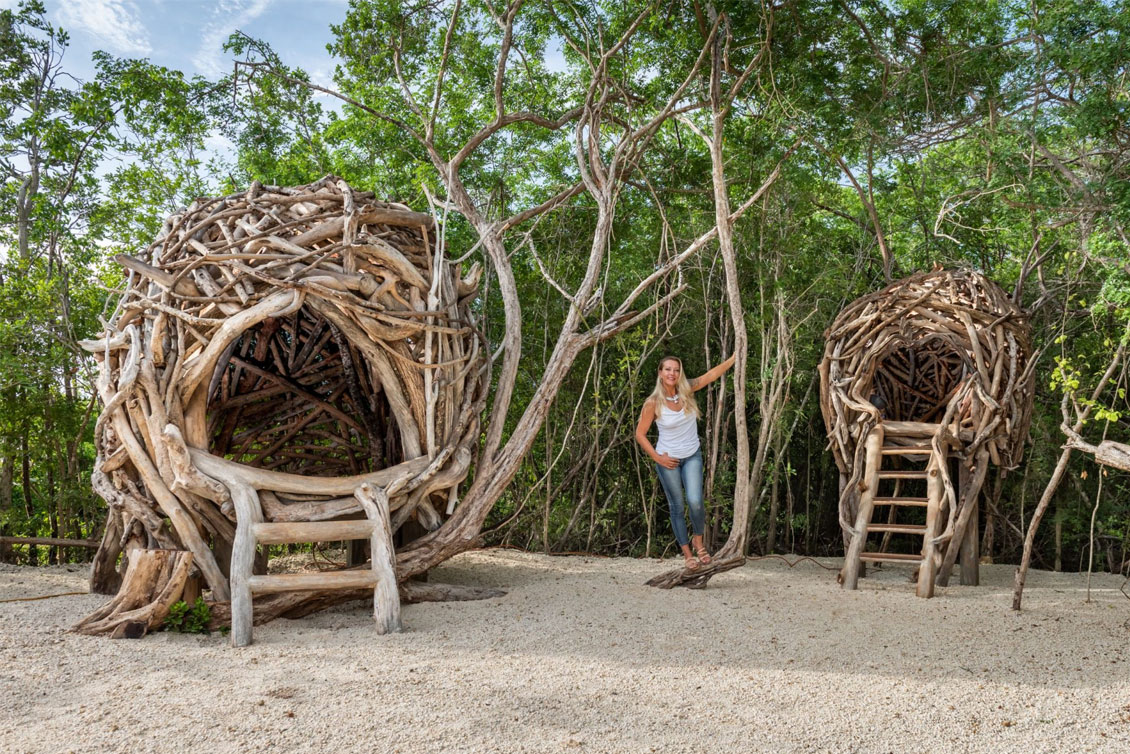 A bird's eye view… at ground level?
With artwork by Tansy Maki, anything is possible.
On January 24, visitors to the Queen Elizabeth II Botanic Park's Family Fun Day had the chance to reimagine the world from a banana bird's point of view, all thanks to Caymanian Canadian Tansy Maki's latest work: three human-sized 'nests' made of intricately woven wood. The family event, jointly sponsored by the park and the Garden Club of Grand Cayman to help fund the Botanic's new Children's Garden, delighted local guests with music, food, games, and plenty of sunshine. It also doubled as a premiere for the garden's latest artistic and educational attractions.
And, by all accounts, Maki's bird's nest sculptures were an unqualified hit.
Designed to introduce Cayman kids to the banana bird's unusual habitat while simultaneously encouraging them to explore the outdoors, these novelty nests are an exciting addition to the Children's Garden, which is now partially open to the public despite ongoing construction.
But though the Maki sculptures are new, their timeless theme is a familiar one for the artist. In fact, these interactive sculptures are the latest installment in a long line of naturally inspired artwork that stretches back over 25 years.
Renowned throughout Cayman for her vibrant murals (featured in such beloved and highly trafficked locations as the Royal Watler Cruise Terminal and the Camana Bay Starbucks), Maki often looks to Cayman's unique environment––as well as its storied past––for her creative subjects. Crashing waves, colourful plumage, curious creatures, and tropical greenery all make frequent appearances in her paintings, and, in 2019, her sprawling masterpiece 'The Glide' unleashed a flock of shimmeringly beautiful, meticulously sculpted flying fish over Jasmine Villa, a Grand Cayman centre for hospice care.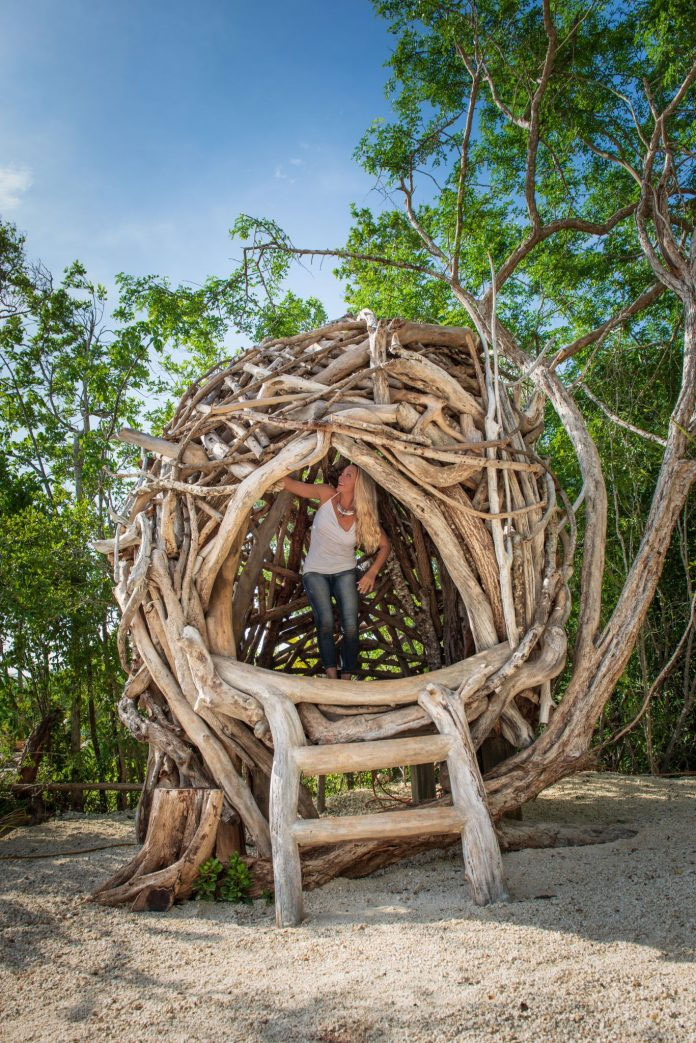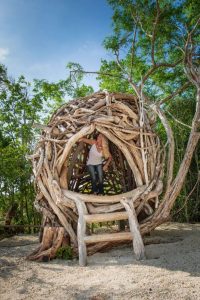 A frequent birdwatcher and unabashed naturalist, Maki turned to the native bananaquit (known to Caymanians simply as the 'banana bird') for inspiration when brainstorming ideas for the Children's Garden project. 'I wanted to create and build sculptures from natural materials that kids could play in and learn about a native species of bird, while having fun', Maki explained in a recent interview. The bananaquit's nest, which stands upright and resembles a tiny circular treehouse, no doubt felt like a perfect place to start.
Built using a variety of driftwoods and other collected wooden materials, the nest sculptures took almost a year to complete. Once cleaned and treated, the wood was lovingly reshaped into three breathtaking models of a typical bananaquit home (each model crafted to appeal to separate age groups, ranging from toddler to adult). Two of the enlarged nests include mini staircases for assisted access, and one sculpture even winds its way around a live tree that will continue to grow and enhance the natural atmosphere for years to come.
Still, these astonishing end results didn't come easy.
Undeterred by COVID-19 restrictions that cut her crew in half, Maki did much of the heavy lifting herself. Literally. Likening the process to a 'giant complex puzzle', Maki spearheaded the assembly from start to finish, working carefully to ensure the structural integrity of each sculpture. 'It was probably the most physically taxing job in my 25-year career', she said.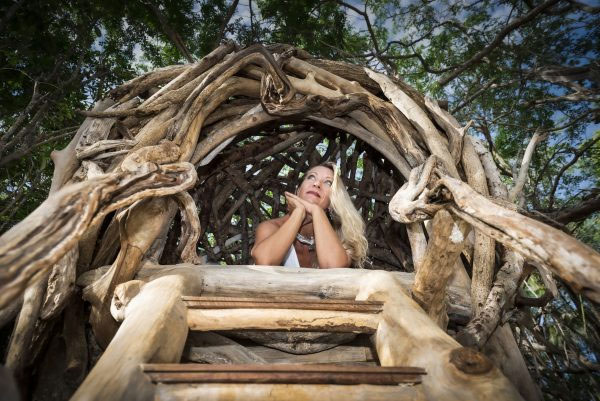 But if the sculptures' reception on Family Fun Day is any indication, all of Maki's hard work was well worth it. Indeed, QEII Botanic Park general manager, John Lawrus, hailed the bird's nests as 'a true work of living, breathing art' and cited the sculptures as one of the most enjoyed highlights of the Family Fun event. The nests, Lawrus said, represent a place for children 'to relax and to let their imaginations run free'.
Those interested in visiting the park and seeing Maki's banana bird nests up close and in person can visit botanic-park.ky for more information on operating hours and guided tours. Art lovers can also look for a Maki exhibition later this year.