While we all love to share about our explorations through a new city, a secluded beach, or a spectacular resort, there is another component to a wonderful holiday that doesn't always result in social media love: a beautifully designed hotel bathroom.  What is better than reaching the hotel suite, finally dropping your luggage and stepping into the spa-style bathroom for a soak in an oversized tub or a steam-filled all-glass walk-in shower?  Are we the only ones to have skipped a museum tour just to linger in an exceptionally zen  bathroom? Boutique hotel or ultra-modern city retreat, a bathroom that perfectly compliments its setting is a huge bonus for travellers. Do our Cayman Islands homes reflect this version of luxury? A bathroom renovation with hotel spa-style would certainly fit the bill.
We expect a sense of peace from a bathing hideaway, so surely we can ask the same of a residential bathroom; self-care in a luxurious setting at home is a lifestyle choice these days. Stay at home to enter a world of self-indulgence. Today, many of us want to invest in resort-style luxury, for themselves and for the return on investment it provides in the property market. In our experience clients will first view the kitchen then look to the bathrooms.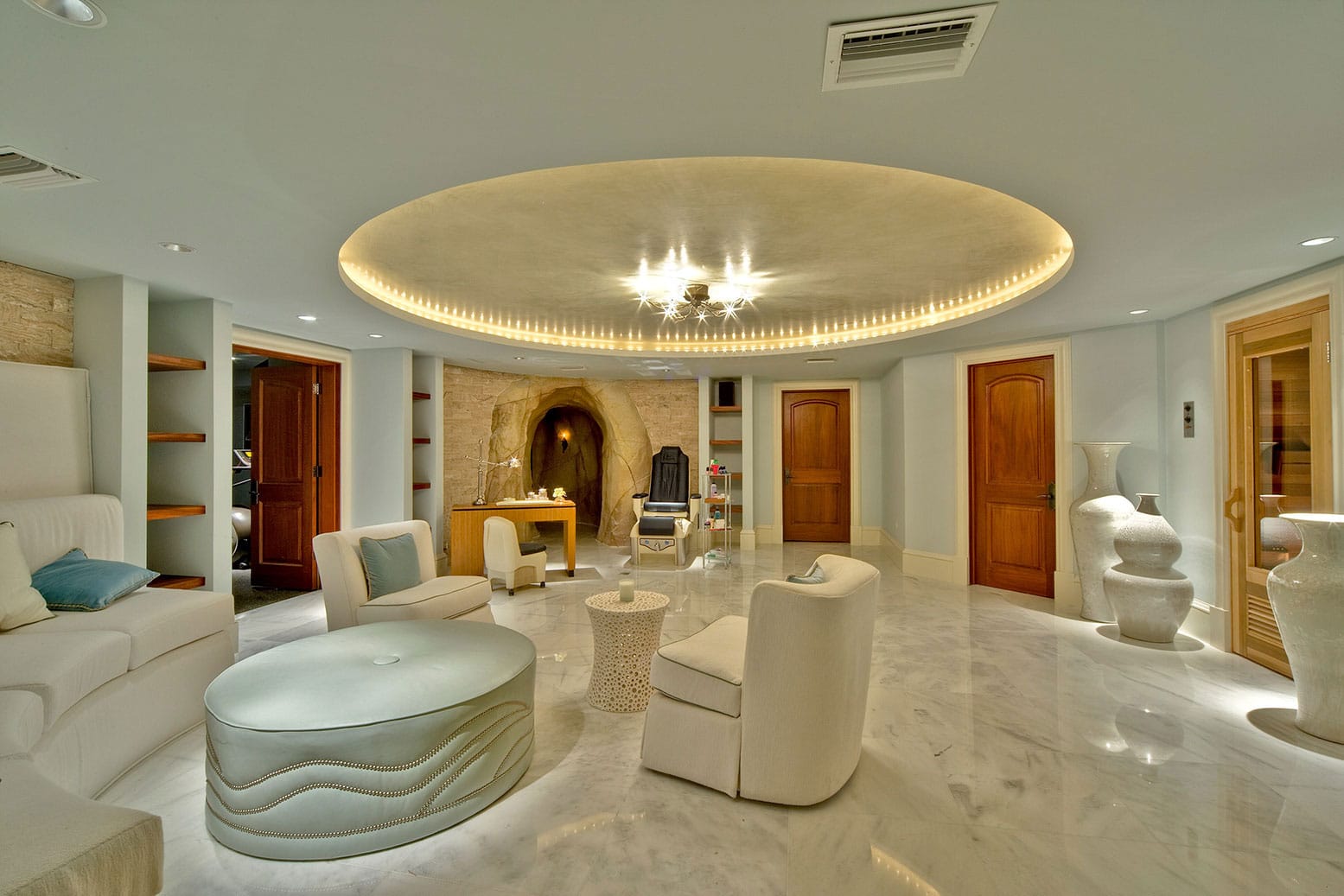 The plan should be to imbue the space with a sensual atmosphere, to add elements of indulgence and escapism by using natural design cues and a neutral colour palette.
The bathroom is one room where form must be balanced with function. However, a well-crafted space can exude a relaxing atmosphere while adding elements of indulgence and escapism.
The spa-inspired bathroom increasingly favours neutral hues and natural queues where once polished surfaces reigned. We advise keeping high shine in mind when space is limited although lately, designers have moved away from polish towards subtle limed woods, honed stone finishes and trend metals such as copper or brass, which compliment other bath accessories beautifully.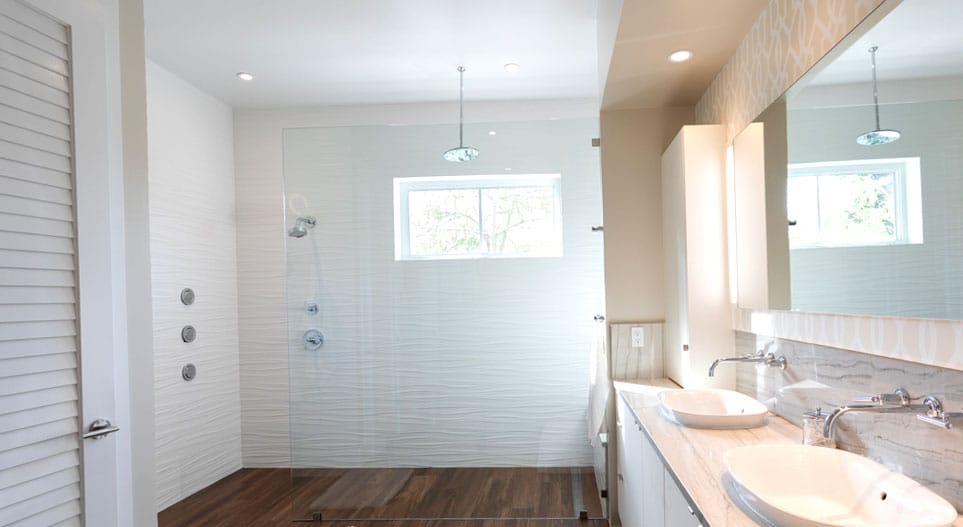 Lighting is one of the most important aspects of your bathroom, it is the only design element that can transform the appearance of a space at the touch of a button.
Lighting is everything for a soothing space. Take care to include dimmers to ensure a warm glow.  If harsh lighting is installed, it must be possible to turn it off when sinking beneath the bubbles so make space for soft glowing lamps and candles. The decadence of statement lighting suspended over a freestanding tub is an element of timeless bathroom design. For light that is distributed evenly, use a combination of ambient light, chandeliers, pendants or flush mounts, then task lighting where needed, and a final layer of accent lighting designed to highlight the bathroom's architectural features or décor. Think carefully about focused task lighting, especially around sinks and the vanity.  If your mirror is centred above the sink, put side-mounted sconces inches to the left and right of it. It should be as close to your face as possible. Take care to keep the same finish family for your sconces and overhead lighting.  You don't have to match the style exactly – just maintain unity in the overall design.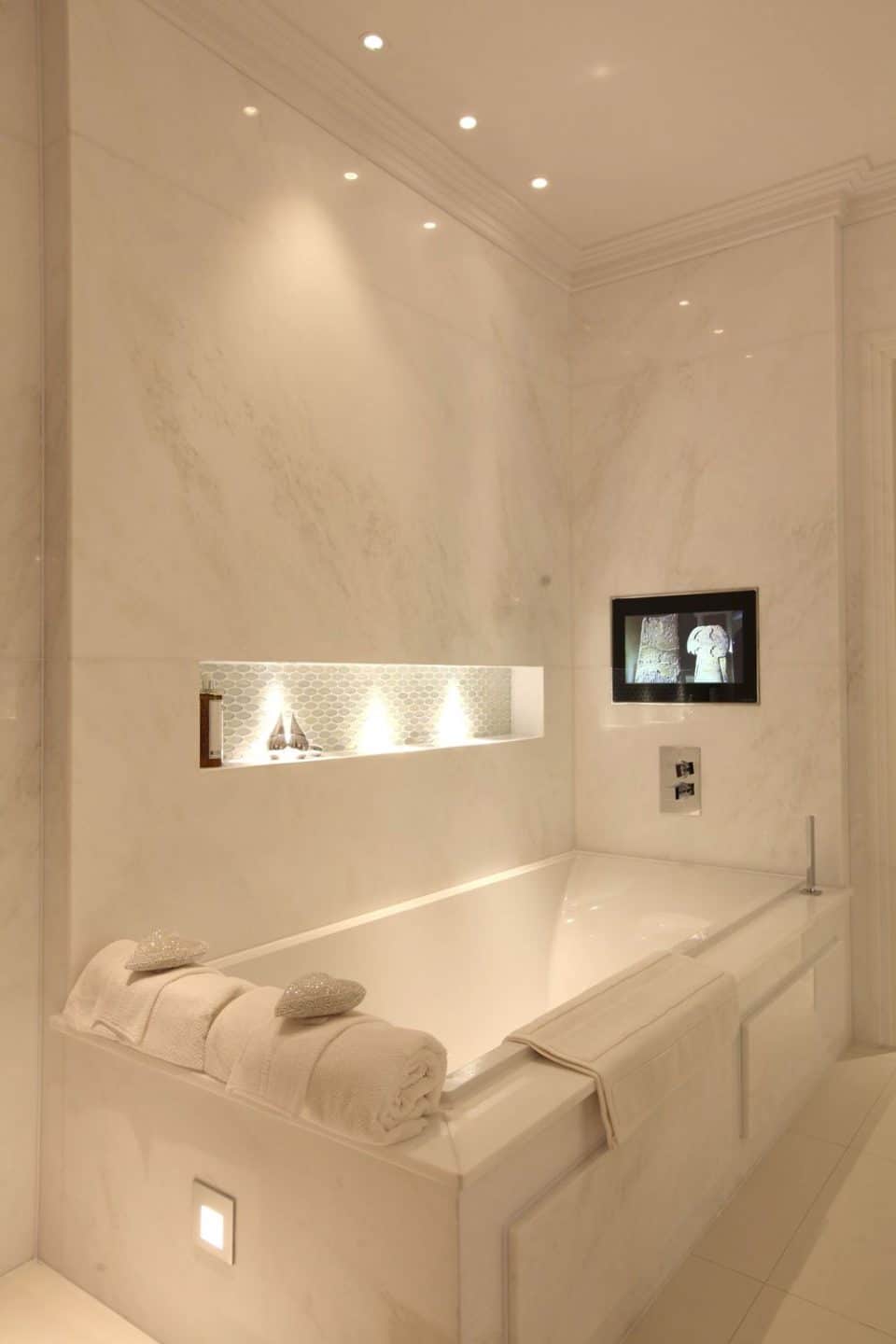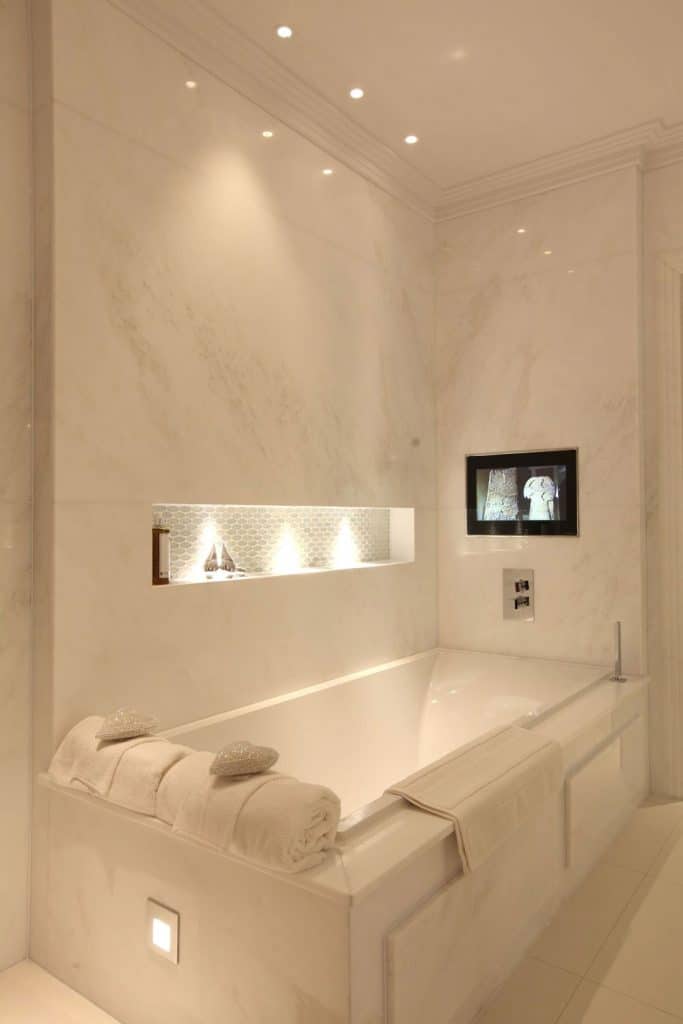 Updating the bathrooms in your home is one of the best ways to add value to it.
A deep, luxurious bath or more compact in size? Modern therapy tubs offer technologies that stimulate all your senses to leave your refreshed and relaxed. For those ready to remodel with technology, opt for the steamy spa enclosure or perhaps a chromatherapy tub, which uses the science of the whole light spectrum to positively affect your body tissues and systems. Look to Jason tubs for MicroSilk therapy that oxygenates and moisturises your skin as you soak. The company offers Whirlpool, AirMasseur and Soaking Hydrotherapy options for your custom. More massage opportunities come with the right shower – traditional overhead showers can be equipped with additional elements that give an amazing daily massage.  Rainfall shower with massaging options?  Yes please. We want a sanctuary to look as good as it makes us feel.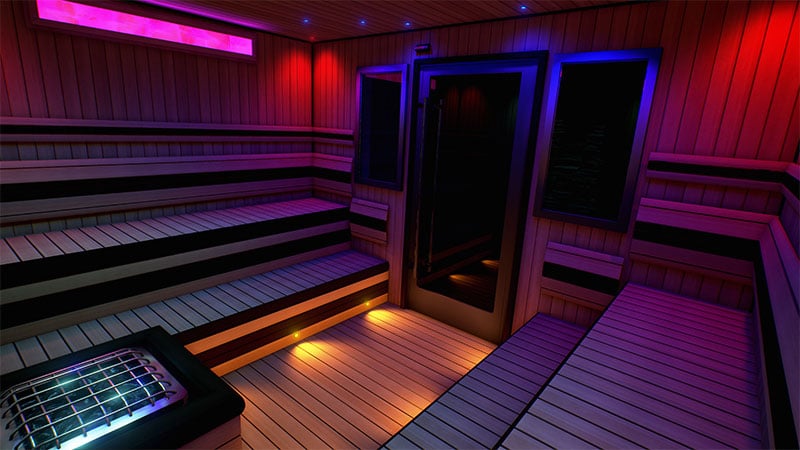 A bathroom renovation is a must for self-care and will be a valuable addition should you ever wish to sell your home. With access to new tech and classical design nous on island, we think it's the one to get done in 2019.
A personal interior designer is a good place to start planning luxurious fixtures and fittings for your new in-home spa-like, bathroom.