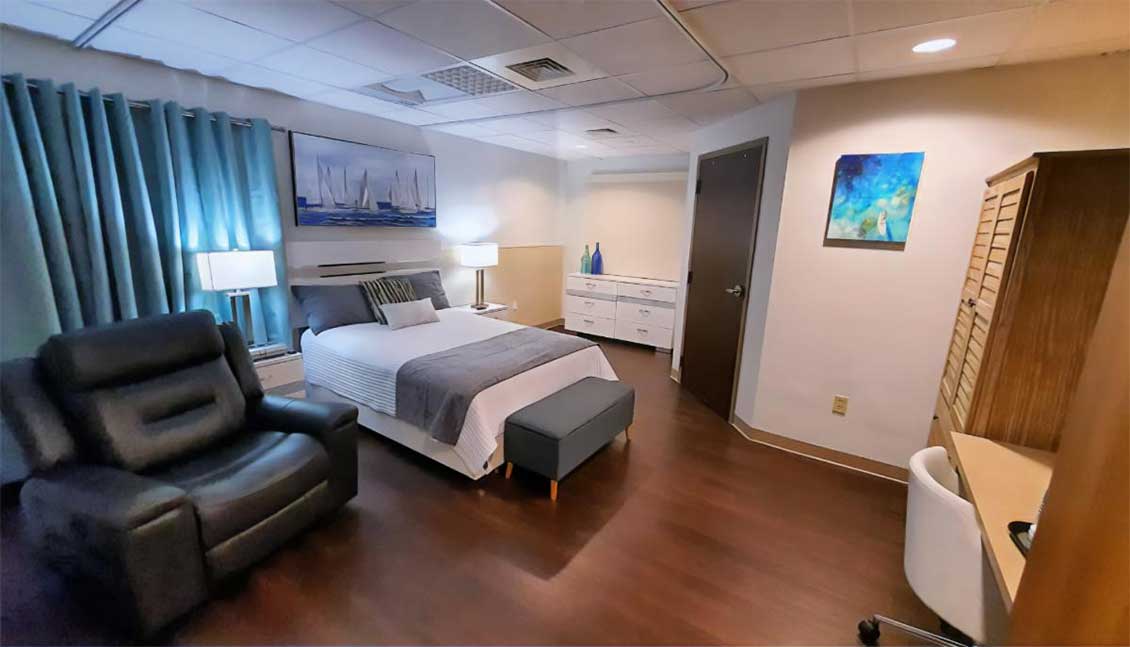 Health City Cayman Islands has announced the completion of upgrades to its sleep lab, including a brand new bedroom suite and a range of complementary amenities.
The renovation comes during Better Sleep Month, which seeks to increase awareness about the benefits of better sleep and the disruptions that may occur in one's everyday life due to inadequate sleep. The upgrades were done in partnership with Tomlinson Furniture, which has been supplying the Cayman Islands with affordable, dependable, and quality bedding and furniture for more than 48 years.
The refreshed sleep lab, which features a private bathroom and shower, was outfitted with a new wardrobe, cabinet, storage bench, power recliner, office desk chair, and assorted bedding. The designers chose whites, neutrals, and accents in various shades of blue to offset the high-quality furnishings, creating a peaceful retreat for patients.
Dr. Archita Joshi-Bhatt, Pulmonologist at Health City and founder of the Sleep Clinic stated, "I've had a very fulfilling and encouraging experience establishing and running a sleep lab in this region, which did not have this kind of a facility. We've conducted over 1,600 sleep studies and were able to help several more individuals with sleep disorders. These results are something that the team and I are very proud of, considering we are in a geographically small area. We've had some good successes and look forward to seeing more patients in our newly upgraded space."


Through its multidisciplinary team of specialists, Health City utilizes the latest software and technology to diagnose and treat sleep/wake disorders. Sufferers of chronic sleep problems visit the facility's state-of-the-art sleep laboratory and may stay overnight in a comfortable, hotel-like environment with a private room and bathroom. During this stay, assessments are conducted by a trained sleep technologist to assess sleep patterns, identify different breathing patterns, and diagnose potential sleep obstructions. In addition, portable in-home sleep studies are offered.
According to Shomari Scott, Health City's Chief Business Officer, "We pride ourselves on consistently evolving, ensuring the health of our people is prioritized, so it's very exciting to be providing state-of-the-art sleep testing at our newly refurbished sleep lab facility. We are grateful to the team at Tomlinson who understood the vision we had and partnered with us to provide an upgraded experience for our patients."
Renee Whorms, General Manager at the premier mattress and furniture company, echoed Scott's sentiments. "At The Mattress Gallery of Tomlinson Furniture, we often say, 'We don't sell mattresses; we sell sleep,'" she shared. "There was immediate alignment with our objective and Health City's imperative to help persons improve their sleep, making this a very synergistic partnership."
Both teams worked to create a peaceful retreat so patients walk into an atmosphere that feels very comfortable, where they can get a good night's sleep.
Patients interested in learning about the Sleep Lab may speak with their primary care provider or contact Health City.