Kai-Yak Cove is a spectacular newly built luxury Caribbean-style villa in ultimate tranquil surrounds that speak the golden language of true rest and relaxation.
The backstory and build….
Kai-Yak Cove sits in a sleepy cul de sac on a pristine white sand peninsula in Cayman Kai, affectionately named "the delightful community by the sea" by the rightfully proud and longtime residents of this exclusive area of Grand Cayman.
A serendipitous chain of joyful events led current owners to purchase this exquisite beach front property, the original blueprint only a thatch-roof cabana and wooden cottage overlooking the Cayman Kai bio-luminescent rich lagoon. It was a purchase of great nostalgia having once been a weekend family retreat and where childhood memories had already been made decades earlier.
Rebuilt with the help of 'Trio Architecture' and with a nod to tradition, a fresh, updated quintessential beach house was created with an understanding that the owners' multi-generational Caymanian vision and design elements would be honoured, and homage paid to local architectural heritage where possible.Never mind the obvious advantage that it would not have all the maintenance problems of the original small wooden structure.
A sandy beachfront backyard leads down to the villa's impressive private boat dock and gazebo.
In keeping with much of this prestigious Rum Point neighbourhood, there were many traditional exterior features integrated into the overall design including the generous wraparound verandah and Hardie board siding that purposefully mimics shiplap siding, an important characteristic of many historic homes in Cayman and throughout the Caribbean.
Featured on the front cover of a much-enjoyed local home and garden magazine for its superb design, the sky-blue exterior and crisp, white trim also hint at tradition and legacy. White plantation shutters offer shade and privacy whilst maintaining an airy Caribbean feel when open to the elements.
This beautiful home also deservedly boasts many spectacular modern features including a picture-perfect pool with elevated spa and sun shelf for prerequisite ledge lounger, an over-sized deck and fully equipped outdoor kitchen cabana with endless space for alfresco dining perfect for island cookouts under the stars.
Perhaps somewhat crucially in blissful isolation, a sandy beachfront backyard leads down to the villa's impressive private boat dock and gazebo.
The beach house…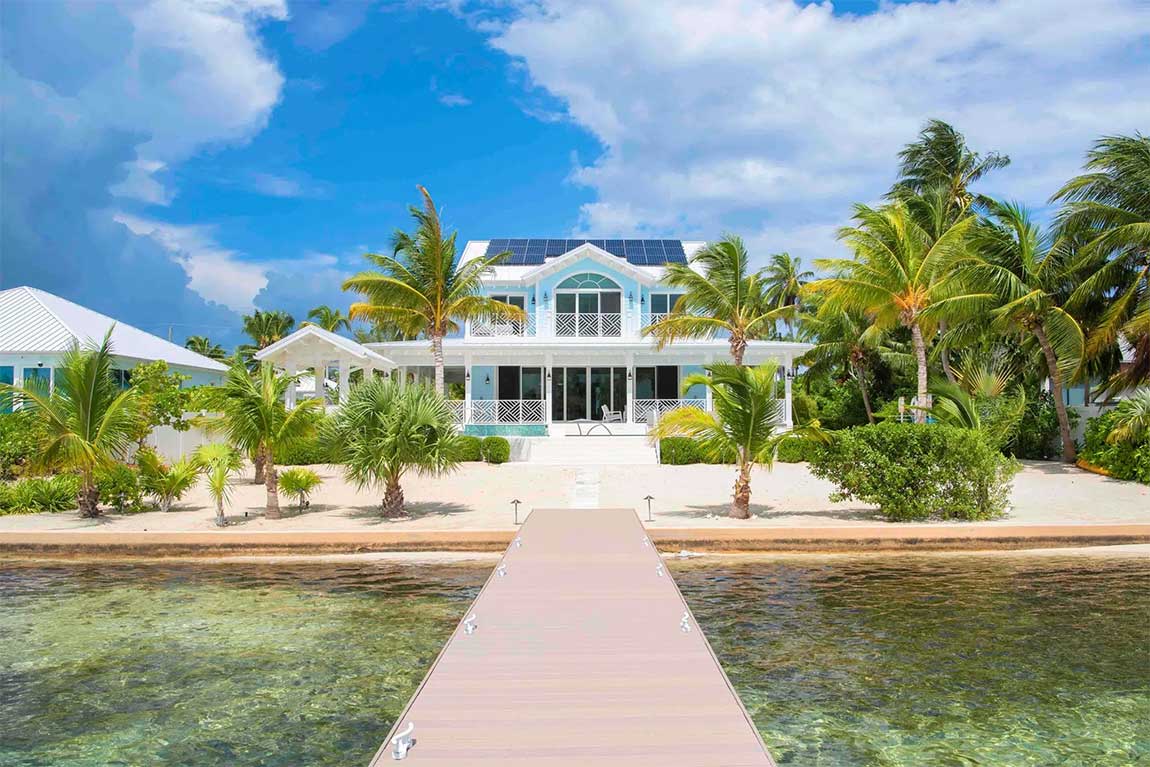 The perfect balance of tranquility and joie de vivre was masterfully unified here. There is an immediate and rare sense of enhanced space and calm on entry and felt throughout with interior finishes that are a play on soothing neutral tones.
No expense was spared on the quality of interior design, furnishings, and decor, notably curated by the renowned local 'Design Studio'.
One feels the warm cocoon of a home created with love and careful thought, no detail too small including that of a signature scent.
Shiplap feature walls, detailed trim work, textured grass cloth wallpaper, tongue-and-groove vaulted ceilings and custom mother of pearl and Capiz shell light fixtures add to the distinctive beach life ambience and the central space of the house.
All this evokes an inviting Caribbean resort style with beach cottage feel having been additionally achieved through the selection of feature mosaic tiles, decorative bathroom features, carefully chosen paint colors, and key furniture pieces such as beds with caned headboards, and the iconic four-poster bed.
The layout…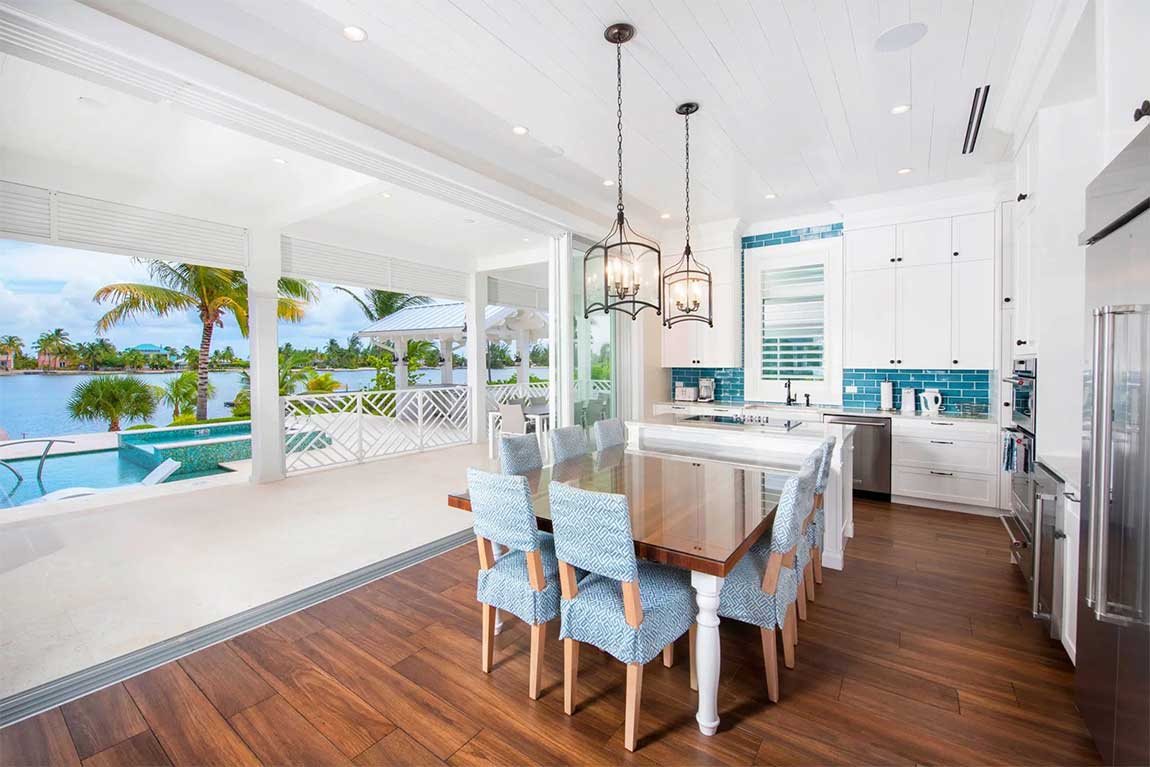 In total, there are four sumptuous bedrooms (two king rooms, one queen and one room with twin beds) and four bathrooms as well as two TV lounge areas, in addition to the main family room, kitchen and laundry.
The family room occupies the heart of the home with a wall of sliding glass that unfolds onto an augmented covered patio and affords a full and idyllic view of the property's star attractions, namely the luxurious pool deck, beach, and quiet cove beyond.
The gourmet kitchen is a chef's dream with high-end appliances galore. This well-loved and much used space cleverly incorporates a dining table for eight without encroaching into the living room area.
The villa offers one bedroom island suite on the first floor with ensuite bathroom and walk-out access to the wrap-around verandah providing a haven for shaded hammock day lounging whilst enjoying island breezes and abundant garden views.
The first-floor den is equipped with a large Smart TV, Sonos sound and a plush sectional sofa. This den connects to a full bathroom via pocket door that also serves as the lower-level powder room.
There are three further supremely comfortable bedrooms on the second floor and a second media room offering a sea-view reading nook and walk-out access to a waterfront balcony.
In the primary bedroom suite, a muted palette exudes calm and elegance, with differing wall coverings each picking up on soft ocean tones and giving these rooms a finished, layered feel. The suite has the ultimate beachfront views, vaulted ceilings and its own furnished balcony, walk-in closet and ensuite bathroom with dual vanities and a spectacular free-standing Victoria + Albert soaking tub with stunning sea views.
The secondary bedrooms have plush window seats, beautiful azure blue water views, vaulted ceilings and share a sizeable bathroom with porthole mirrors and industrial vanity lights between rooms, ideal for guests and kids.
Local lifestyle…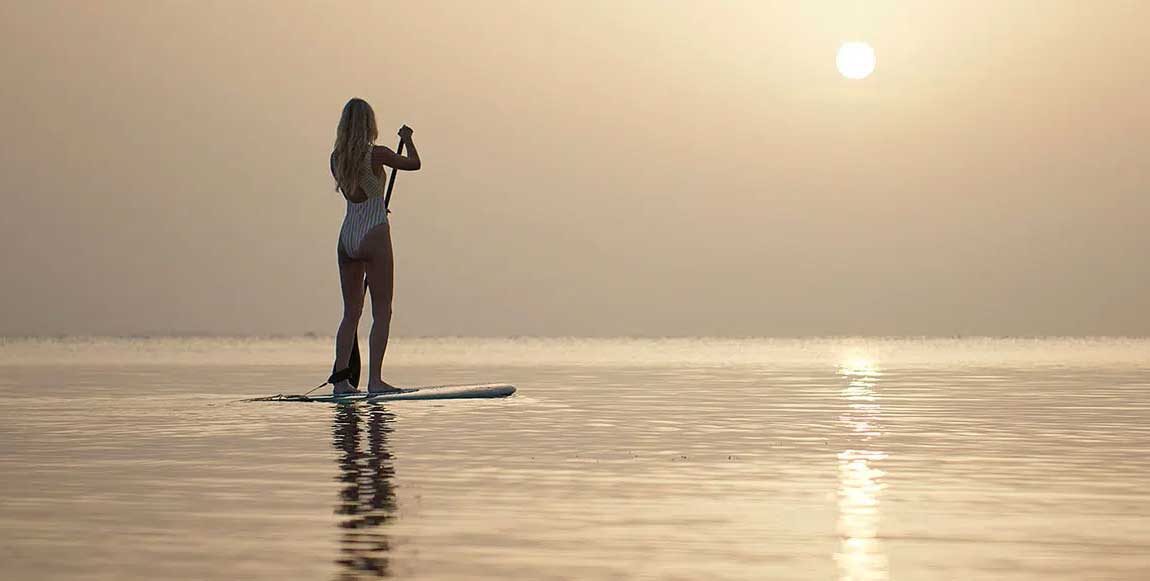 Within walking distance and in local compliment to the homes of Cayman Kai, is The Rum Point Club, a public beach club that offers a fantastic barefoot beach, water sports, restaurant and gift shop.
Also nearby is the Kaibo Yacht Club a fabulous fine dining restaurant option, a superb casual beach bar and island grill. The popular upstairs rum bar naturally flows into a large oceanfront dining balcony from which to enjoy cool evening sea breezes, and soft sax tunes whilst looking down on the full moon beach BBQ that goes on below.
Ferry service to Camana Bay departs from the Kaibo Marina, perfect for day trips to Seven Mile Beach!
Who should buy and why?
This home is storied with love and ideal for a family with beach and boat loving sensibilities and a desire for a slower pace, peace, tranquility, and most essentially, an appreciative eye for luxurious detail.
This is an extraordinary home on very special beachfront land where love, sweat, and tears have been expended in return for the promise of years of close family enjoyment in search of priceless quality time.
Sleep with the sound of silence, the faint roar of the reef afar and the gentle wash lapping against the dock from a kayak on a wonder quest in the bio bay lagoon beyond.
Who doesn't want to live in earthly heaven?