As we continue to keep our social gatherings small and spaced out, homeowners are looking for safe and inventive ways to come together through the winter holidays. The change in seasons also means outdoor socials are not as easily orchestrated as they were in the summer, and gathering indoors requires space for safe socializing.
Rather than forgo spending time with loved ones altogether, opt for a home that provides the kind of square footage needed for gathering—whether inside or out. These five homes make socializing possible, with lofted ceilings, modular buildings, and spacious floor plans that are both a functional and stylish solution to the current moment.
Sea of Dreams, Pease Bay, Grand Cayman, Cayman Islands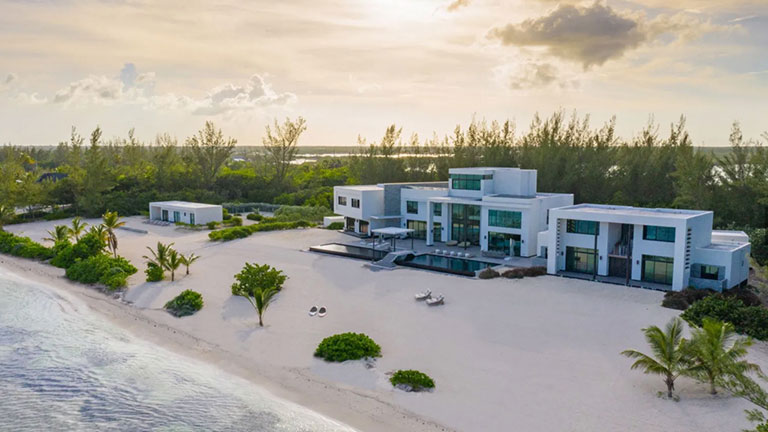 Sea of Dreams offers luxurious Caribbean living for the savvy, discerning home buyer; the perfect balance of simplicity and first class living, privacy and connectivity, all within the world class, tax neutral jurisdiction that is the Cayman Islands. On 6.4 acres of private sandy beachfront, three main buildings connected by open-air, covered walkways connect four ensuite bedrooms with bespoke offices (two each on opposite sides of the residence) and a two bedroom guest house separated from the main home. Floor to ceiling windows in the main hall and an outdoor entertainment area complete with 100 foot swimming pool and fire pit are a welcome retreat on the way to the expansive private beachfront.
Sotto Il Monte Estate in Montecito, California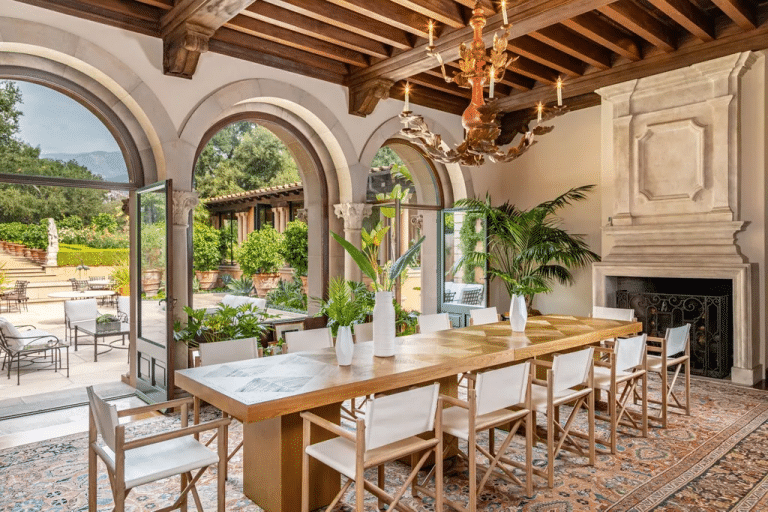 Set on nearly 11 acres of immaculately designed gardens and grounds, this 1927-era estate was designed by renowned architect George Washington Smith. The historic home boasts eight bedrooms, 12 bathrooms, a solarium with an indoor pool, and additional guest and staff housing, meaning there's plenty of room for extended family members and friends. The home's multiple living spaces—with furnishings and interior design treatments that complement their historical context—provide ample space to socialize. Guests can dine in the large, open-air dining room, walk the grounds, and enjoy a game of tennis, all while keeping a distance and following safety protocols.
A Luxurious Beachside Home in the Balearic Islands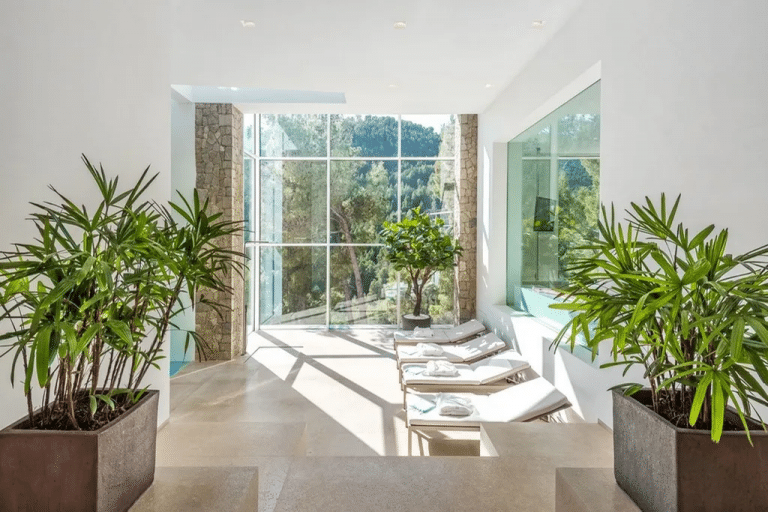 The resort city of Palma de Mallorca, capital of Spain's Balearic Islands, is a favorite getaway for the stylish set. This oceanside home, nicknamed The Chameleon, is the epitome of chic Spanish luxury, where white marble floors meet sliding glass doors and minimal architectural detailing. The villa is made up of three buildings, with the main house divided into three floors; the two additional structures provide guest space, a swimming pool, and a wellness and fitness area. The spacious balconies, outdoor patio areas, and thoughtfully designed interiors make this home an ideal option for a range of social gatherings.
An Alpine Estate in Aspen, Colorado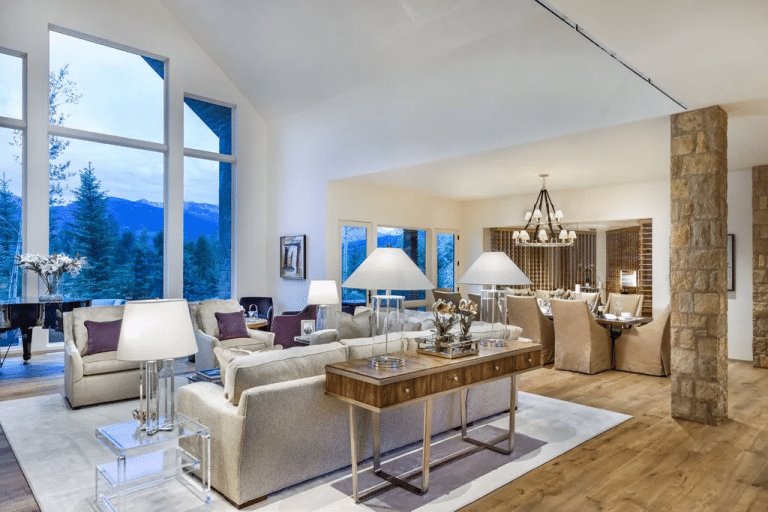 Take in the surrounding mountain vistas from this 39-room estate in Aspen, Colorado. With views of the nearby ski areas and a large guest house, the property offers visitors the opportunity to wander, relax, and take in the fresh air. The main living space features a grand stone fireplace and vaulted ceilings, emphasizing the home's ski lodge roots while providing multiple cozy seating options for guests. Visit the indoor swimming pool, enjoy one of the outdoor patios, or simply take a stroll around the grounds—waterfall included.
A Multi-Home Property in the Bay of Islands, New Zealand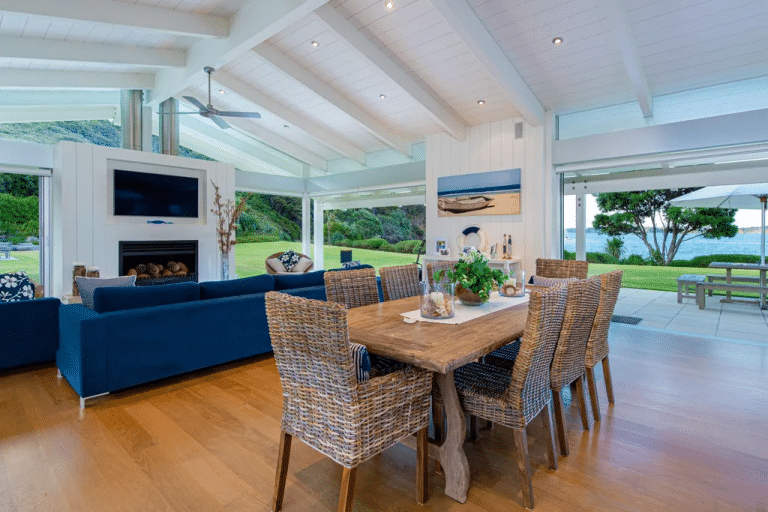 Visitors to the highly sought-after Bay of Islands in New Zealand love the area for its diving, fishing, and sailing, but the region is also coveted for its year-round subtropical climate. Its own slice of paradise, this resort property offers everything from a swimming pool and spa to a floating pontoon wharf and lodge-style clubhouse. Designed to accommodate multiple groups, this property is the ideal setting for socially distanced gatherings. Four self-contained luxury homes provide the square footage for guests to remain separate, while the indoor/outdoor living spaces and facilities allow for safe socializing. Take a walk along the beach, play a round of golf, or challenge a partner to a friendly game of tennis—here, there's room to do it all.
These homes are all architectural feats set in stunning locations, but they stand out for their ability to accommodate guests at times where distancing remains important. From large acreages to outdoor recreation facilities to additional living spaces, these properties let visitors spend valuable time together.