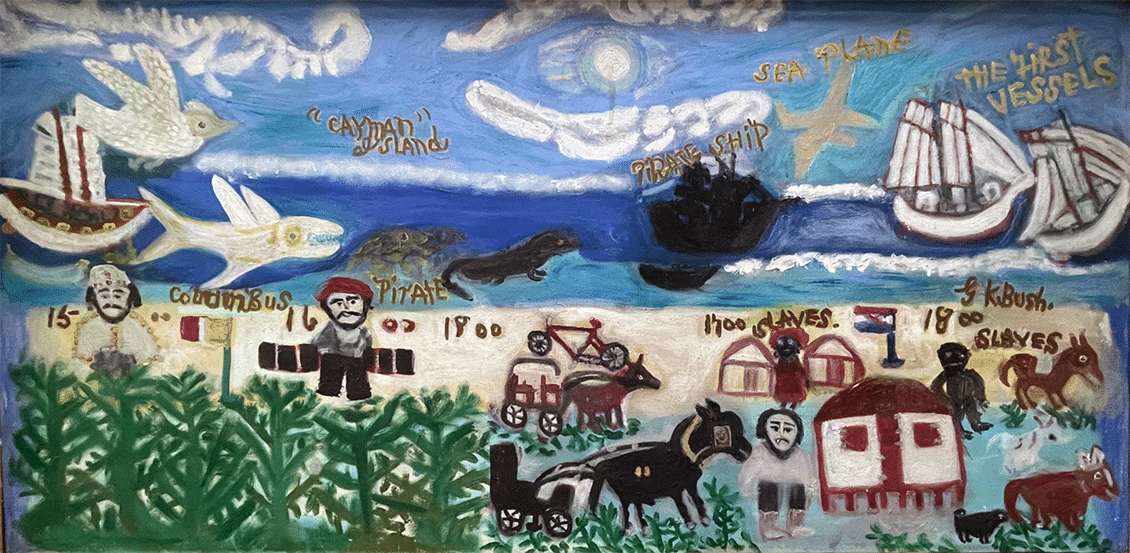 Caymanian art does not get more vivid, more meaningful, or more passionate than that which was created by a Caymanian icon, Miss Gladwyn K. Bush, MBE, otherwise known to all as Miss Lassie. The late painter created her artwork from dreams and visions which came to her and which, at the age of 62, she suddenly realised she needed to capture for all to enjoy. As a result of this intense desire to replicate what she had seen in her "mind's eye," as she liked to call it, her artwork not only adorns the traditional canvas but pretty much every surface in her small home located on South Sound.
Her home and adjacent property were given to the Cayman National Cultural Foundation in 2009, six years after Miss Lassie passed away at the age of 89, and ever since, the CNCF has worked tirelessly to preserve the rich heritage and priceless artwork that the property held within.
In November 2021, people who are fascinated by her work were able to enjoy a stunning exhibition of 40 pieces of her work, called 'My Art is My Life'. The exhibition took place at the Mind's Eye Education Centre, Miss Lassie's former duplex home, so renamed by the CNCF when it took ownership, which is located at the intersection of Walkers Road and South Sound. And almost even more exciting than the art exhibition itself was the ability for people to take a glimpse into Miss Lassie's actual home, where reproductions of her artwork adorn the walls and furniture, recreating how Miss Lassie lived, surrounded by art. The walls, ceilings, floors, shutters, and soft furnishings all tell the tale of this imaginative and intuitive artist. If walls could speak, they would shout out about Miss Lassie's talent.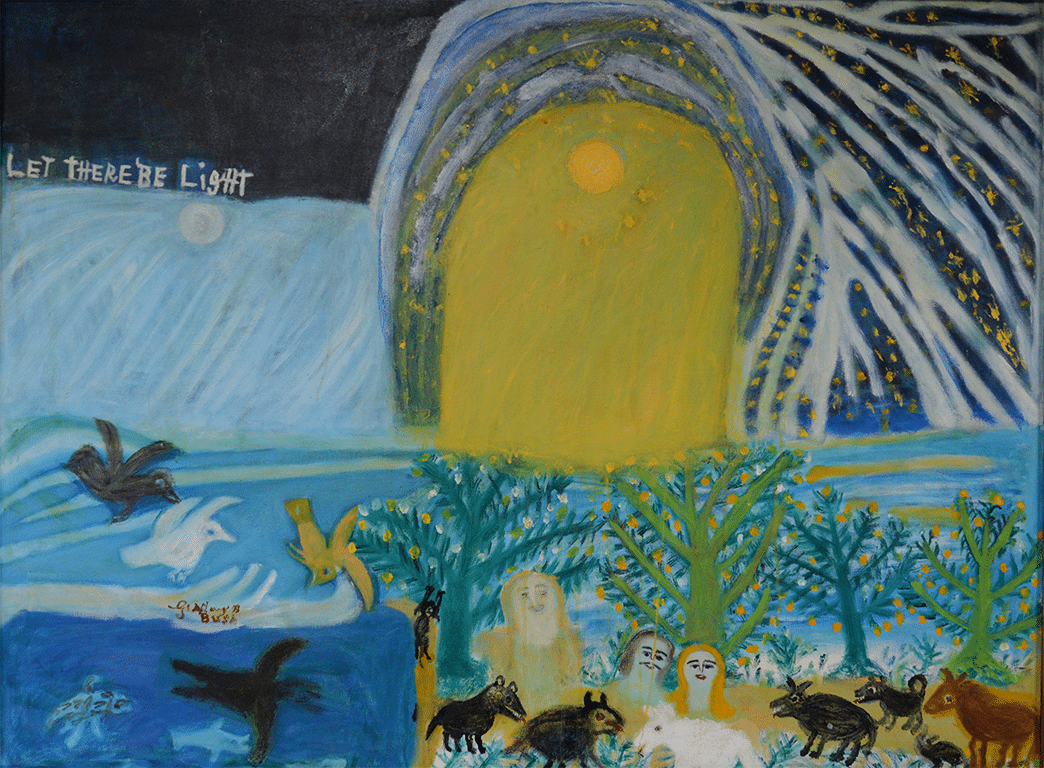 As a Christian with strongly-held beliefs, Miss Lassie infused her artwork with Christian themes that runthrough many of her artwork pieces. The site where her duplex is located was historically important for ship-building in the Cayman Islands, so her paintings also reflect the local heritage of the location. 'It is I be not afraid' is an example of a painting that manages to marry the two themes, depicting an image of God telling fishermen caught at sea not to worry as he would protect them.
Appreciating that Miss Lassie's work needs a wider audience than just one week, the CNCF are putting on a roadshow of the reproductions of her work throughout all Grand Cayman's five districts, as well as taking the artwork to Cayman Brac. In 2022 they anticipate holding a much larger exhibition of her work at the Harquail Theatre, where the full repertoire of 120 to 130 of her paintings will be showcased.
Miss Lassie was awarded a Member of the British Empire (MBE) in 1997 and was also a recipient of the Cayman National Cultural Foundation's Heritage Award. Miss Lassie passed away on Monday, 24 November 2003.