You will be reading this just after Christmas and, if you are like the majority of us after the festive season draws to a close, you may have found yourself straying from your normal eating patterns, having indulged in all the goodies of the season. Thankfully, help is on hand here in the Cayman Islands to ensure that you get back on track, eating healthily and always deliciously!
If you are looking to make a quick and simple change for good, replacing a meal such as breakfast or lunch with a juice or smoothie that is absolutely packed with vitamins, minerals and anti-oxidants is a good start. The amazing guys at Green2Go create some fantastic beverages that will add a zing to your step and really get your metabolism running. Try their three day smoothie detox, or their winter cleanse to support your immune system, which comes with five cold-pressed juices, a power packed shot and an EZ fuel capsule. Jessie's Juice Bar in Camana Bay is another brilliant spot in which to enjoy lots of healthy drinks and dining and of course, juices! Try their Pink Ginger (beet, carrot, pineapple, apple and ginger) or their Green Party, made with local greens, cucumber and parsley.
Island Naturals is an obvious choice if you are looking to pursue a healthy eating plan, and they also cater to vegetarians and vegans. Pick from a wide variety of salads, such as their Thai Crunch Salad, packed full of kale, mixed greens, mixed nuts, red pepper, avocado, roasted sweet potato, quinoa, red cabbage, chickpeas, served with a spicy peanut dressing. There's also a great selection of wraps, soups, bowls and an excellent array of healthy breakfast items to choose from, such as porridge and acai bowls.
Healthy eating does not come any more scenic than at the lovely VIVO, a fantastic restaurant perched on the edge of the coast up at North West Point in West Bay, offering dazzling views of the ocean. VIVO calls itself an alternative restaurant, and this is because everything they serve has a focus not only on healthy eating and healthy living, but also on sustainability. Breakfasts, wraps, burgers, fish, juices and more are all served with care, attention and love.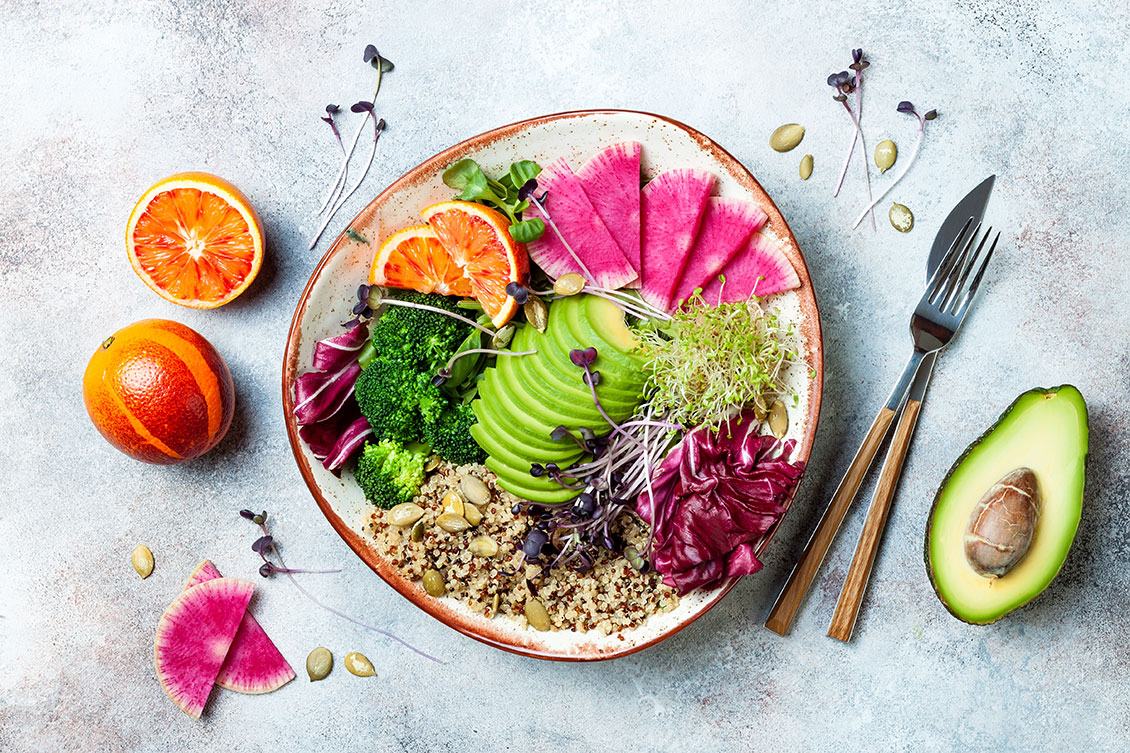 While you are in the vicinity, it is also worth heading down to Seven Mile Greens, sister restaurant to Seven Mile Burger, a relatively new offering that is a brilliant concept if you are trying to eat healthily, as you build your own salad, choosing which greens, proteins, housemade dressings and veggies you want. A simple idea and one that offers great choice and variety, every time you go.
Another excellent location highly worthy of a mention if you are aiming to eat healthily is the lovely Brasserie Market, situated in Cricket Square in George Town. Busy office workers flock here for their array of healthy goodies to keep them going all day. Like the Seven Mile Greens restaurant, the Brasserie's Market offers lots of 'build-your-own' options to suit your taste, including omelettes, salads, sandwiches and wraps. 
With all this incredible variety on offer, there's no excuse not to eat healthily for breakfast, lunch and dinner!