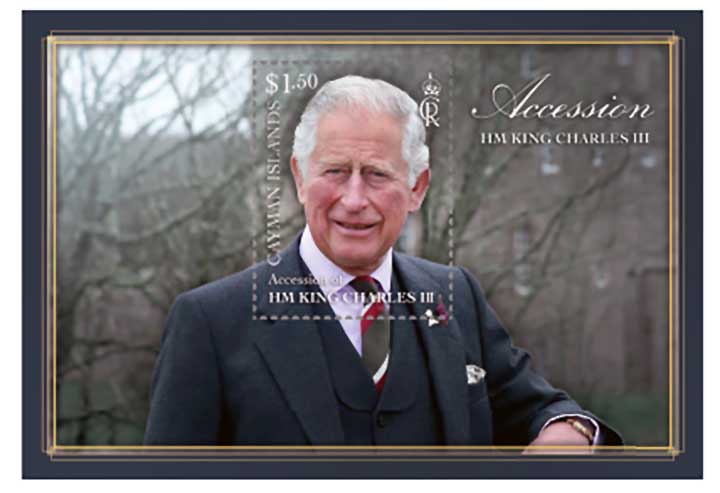 The Cayman Islands Postal Service has issued two new sets of stamps to commemorate Her Late Majesty Queen Elizabeth II and celebrate His Majesty King Charles III's accession to the British Throne.
The collectible philatelic issues of both stamp sets of stamps are now available at all post offices across Grand Cayman. They will be available in Cayman Brac and Little Cayman starting next week.
The stamps are available for purchase in individual denominations at all post offices while the commemorative stamps sets can only be purchased at the Philatelic Bureau at the Seven Mile Beach Post Office, West Bay Road.
In the current issues, a set of five stamps pay homage to Her Late Majesty Queen Elizabeth II. The issue consists of stamps in 25 cents, 80 cents, $1, and $2 denominations as well as $4 that is also highlighted on a souvenir sheet.
A first day cover issue will feature the four stamp images as well as another portrait of Her Late Majesty, who passed away last September ending the longest reign of any British monarch. A commemorative sheet, which highlights milestones from Her Late Majesty's life is also featured as part of the philatelic package. The first day cover is offered in two options, one with the stamp set and the other with the souvenir sheet.
The three stamps set for His Majesty's accession to the British Throne are available individually in 80 cents, $1.50 and $2 denominations. The first day cover offered with the stamps set features the 80c and $2 stamps' images as well as another portrait of the reigning monarch. A commemorative sheet showcases His Majesty's life and his accession on his mother's passing. The souvenir sheet can be purchased separately.

For purchase in sets, the costs are:
HM Queen Elizabeth II In Memoriam:
Stamp Set: $4.05
First Day Cover with stamps: $4.85
First Day Cover with souvenir sheet $4.80
Souvenir Sheet $4.00
Accession of HM King Charles III:
Stamp Set: CI $2.80
First Day Cover w/stamps: CI $3.60
Souvenir Sheet CI $1.50
Commenting on the new issues, Postmaster General Sheena Glasgow said, "We take great pride in bringing these two royal stamps offerings to the Cayman Islands and to the wider global public. While acknowledging that Her Late Majesty's stamps issue is a bittersweet release for us all at the Postal Service, we nevertheless are pleased to commemorate the late Queen in this way. Over the years, we have been deeply honoured to have featured the beloved Queen in a number of postal stamp issues to highlight her milestones that included her Platinum Jubilee. We believe the newest stamps issues are another fitting tribute to the passingof this global icon."
Ms Glasgow added, "Equally, our tribute to His Majesty King Charles III is an esteemed celebration of his accession, through which we have also highlighted salient points in his life. Collectors may wish to note that a stamp issue commemorating His Majesty's recent coronation is already in development."
The celebratory first day covers will be made available for purchase to members of the public after arrival.