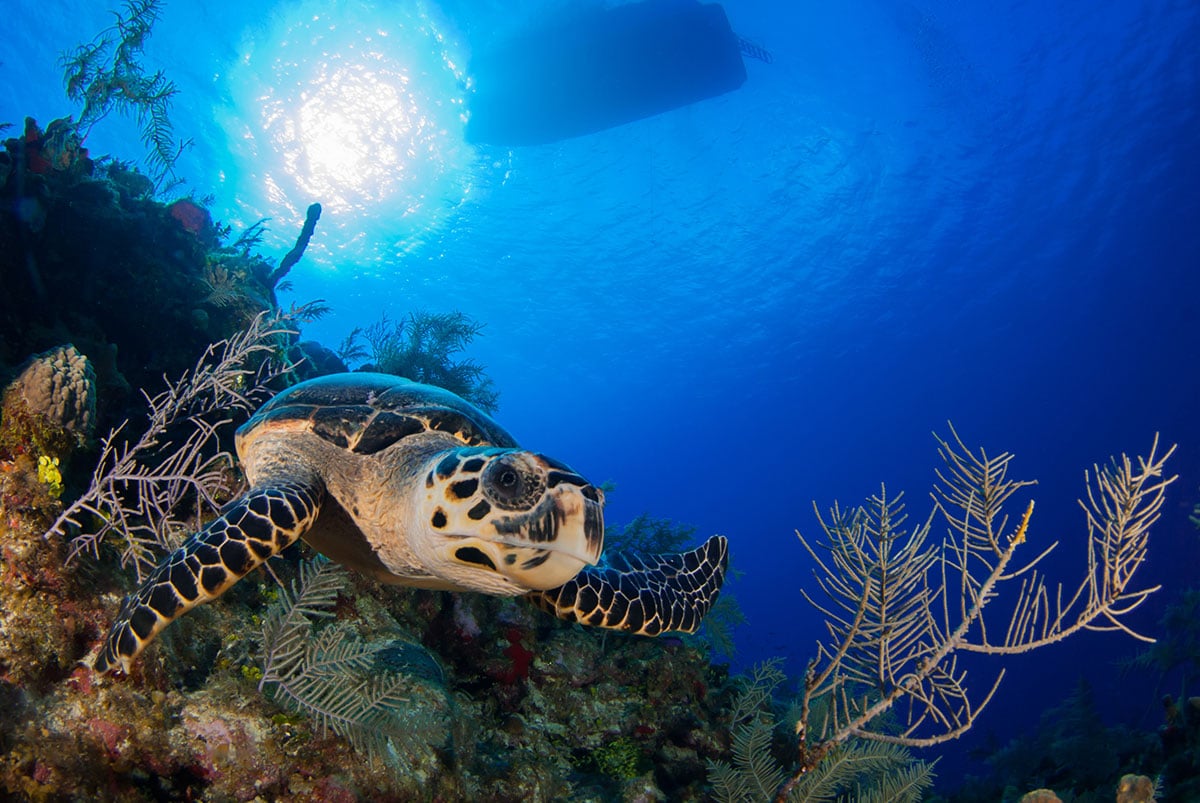 Known for some of the best diving in Caribbean, the Cayman Islands offers a spectacular world to explore in the deep blue, with diverse wildlife, flourishing reefs, and dramatic underwater vistas. Divers flock to Cayman in search of crystal clear water – the water rarely dips below 80 degrees – and great encounters with grouper, sharks, rays, and fish. Dive operators on all three islands provide transportation to more than 365 dive sites so, if you have the time and desire to explore, you can discover a new site every day of the year. In no particular order, here are some of our favorite places that are must see when diving in the Cayman Islands
Kittiwake – the U.S.S. Kittiwake is a purpose-sunk wreck that was brought from the United States and placed at 65-feet under, in a sandy patch just near the main wall at the dive site called The Chutes, off the shores of West Bay. The Kittiwake is accessible by large openings as well as existing doors and in its time of active duty was used a rescue vessel. Beginners to advanced divers can enjoy swimming through the galley, compressor room, and even stand at the helm. Since it was sunk in 2011, the Kittiwake has become home to eels, a school of horse-eye jack, droves of sergeant majors and even sea slugs. You can also enjoy the Kittiwake as a snorkel site so non-diving family members can come along for the ride.

A black and white photo showing a diver (Sam Lungari) exploring the bow of the wreck of the USS Kittiwake (a US Military submarine rescue vessel deliberately sunk as a diving attraction in 2011). Seven Mile Beach, Grand Cayman, Cayman Islands, British West Indies. Caribbean Sea. Photo: Alex Mustard.
Devil's Grotto at Eden Rock – Tunnel lovers, rejoice. This dive site is a maze of tunnels, swim-throughs, arches and passages that follow along the mini wall outside of Eden Rock Dive Shop. The rough ironshore rock creates a harsh and dramatic environment that balances with the soft, white sand below and the ethereal light rays that trickle through from the surface. A seasonal treat is the bloom of silversides, a mix of small, silver baitfish such as anchovies that arrive into the shallow waters and overnight increase dramatically in number. Divers will plan entire trips around this event. Swimming among the canyons with thousands of tiny, silver fish darting around in unison is an experience that everyone should have at least once.
Wilderness Wall in Cayman Brac – Off the south coast of Cayman Brac lies brilliant tunnels and chimneys that bring you from the top of the reef at 50 feet to around 80 feet, where you can find rope sponges, vase and tube sponges in sizes rarely found. A pinnacle rises to within 100 feet of the surface, creating a fast-flowing channel which attracts sharks and many pelagic fish. The top of the reef sees bright white sand and commonly seen reef fish such as groupers and angel fish.
The rough ironshore rock creates a harsh and dramatic environment that balances with the soft, white sand below and the ethereal light rays that trickle through from the surface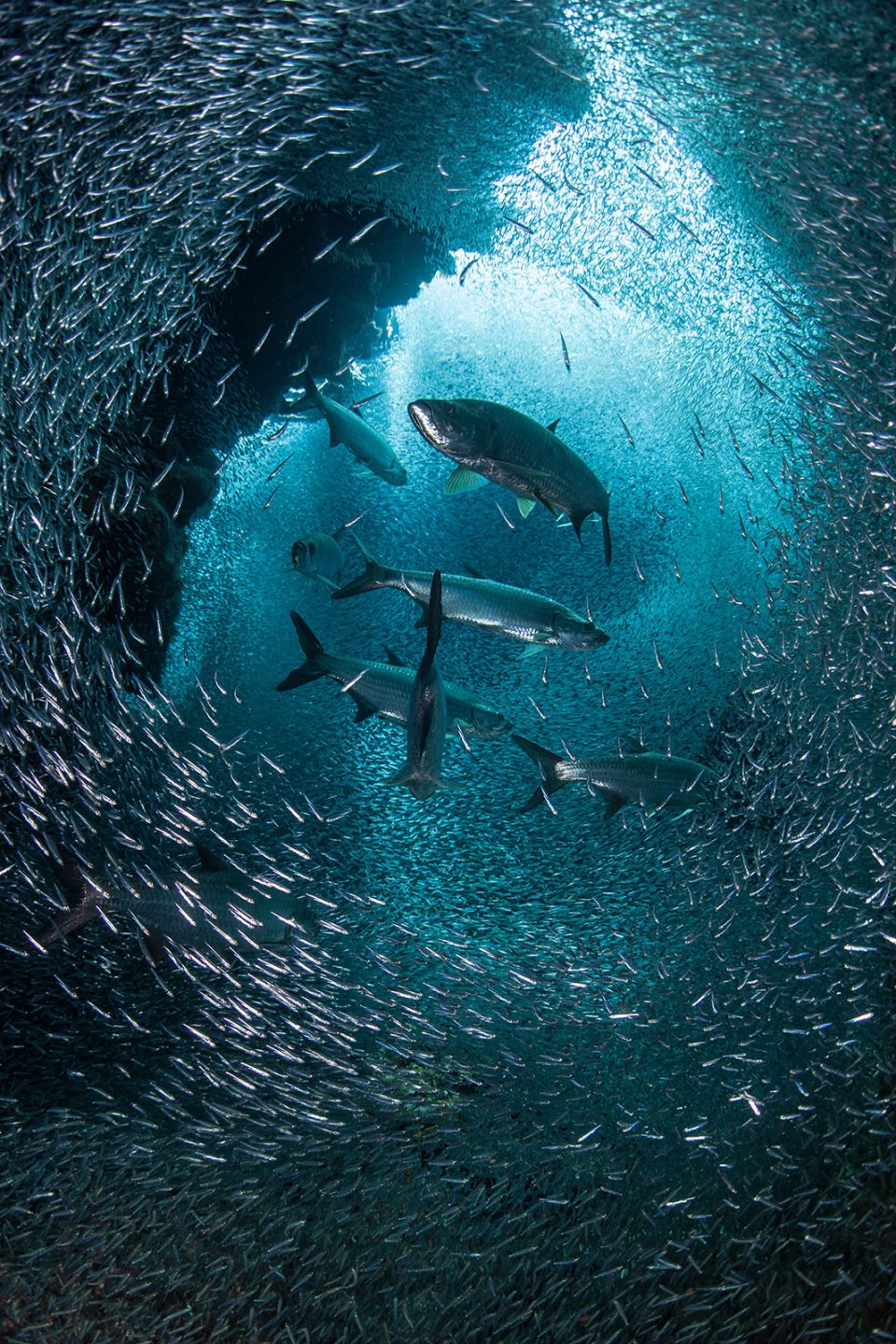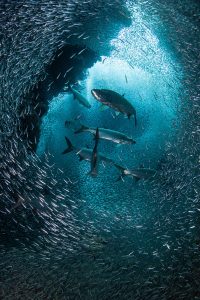 Pat's Wall – On the eastern side of the island is a wall dive that never disappoints. The reef on top of the wall is lush with coral growth and sea fans, and a crack in the wall creates a dramatic entry to swim along the wall that abruptly drops off to thousands of feet. Colorful corals and sponges can be found tens of feet below. Don't forget to keep an eye out for Caribbean reef sharks, which are often found swimming by.
Black Rock Reef – Schooling fish of all sorts are found on this shallow site along the North Wall. Grunts and blue-green chromis all happily reside together around the top of the rock outcrops, and turtles and rays enjoy the coral fingers that stretch the wall and deeper dive site, Black Rock Drop Off. In the shallow water, up on top of the mini wall, smaller creatures such as blennies, lettuce sea slugs and brightly-coloured shrimp are plentiful among the sea fans.
Orange Canyon – Named for the numerous elephant ear sponges that display a brilliant orange color, this wall dive is a winner on the north-west point of Grand Cayman. Due to the location, this site can experience currents and strong water movement, which brings with it the nutrients the corals need to thrive, creating a healthy reef system. Photographers will not be disappointed with the vibrant, flashy colors that grow along the wall face.
The mermaid, Amphitrite, a nine-foot-tall bronze statue, has been a popular attraction since it was placed there in 2000.
Bloody Bay Wall in Little Cayman – No dive list in the Cayman Islands would be complete without mention of this gem. A protected area allowing for maximum growth and display of corals, sponges and sea fans, Bloody Bay Wall is known around the world, for good reason. The fish life is incredible with thriving numbers of schooling fish, such grunts and tangs, to larger creatures, such as grouper and turtles. The wall begins to drop at such a shallow depth that there is still so much colour to be found. It is home to the crystal clear waters for which the Cayman Islands are known. The groupers are friendly and they will come straight up to your mask and just stare into your eyes, waiting patiently for a chin scratch. Bloody Bay Wall is truly a prized gem and one of the best dive sites in the Caribbean.

Just off the shore from Sunset House Divers in South Sound Grand Cayman, you'll find the iconic mermaid statue. An underwater photographers delight.
Sunset House Shore Dive – Sunset House is one of the most iconic dive shops in the Caribbean. Found just outside of George Town, along the South Sound shoreline, this dive offers something for everyone. Due to the clear waters, even snorkelers can enjoy the exciting features of this location. Easy entry and a short swim lead to the mini wall where the mermaid, Amphitrite, a nine-foot-tall bronze statue, has been a popular attraction since it was placed there in 2000. Across the sand, in about 60 feet of water, is the LCM David Nicholson Wreck, a landing craft that is home to purple finger sponges, a possible eel or two, and countless angel fish. Continuing on deeper, you can also reach the main wall where you will find more sponge growth, corals and fans.