Locals don't really talk about the weather in the Cayman Islands. It is not generally a topic of small talk, because, no matter what season or time of year, the weather is consistently sunny and consistently beautiful. Chances are it's 80 Degrees. It is the name of this blog and also the temperature you are most likely to find day in, day out, in Cayman.
Each season brings unique characteristics that could help you determine when to visit, relocate to, or enjoy our islands. The most agreeable weather in Cayman is November to April. The days are warm, but the consistent easterly breezes help to ease the heat of the sun. These are considered the coolest and driest months of the year but also tend to be the busiest.
As June and July roll around, the days heat up and the sun can be pretty intense, creating some of the hottest days until September. If you are looking for tropical heat, this is the perfect time to be in Cayman. From June to November, the islands experience sporadic daily showers, but rarely do they last more than a few hours. In fact, often you can drive straight through a rain storm and come out the other side only minutes later into brilliant sunshine. This is also the projected hurricane season, but any tropical storms are well documented and weather stations allow plenty of time for leaving the island or closing up properties.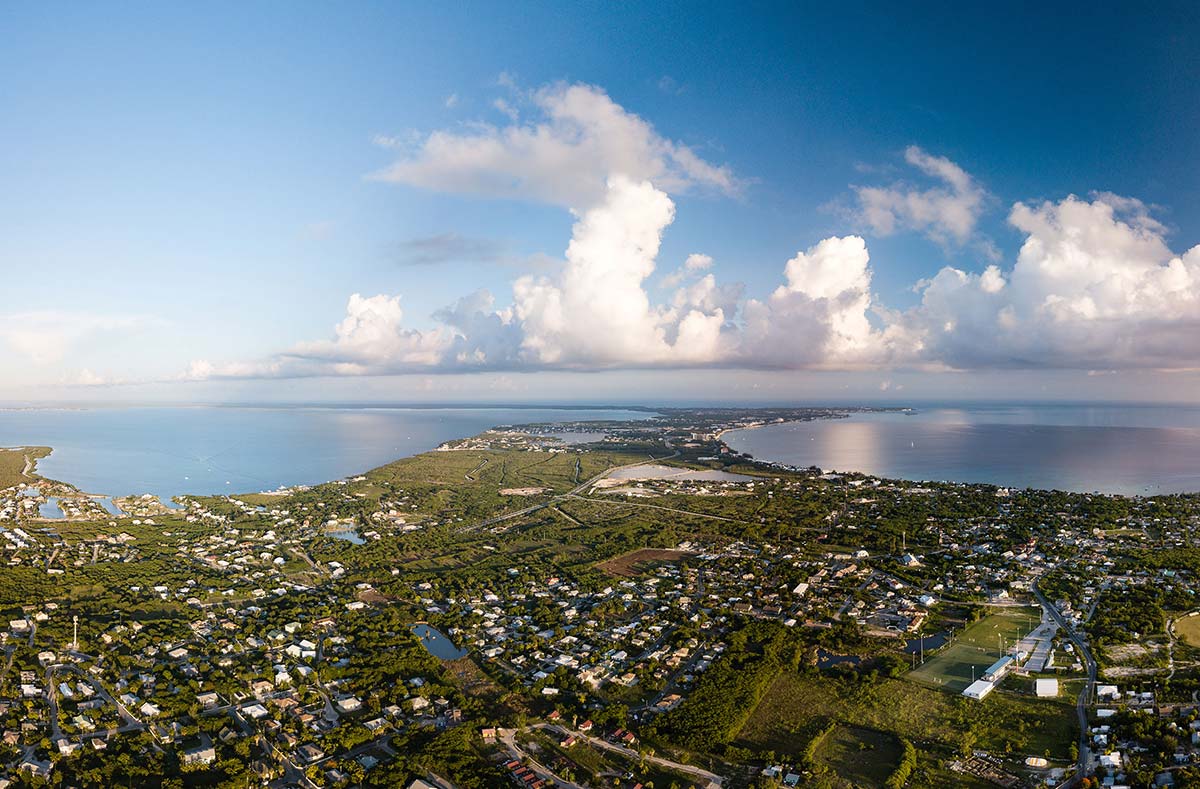 The Cayman Islands are a tropical paradise and with that comes some planning, self-care, and safety when thinking about sun exposure. Important things to remember when coming to Cayman or spending the day outside include:
Sun protection – Wear sunscreen! Remember to reapply when coming out of the water and frequently throughout the day.
Exposure protection – Clothing like rash guards and hats can have an impact on your sun time and are always great options when spending the day outside or on the boat. The water can cause a high glare, so sunglasses are a daily necessity.
Drink lots of fluids – We all want to enjoy a cold margarita or icy beer on a hot day, but don't forget the water. It is hot and humid so keep drinking water to rehydrate the body as you are enjoying the Caribbean heat.
Go inside – When the heat of the midday sun is just too much, go back inside. Read a book on the sofa or get some items checked off the to-do list. Catch up on  There is no need to fight the blazing afternoon sun. The morning and evening sun is just as beautiful and much easier to bear.
When experiencing some of our sporadic showers you can often drive straight through a rain storm and come out the other side (only minutes later) into brilliant sunshine
If you get a bit excited spending all day out in the sun and the next day find your skin feeling a bit tight and slightly red (or bright red), take care of it before heading back out to the beach. Treat burned skin immediately, drink lots of fluids and take a day away from the sun. This is a great opportunity to experience some of the indoor activities around Grand Cayman.
In the home, there are other ways to help with the heat. We all love when that A/C starts up and the house cools to a comfortable temperature, but there are easy habits to incorporate to help the house stay that way all day long.
Keep blinds and shades closed in areas not in use. Understandably, that Seven Mile Beach view is stunning, but when you are not using bedrooms during the day, close them up by drawing the blinds or curtains to keep the sun at bay. You can also look into covering windows with solar tint for greater efficiency.
Switch fan blades in the summer to run counter-clockwise creating a nice breeze inside.
Service and maintenance your A/C system, window and door seals, and filters regularly. Keeping up with regular service calls will extend the life and efficiency of any mechanical system.
The unforgettable sunsets and days spent splashing in the Caribbean waters are some of the reasons we are all drawn to the Cayman Islands. With a few planning tips and daily practices, everyone can experience the balmy weather at any time of year. Whether you like hot and humid summers or breezy and mild winters, Cayman is undoubtedly a wonderful place to be. 80 Degrees today. Why would you want to be anywhere else?