The soothing lure of a zen sculpture garden
Creating a soothing spot to reflect, relax, and put aside the world is all the more attractive these days— and a Zen sculpture garden is just that space.
In the traditional sense, Zen Buddhism is the study of humanity and nature's place in the world, says Janice Parker of Janice Parker Landscape Architects based in Greenwich, Conn.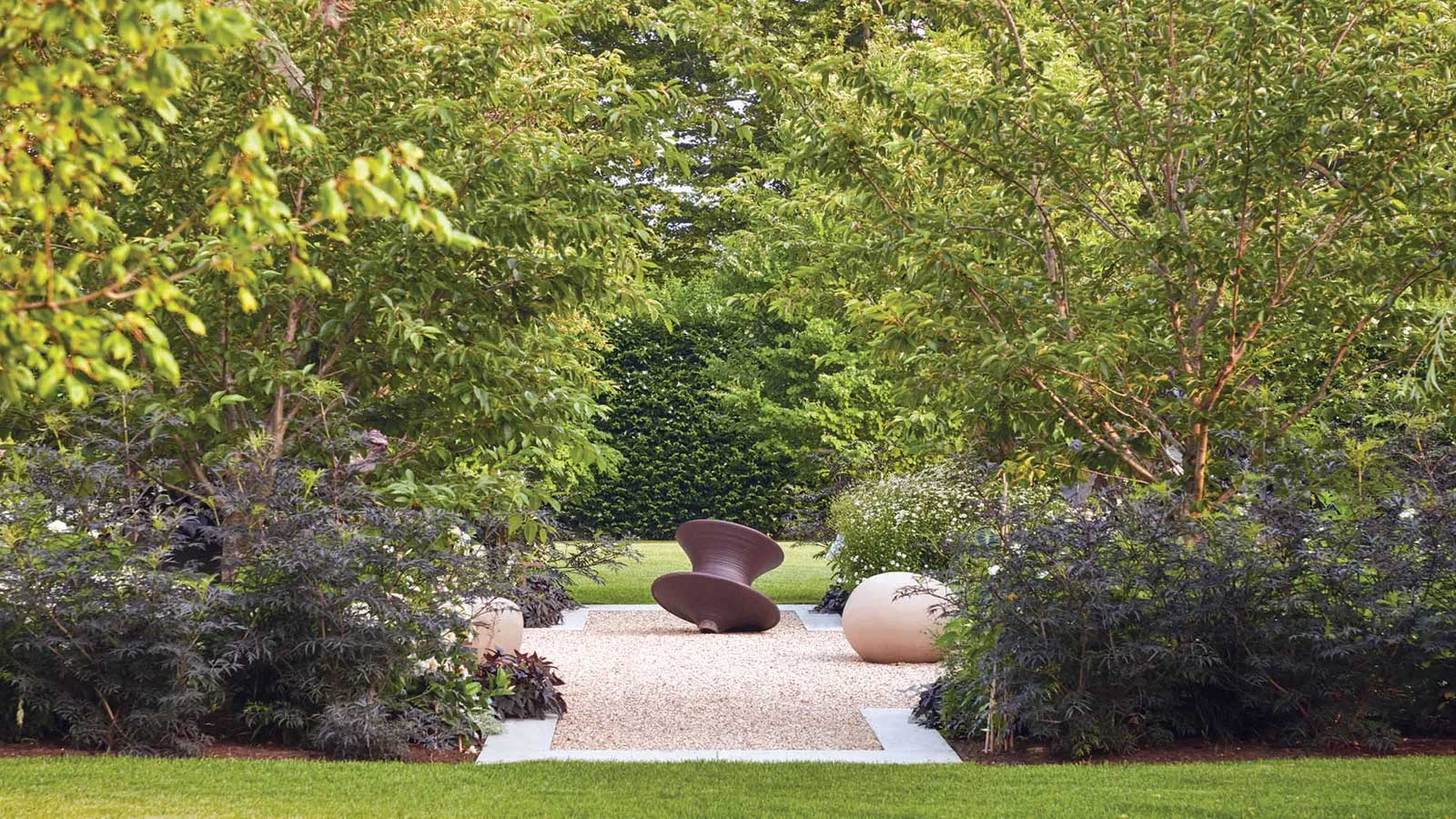 "Within a Zen garden, there are classically eight main elements: bridges, islands, plant material, sand, stones, trees, water, and waterfalls," she says. "Zen gardens, to me, should show a serene place where we can still our minds."
To create a calming enclave of your own, however, you needn't follow strict Buddhist principles. Even a small space with a statuary or a water feature, a spot that simply allows you to breathe, can bring on Zen vibes.
"A well-thought-out sculpture garden should give a feeling of tranquility and calm," says Andrew Kay, of Andrew Kay Sculpture in Cumbria, England. "It should immediately be able to draw you in and allow you to escape mentally—even if you just get glimpses of it from a window in your home."
And feel free to do what you prefer. "Honor what truly brings you to that peaceful place," says Heather Trilling of Trilling Landscape Design & Build in Los Angeles. "Is it a wild, overgrown space with aged, bronze sculptures? Or a meticulously pruned garden with polished metal pieces? Own your type of Zen and then go from there," she says. By adding sculptures to your outdoor space, you're including both an architectural element that adds height, depth, and visual variety and a very personal piece of art, Trilling says.
Placement is Paramount
First and foremost, a Zen garden should be placed where you can create a boundary or a wall around the perimeter, Parker says. This can be done with wooden or bamboo fencing, a planted hedge, or as a masonry wall.
"If you want a subtle mix of green plants, moss, and ferns, place this garden in a northern orientation, so it won't get the hot morning or late evening sun, and there will be natural shade," Parker says.
"If you have an area that is stubborn to grow in, I'd suggest placing sculptures in those tricky spots–it's an easy distraction for the eye," Trilling says.
Think about how much time you spend in the garden, says Edmund Hollander, president of Hollander Design Landscape Architects, with offices in New York and Chicago. Is this a place to sit and contemplate, or is this more of an interactive piece of art that invites one to walk around? "Try and think of the space, the materials, the light, and the sculpture as elements of a single composition," Hollander says.
Trilling loves to have at least one bench in a Zen garden—for comfort and reflection. "I am a huge fan of McKinnon and Harris for outdoor furniture: They are adaptable to any space, elegant, and built to last hundreds of years."
Selecting sculptures
The process of selecting a sculpture is undoubtedly personal, but Trilling suggests picking pieces that reflect your interiors.
"You want the experience of walking out of your home and into the garden to feel like a seamless transition in both energy and style," she says.
Trilling recommends looking for pieces made out of stone (natural or polished) that will hold up to the elements, or metals like copper and bronze that patina naturally over time.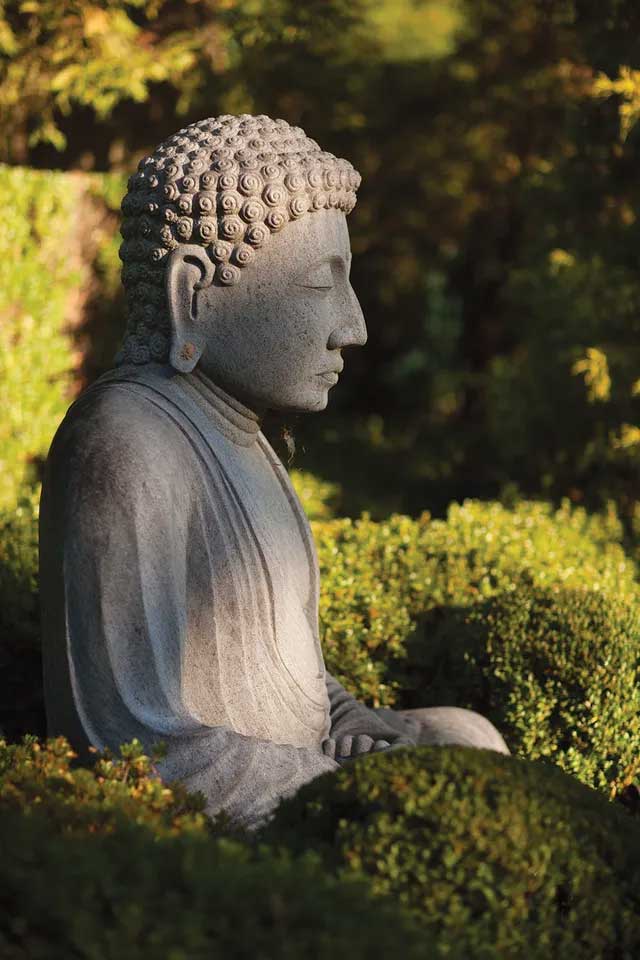 Perfect the plantings
Parker recommends small dwarf deciduous and evergreens, which stay in scale over time. And "you can never go wrong with a Japanese maple, the maple family is filled with wonderful variety and they are very user-friendly," Parker says.
She also loves Acer palmatum "Sango-Kaku," a coral bark maple, which is small. "The bark is green in the spring and then slowly starts to redden up. After the first frost the bark is iridescent crimson, a phenomenal look in the dead of winter. The leaves start out in the spring as apricot and turn to chartreuse tinged with red edges, and the fall brings on another color show of orange and red," Parker says.
For the garden surface, stick to gravel, stone, and moss, as well as ground cover plants and ferns.
"Planting around a sculpture is an opportunity to bring even more life to the piece, adding additional layers of color, texture, and seasonal joy," Trilling says.
Consider a water feature
Adding a water feature is like infusing instant calm. "Not all Zen gardens have a water feature, but if you are fortunate enough to put in a small pond, it is a wonderful place to add water lilies or Lotus plants," Parker says.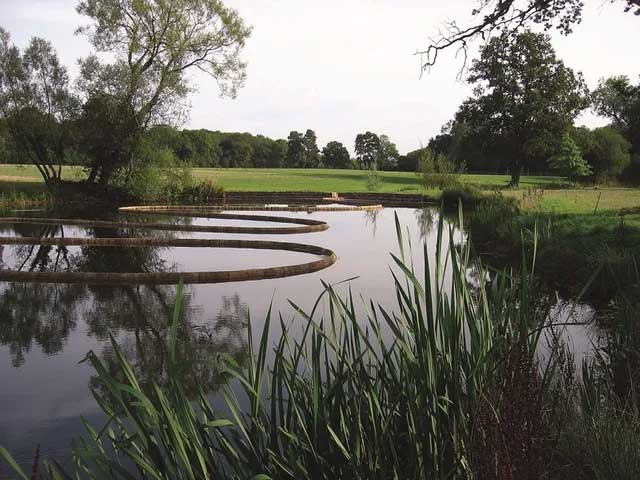 A small waterfall made with rocks and slab stone can be a beautiful addition. Remember that you do not want to be overly showy in a Zen garden, so your water feature should not be so prominent that it takes over the space.