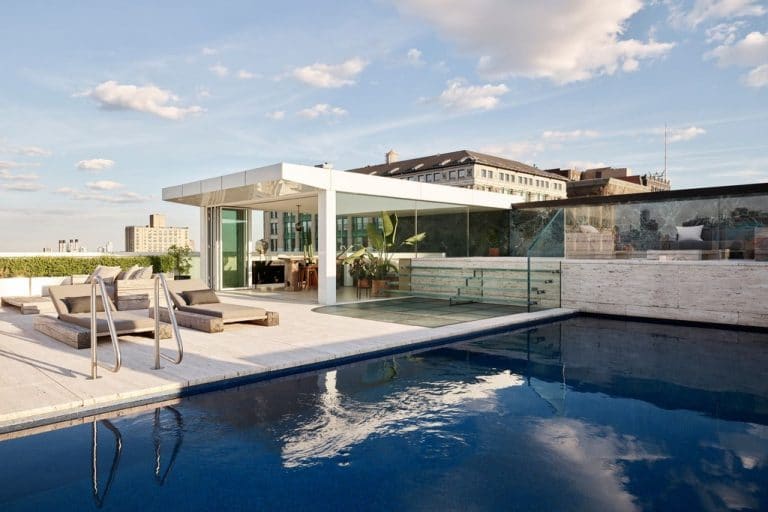 Dictionaries define the term "magnum opus" as an artist's large, significant achievement. That characterization certainly fits this unparalleled penthouse condominium on Park Avenue, designed by Copenhagen- and New York–based Søren Rose Studio, who strive to create original interiors that are minimal, masterfully crafted, and simultaneously raw and refined.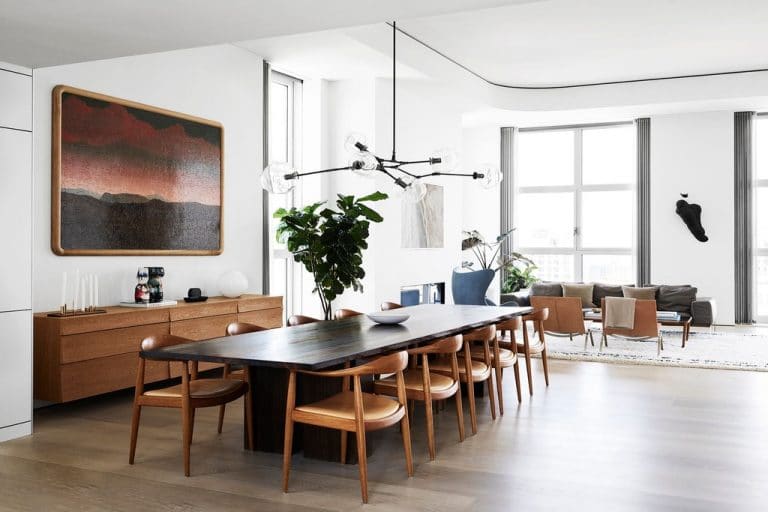 Søren Rose's self-proclaimed goal is "to improve the immediate surroundings of human beings," and this home undoubtedly creates an atmosphere of enhanced existence, perhaps outshining its admittedly rarefied Park Avenue environs. Soaring ceilings and comprehensive, consistent use of steel, stone, glass, leather, and wood—such as 18-inch-plank oak floors—creates a sense of harmony throughout the interiors, which are inspired by the sleek lines and open airiness of a ship. A unique blend of Nordic and industrial elements illustrates Søren Rose's signature "collision" of "Scandinavian poise" with "downtown grit." Uniting the space in dramatic fashion is a 24-foot Verde Alpi marble—sourced from a famed quarry in the Swiss Alps—that rises from the main level and through the mezzanine to the rooftop.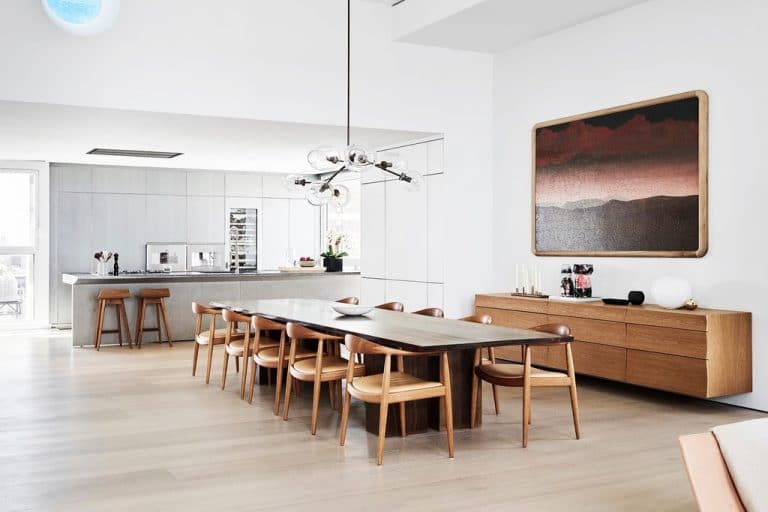 The floor plan of the main level flows in a circle, making a continual curve from the grand salon to the formal dining area and to an Arclinea-designed kitchen with an impressive 17-foot marble-topped island, a suite of Gaggenau appliances, and an openness ideal for entertaining. Full-height windows bathe the spaces in natural light and offer nearly unprecedented views of the city skyline and Gramercy Park.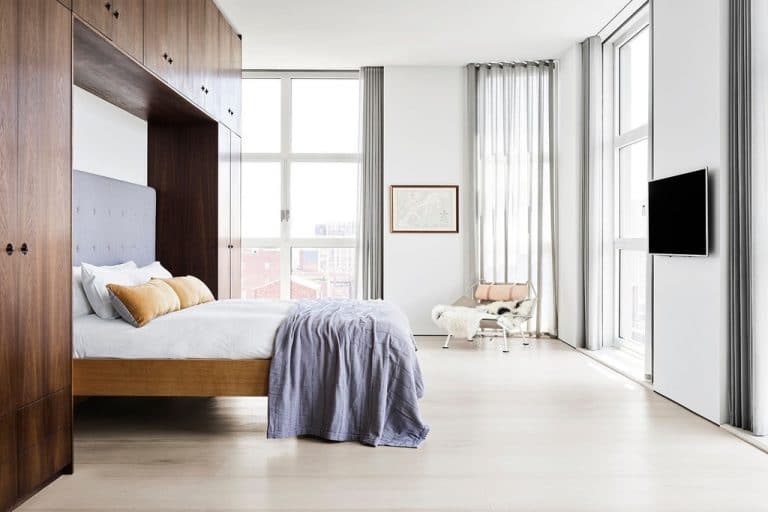 Secluded off the living spaces is a master bedroom of remarkable size, height, and spaciousness. Among its highlights are walls of oak cabinets lined with leather, more floor-to-ceiling windows, and a lavish bath with a full wall of dazzling Bisazza tile, a tub carved from a single slab of statuary marble, custom closets, a two-head glass-enclosed shower, and a picture window offering a full view of the Empire State Building.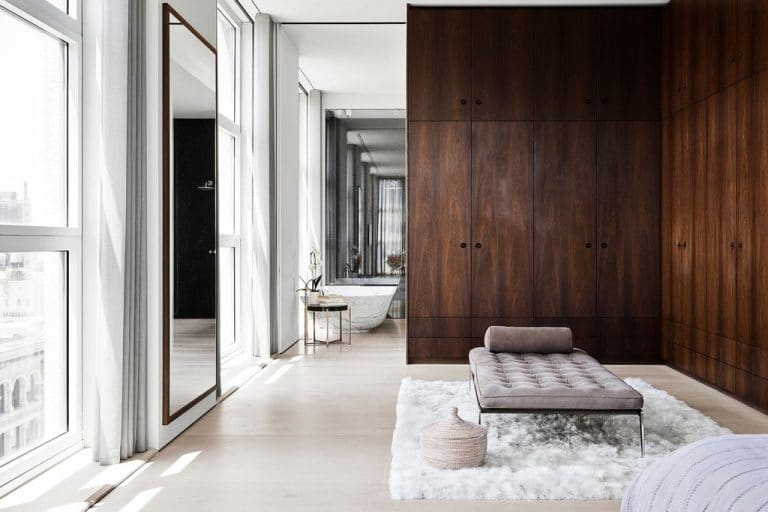 A striking glass-enclosed curvilinear stairway with floating oak treads leads to the mezzanine and a hideaway modeled after a ship's cabin. Easily functioning as an office or third bedroom, it has paneled glass ceiling, generous custom built-ins, and a discreet perspective on the entertaining spaces below. An electronically retractable wood and curved glass screen creates privacy when desired.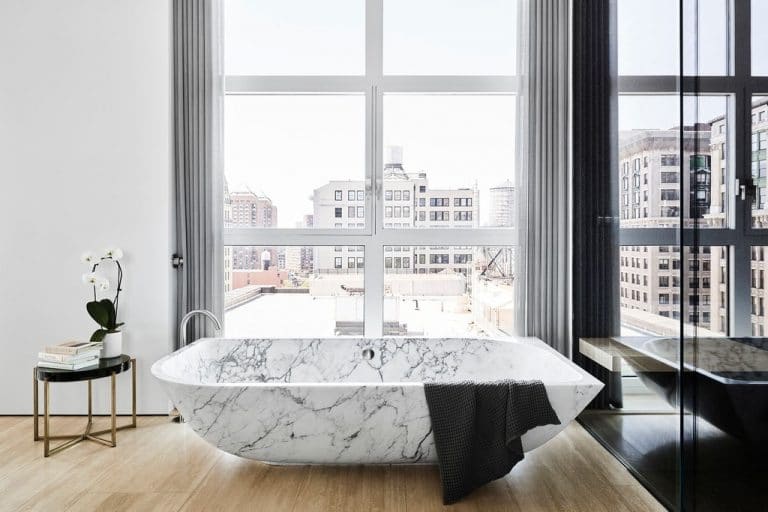 Between the salon and the dining room, a porthole peeks out into the swimming pool perched on the building's roof. This is a mere glimpse of what is perhaps the most stunning private pool in Manhattan, 30 feet long, lined in eye-catching blue Mosaico Bisazza tile, and bound at one end by an infinity glass wall. The accompanying glass-enclosed pavilion is heated and air-conditioned, includes a full marble kitchen, and provides space for lounging and dining year-round and in any sort of weather. A glass wall folds back to access the sun-soaked terrace that surrounds the pool and to create a spectacular venue for indoor-outdoor entertaining. Only one thing surpasses this alluring assemblage: the rooftop's full, uninterrupted panoramic views of the city.