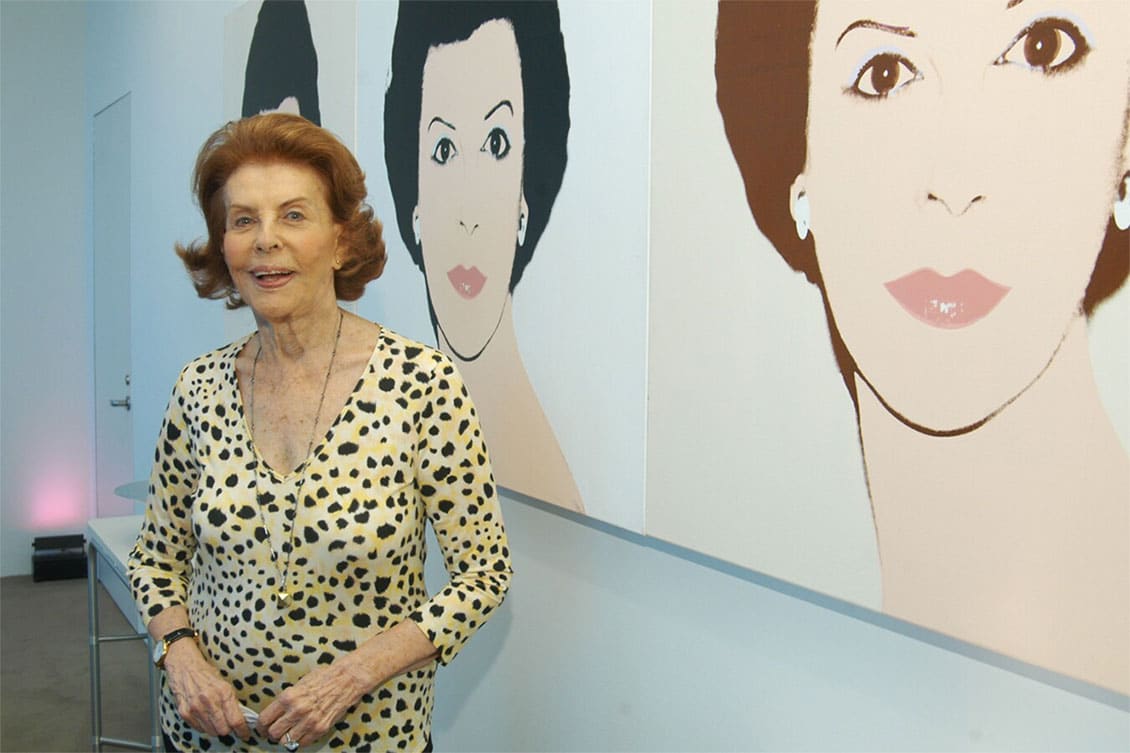 This fall, Sotheby's is bringing to market one of the greatest American art collections of recent times, the Collection of Emily Fisher Landau, who passed away at the age of 102 in Florida last March, leaving a stunning legacy of art for generations to come.
Considered one of the greatest American art patrons and collectors of recent times, Emily Fisher Landau was renowned for her dynamic collection of Modern and Contemporary art, that featured some of the 20th century's most inspirational artists. And this collection, an encapsulation of 20th century art history, will be coming to market at Sotheby's New York, in November 2023 in what promises to be a landmark moment. It is a unique and kaleidoscopic body of artworks; reflecting not only a deep love of Modernists and American contemporary art, but particularly, the subversive edgy energy of 1980s New York.
Rising to prominence in the art world as a patron and philanthropist in the late 1960s, Landau was a trustee of, and donor to the Whitney Museum of Art, to which she donated 417 artworks in 2010, a selection of which formed the travelling LEGACY exhibition across the Unites States in 2015. She was also a committee member at the Museum of Modern Art, a board member at SITE Sante Fe museum, and the Georgia O'Keeffe Museum in New Mexico. She was on the board of the Metropolitan Opera, and in 1986, was appointed a Chevalier, Ordre des Arts et des Lettres in France, in recognition of her arts patronage.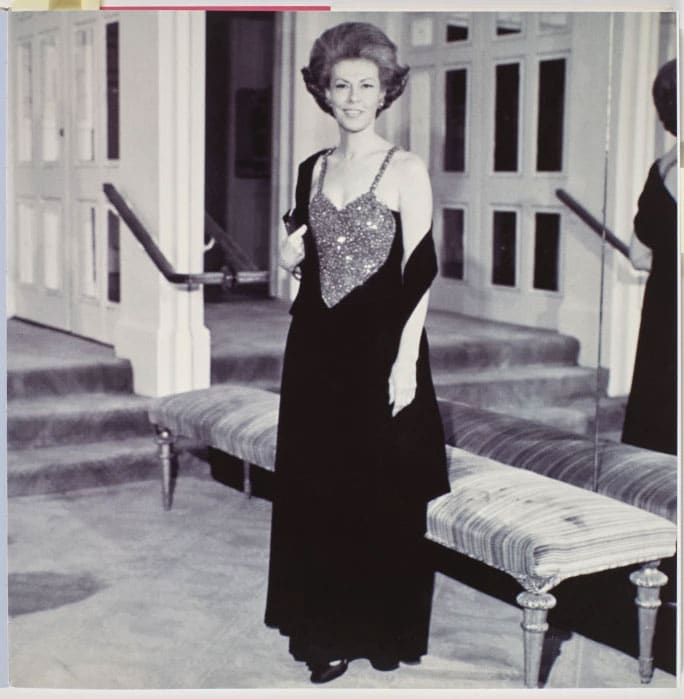 Outside of the art world, she also established the Fisher Landau Foundation for research on dyslexia, a cause especially close to her heart, and the Fisher Landau Center for the Treatment of Learning Disabilities at the Albert Einstein College of Medicine in the Bronx.
Her legendary generosity of spirit also extended to the sharing of her collection. In 1991, she launched the Fisher Landau Center for Art in Queens. Over the next 26 years it welcomed the public to experience 1,500 works from her collection.
"With her own museum, she was a great example of the premier collectors in history who collect not just for themselves but for posterity," Leonard Lauder, chairman emeritus of the Whitney Museum told The New York Times on her passing. "She was buying more for tomorrow than today."
'She was a great example of the premier collectors in history who collect not just for themselves but for posterity'
It all began with a break-in. In 1969, a gang broke into Landau's Upper East Side home which she shared with her husband, property developer Martin Fisher. The thieves had come prepared, disguised as a team of air-conditioning repairmen, knowing there was an impressive collection of jewellery in the apartment. Beautiful pieces acquired over the years by Fisher for his wife; bought with expertise, gifted with love.
The gang bluffed their way in, bound up the cook, immobilized the chambermaid and broke into the couple's hidden safe. But what the robbers didn't know, as they bagged up the precious jewels – including a 39-carat blue white diamond solitaire – was that their crime would have a seismic unintended consequence. Thanks to the insurance pay-out she consequently received, Emily Fisher Landau got serious about building what became one of the finest American art collections of all time.
From her first few acquisitions in the late 1960s, the collection grew to contain exceptional art works from Pablo Picasso, Henri Matisse, Piet Mondrian, Jean Arp, Mark Rothko, Franz Kline, Paul Klee and Louise Nevelson.


Following her husband's death in 1976, Emily paused her collecting journey, but returned in the late 1970s with a renewed zeal, a move that coincided with the contemporary art boom in New York, and across the country. Inspired by the new wave of artists, she shifted away from Modernists towards artists including Jasper Johns, Willem de Kooning, Robert Rauschenberg, Ed Ruscha, Cy Twombly and Andy Warhol.
Today, this magnificent collection, that began in 1968 with Landau heroically carrying a three-foot Alexander Calder sculpture home on the bus and up the stairs to her apartment block (where it would eventually hang over the bathtub), has arrived at Sotheby's, with two Marquee auctions at Sotheby's New York on the 8th and 9th November. The sales will be previewed with a travelling exhibition visiting Sotheby's in Dubai, Hong Kong, London, Paris, Taipei, and Los Angeles, underlining the auction house's commitment to sharing this phenomenal treasury of works with as wide an audience as possible.
"Many great tributes have been paid to Emily Fisher Landau," says Brooke Lampley, the Global Head of Sotheby's Fine Art Division. "But in some ways, perhaps, the greatest tribute of all is her unparalleled art collection, which not only traces the fascinating evolution of Emily Fisher Landau's collecting journey, but also tells the entire story of 20th-century art in all its ground-breaking chapters."
From that initial Calder in 1968 ("It looked like a Christmas tree!" said Landau) her pattern of collecting swiftly fell into place. One new discovery followed another in rapid succession. After acquiring the Calder, her passion for art accelerated after encountering a poster in the window of the Pace Gallery on East 57th Street in 1968 for a Josef Albers exhibition.
"It startled my eye – so minimal," she recalled, in an interview for The Whitney's, "Legacy: The Emily Fisher Landau Collection" catalogue. "From the moment I saw that Albers, I knew I loved simplicity. Albers was my beginning point as a collector. I've never collected something because it was fashionable. It was always about what I instinctively liked."
'I've never collected something because it was fashionable. It was always about what I instinctively liked'
This guiding principle remained at the heart of Landau's collecting over subsequent decades. And it is evident in the Sotheby's sales where the star lot with an estimated value of $120million is a sumptuous Picasso, Femme à la Montre (1932), one of Landau's earliest acquisitions, purchased in 1968.
"One of Emily Fisher Landau's first major purchases, Picasso's Femme à la Montre is a masterpiece by every measure," says Sotheby's Head of Impressionist & Modern Art, Americas Julian Dawes. "Painted in 1932 – Picasso's 'annus mirabilis' – it is full of joyful, passionate abandon yet at the same time it is utterly considered and resolved. Its bold primary colors literally sing from the five-foot-tall-canvas. The Emily Fisher Landau Picasso is not just a stand-out work from a stand-out year, it is a definitive work in the story of Western art."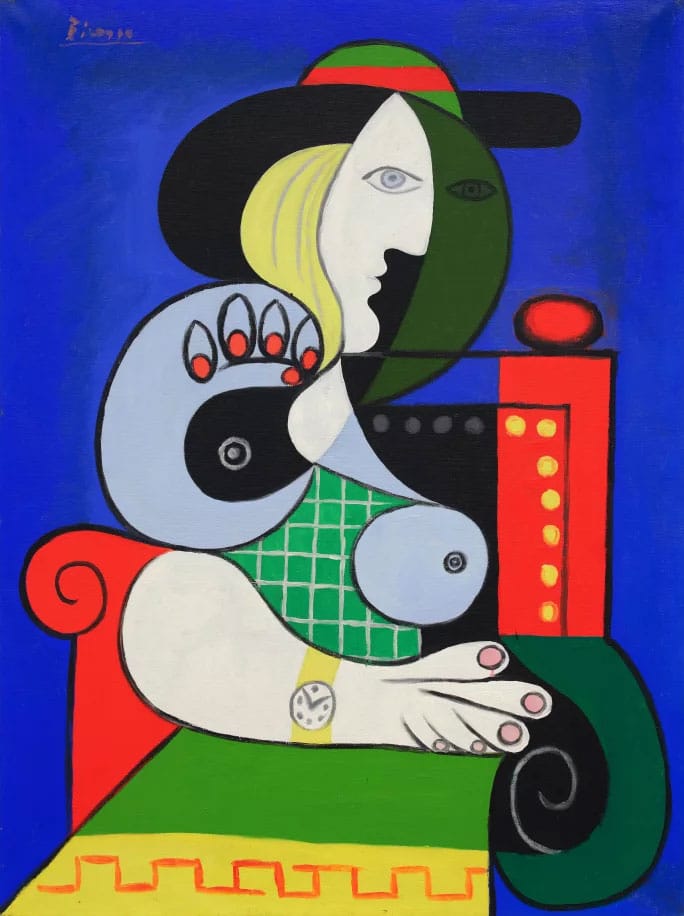 Few fledgling collectors would be confident enough to buy one of the most significant Picassos in existence at such an early stage in their collecting journey. But Landau's shrewd eye for a masterpiece held her in good stead from the outset. The Picasso remained at the heart of her collection for more than five decades, hanging above the mantle in her New York home. The Picasso so unnerved Andy Warhol, who documented his early-1980s visits to Landau's home at 720 Park Avenue in his Diaries, that he fussed excessively over his portrait of Emily, finally doing it all over again. He and Landau had agreed the first attempt simply wasn't strong enough to hang alongside work of such caliber.
Another substantial painting was Mark Rothko's Untitled, from 1958. With uncanny timing, Landau had first visited Rothko's studios in New York in late 1969, a visit that considerably impacted her outlook. "My perception of Rothko's work expanded because of my visit there" she later recalled. Shortly after her visit, as she was still mulling over the experience, the artist died.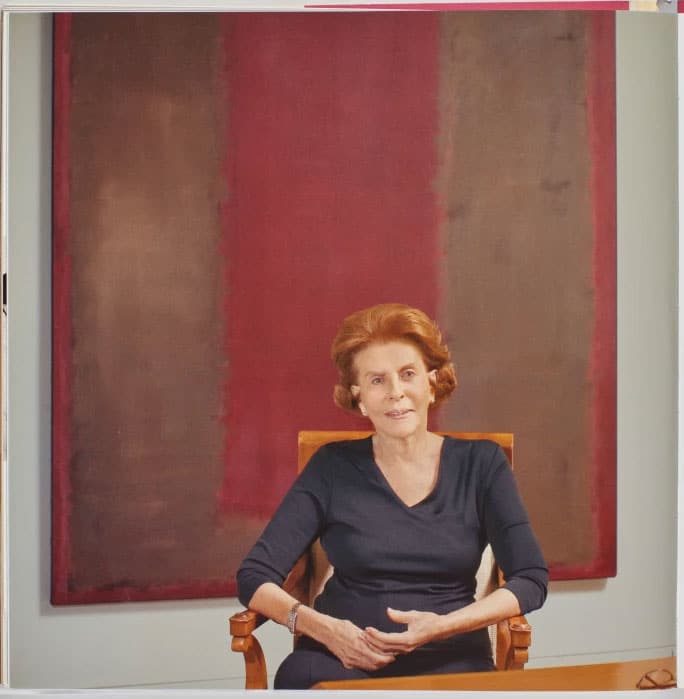 Her fascination with his work remained strong, and a few years later, she acquired her Rothko, a late-era piece she found mesmerizing. "You have a feeling you are going to walk through that color, that the painting is the door" she later commented.
Landau's rise as a collector mirrored the equally stratospheric trajectory of the greatest American artist of the late 20th century. Naturally, the pair admired each other. "My favorite artist is probably Andy Warhol," Landau said. "What I recognized in him – or what I felt – was the influence he had on other artists. He wrote about me in his diary, he came to the apartment at 720 [Park Avenue]."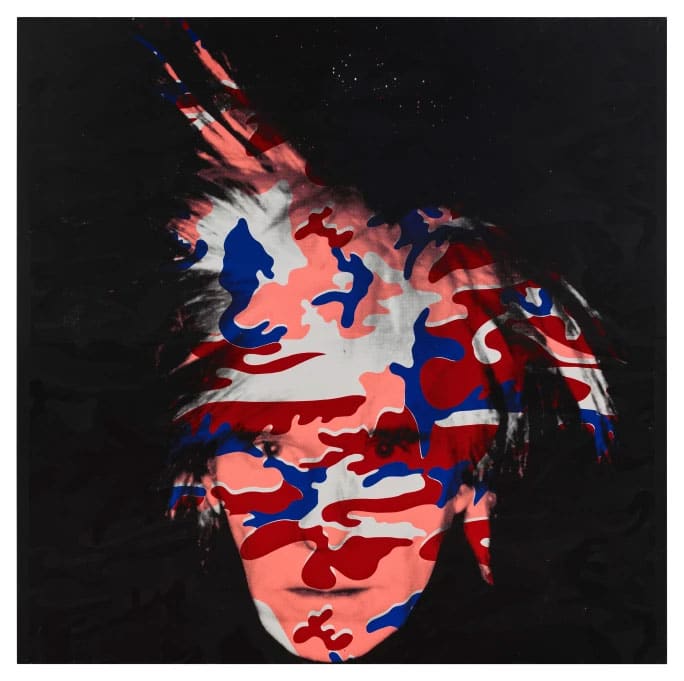 Warhol too, admired Landau's charisma and sense of style, recording visits to her apartment and marveling at her collection. In July 1987, Landau acquired one of his most-coveted pieces, Self Portrait from 1986. This iconic piece came from what would be the last of the many self-portraits Warhol sporadically executed throughout his life, a haunting study of the artist in his most dramatic wig, executed in modish camouflage. Landau's painting makes its auction debut this November and is one of just two camouflage self-portraits to appear at auction in the past 15 years.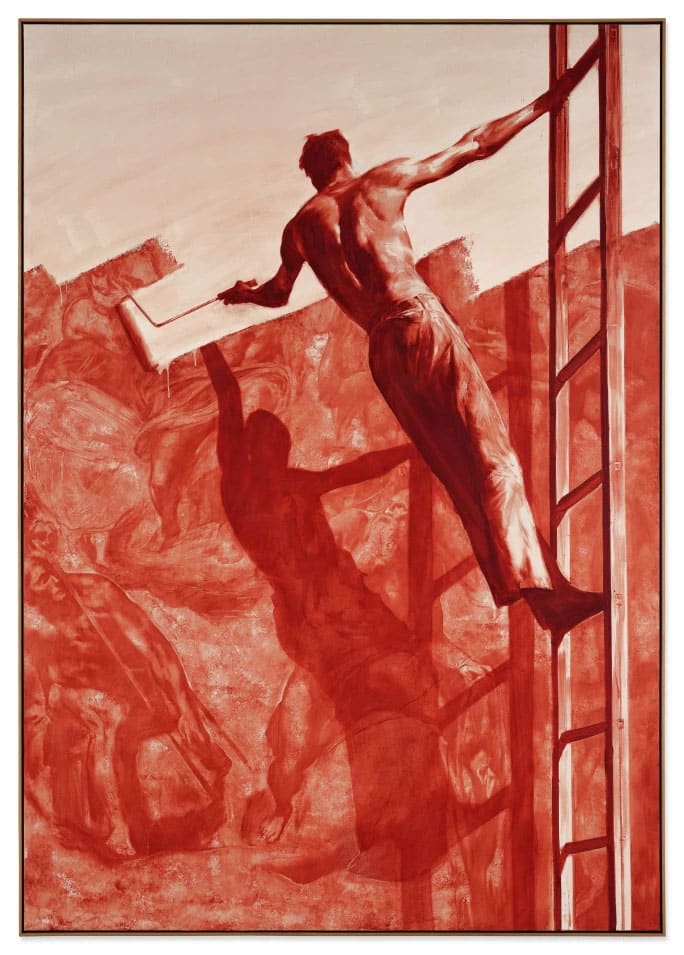 It was her openness, personal charisma, intellectual curiosity and passion for their work, that brought so many artists close to Landau. From Warhol to Georgia O'Keeffe, Jasper Johns to Mark Tansey and Glenn Ligon, Landau's thoughtful and respectful approach to art transcended the artist-collector dynamic, to enduring friendships. Warhol was "a gentleman", she said, Mark Tansey "the dream dinner party guest".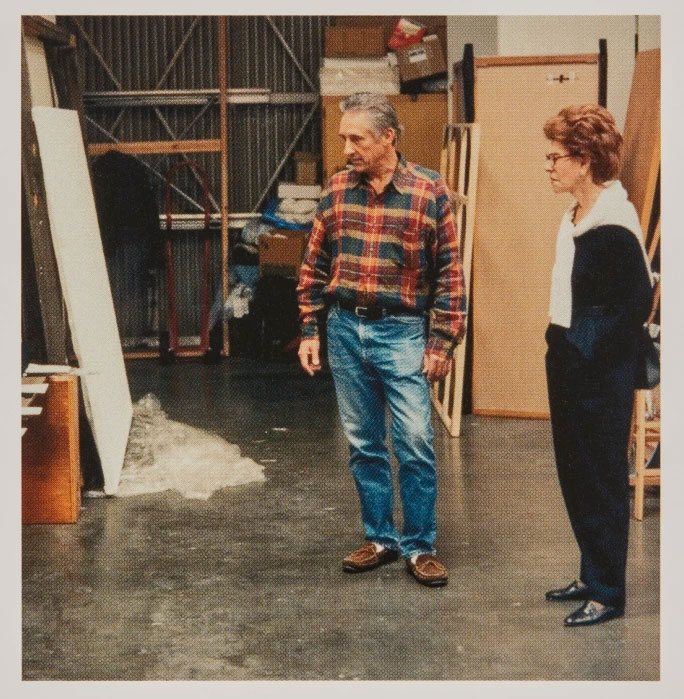 She would make trips to New Mexico to visit O'Keeffe (sometimes bringing the artists fresh supplies of lightweight summer clothes). And another friend, Ed Ruscha commented that Emily was, "to the greatest degree… the friend of the artist. Some collectors would prefer not to meet the artist and I can understand that they don't want to crack the illusion about somebody whose work they are collecting… She's different. She's not afraid to know the artist personally."
'Some collectors would prefer not to meet the artist and I can understand that they don't want to crack the illusion about somebody whose work they are collecting. She's different. She's not afraid to know the artist personally'
Rare indeed, is it to encounter such a plenitude of treasures. Privileged indeed, is the viewer who can experience it in person. But truly astonishing is the fact that this collection was gathered by innate instinct, by collector possessed of an exceptional eye, uninterested in value, an old-fashioned acquisitor in the mould of Peggy Guggenheim, David Rockefeller and Count Giuseppe Panza di Biumo.
Emily Fisher Landau was a key member of this group: her deep and longstanding involvement with leading institutions, in particular the Whitney Museum of American Art; her profound engagement with the art and artists of her time; and her unerring instinct as a collector at the highest level, all combining in one of the greatest collectors and patrons of recent times.
Banner image: Emily Fisher Landau attends Fisher Landau Center for Art 15th Anniversary Celebration at Fisher Landau Center for Art on October 15, 2006 in Long Island City, NY. (Photo by Scott Rudd/Patrick McMullan via Getty Images)
POSTED WITH PERMISSION. COPYRIGHT SOTHEBY'S. Click to read original article.