Updated
Recently reduced, DOUBLE ROI YEAR ONE and the best value commercial building in the Cayman Islands on the market today.
The Concord Centre provides a foothold in the beating heart of George Town's coveted Industrial Centre and standing just a stone's throw from Owen Roberts International Airport, George Town's The Concord Centre has been a shining example of prime Cayman realty since it's ribbon-cutting in 1993.
And now you can give it a prestigious place in your very own real estate portfolio.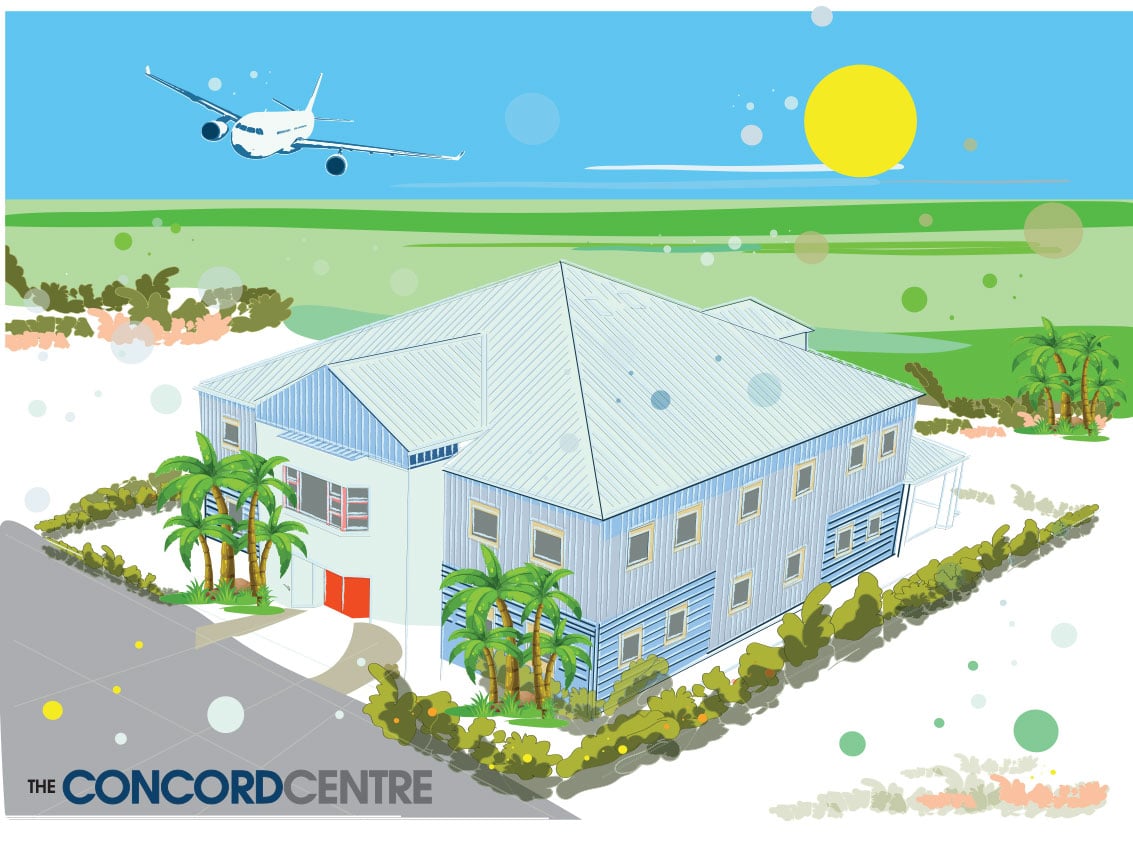 Cayman Islands Sotheby's International Realty (CISIR) recently announced an eye-catching price change and double ROI opportunity (for the first year) on its offering for the freehold title (fee simple) interest in The Concord Centre's highly prized property, located at 59 Maclendon Dr, Industrial Park. The centre is unique among Cayman listings in both size and scope, and it represents a thrilling opportunity for investors hoping to expand their commercial or corporate holdings in Cayman's thriving market.
With a worldwide reputation in financial networking and a per capita GDP hovering comfortably at around CI$70,956 (as of 2018), the Cayman Islands have long been a heavily sought-after spot for savvy connoisseurs of real estate. Cayman's diverse blend of residential communities and commercial developments make it immensely attractive to owners and renters alike, and the territory's infrastructure all but guarantees solid ROI, thanks to the islands' lack of direct income tax . Concord Centre is no exception to these benefits––its strategic address and expansive square footage promise a premium return on investment, with the seller offering a lucrative opportunity that doubles ROI in the first year.
The ROI incentive has been designed to allow the new owner a full twelve months to reconfigure existing agreements, to return an even higher return on investment long-term.

At 9,300 square feet with a net rentable area of 7,583 square feet, The Concord Centre is unlike anything on the market today. And that's not hyperbole, it's fact: Zoning restrictions ensure no comparable building could be planned or erected in the same area at the same square footage price. Plus, at two stories high with four full office units varying from 1,076 to 2,718 square feet, The Concord Centre is counted as a rare jewel in Cayman; its full 0.346 acres stand as an impressive holding in a landscape where commercial inventory is shrinking and investors are increasingly seeking property that is well-priced with proven returns.
For those as enthused by options as they are by space, The Concord Centre offers a comprehensive suite of amenities, including 24 marked parking spaces and an in-built security alarm system. Unit 1, located on the ground floor, is outfitted with a private bathroom, shower, and kitchen, while the building's common areas include public restrooms and an easily accessible external staircase. The site is also expertly maintained and in great condition, so much so that the original building designers have elected to occupy the premises as proud long-standing tenants.
CISIR advises all interested parties not to delay as The Concord Centre's extensive profile is a sought-after investment as travel restrictions lighten in the coming months.
Inquiries may be directed to broker Sheena Conolly, and potential purchasers should be prepared to fully disclose their identity and sign an NDA before full financials can be provided.
For immediate information, investors can visit www.SirCaymanIslands.com for details.
* Vendors will double gross rental income over first-year term of new ownership.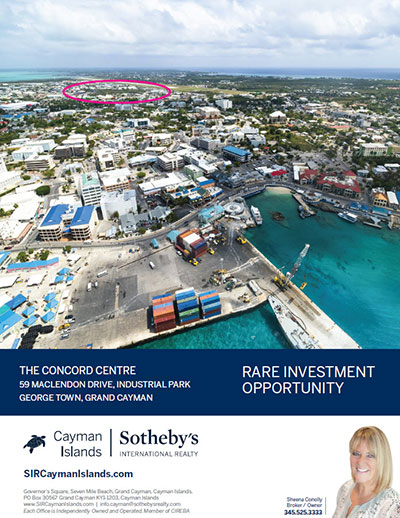 Investor Information Brochure
To request the investment overview, please complete the form below.