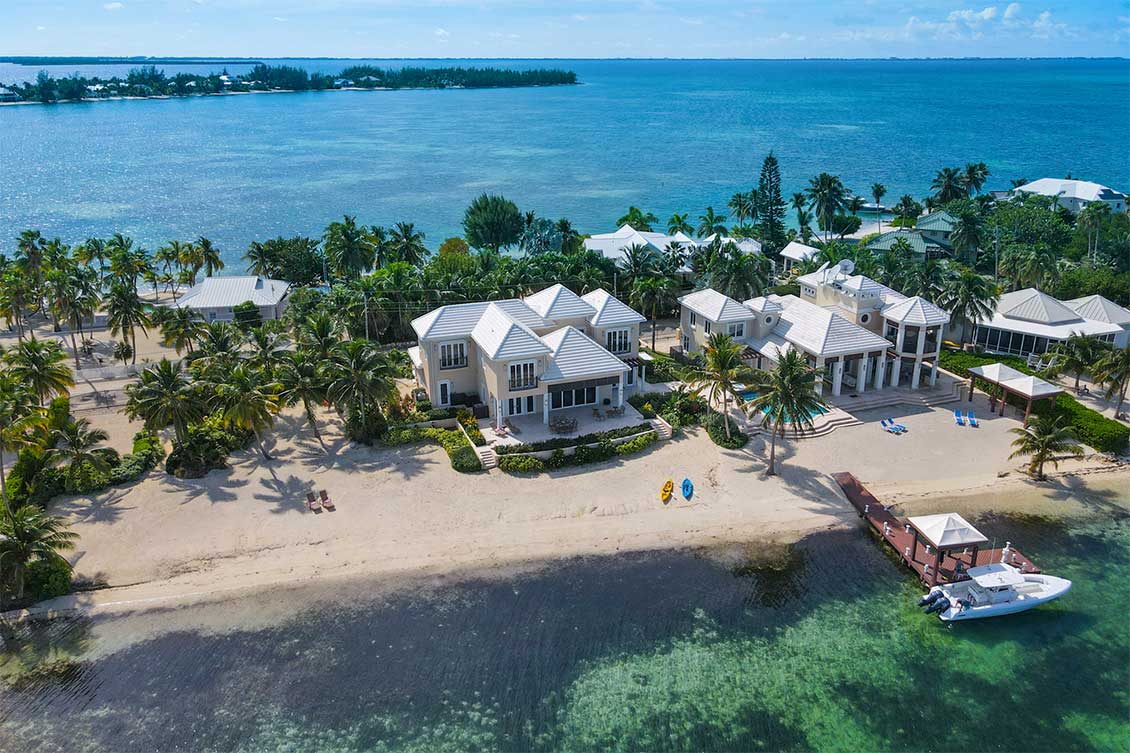 It is hard to imagine a more picture perfect property than Compound Kai on Finger Cay Road in Grand Cayman's beautiful Cayman Kai. This is an expansive double residence which forms a substantial estate that stretches across almost an acre of Grand Cayman's most highly sought-after beach fronts, incredibly spanning more than 300 feet. The estate sits on three beautiful beach front lots, two of which are home to magnificent and complementary four-bedroom homes, creating an exceptional location in which to reside in all year round, or to enjoy as a spacious multi-family vacation home whenever you get the urge to spend some time in this lovely location.
The location in itself is jaw-droppingly gorgeous, situated overlooking the most turquoise of all of Grand Cayman's shorelines, with a swathe of beach offering the purest white sand imaginable. Finger Cay Road offers secluded luxury living that is on a par with the most highly sought-after beachfront properties anywhere in the world, yet all within easy driving distance of the beating heart of Grand Cayman with all the amenities on offer there. This is a private and quiet spot that gives you the feel that this slice of paradise is yours and yours alone to enjoy.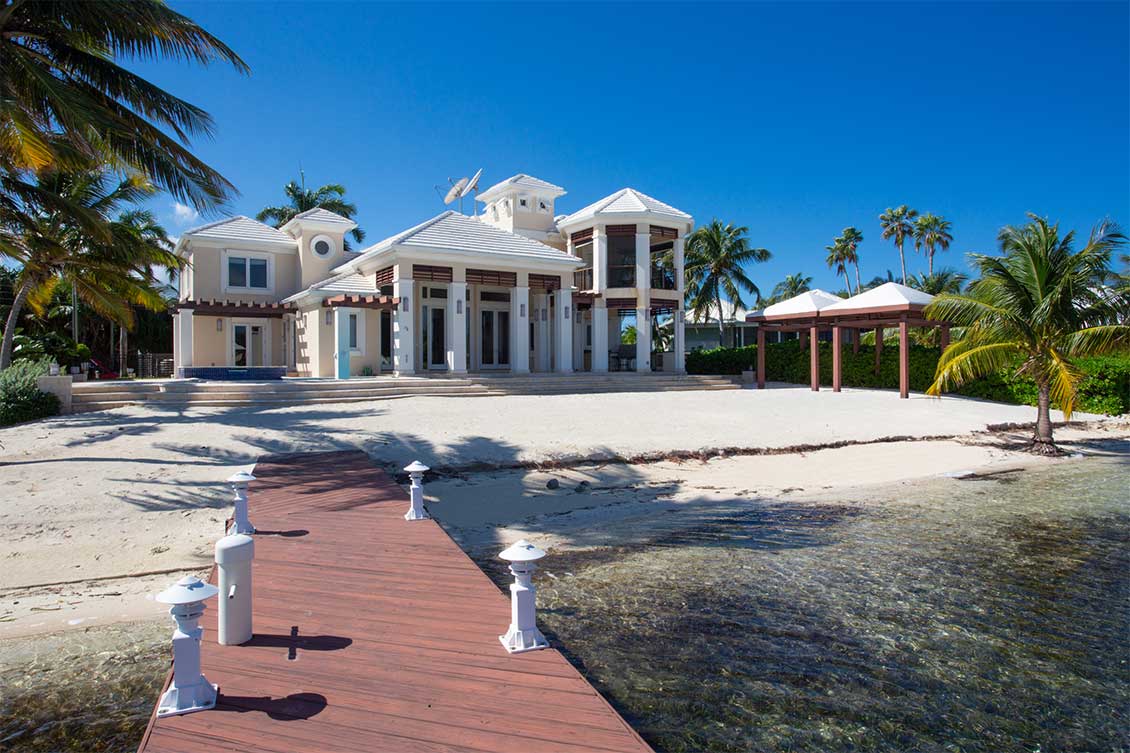 The property enjoys the benefit of two separate but connected homes with more than 10,000 square feet in total of divine living area and stunning bay, water or beach views from every sun-drenched window. A grand entranceway entices you in through the intricately carved wooden door of the main residence and on to the stunning mosaic-designed marble flooring. The light pours through expansive windows and doors to ensure every inch of this incredible property is bathed in glorious sunshine, enhanced by state-of-the-art unobtrusive recessed lighting. Glass and chrome staircases heighten this natural flow of light, while all eight bedrooms in the two properties are well-appointed to maximise those early morning and late evening views from where you slumber. Private balconies mean these views are all yours for the taking, whenever you choose. 
Attention to detail is evident at every turn, with high-quality Bosch appliances in the enviably-equipped and very spacious kitchens, exquisite chandeliers adorning the dining rooms, and marble or solid wood flooring throughout. Bathrooms are bedecked floor to ceiling in solid marble, and fixtures and fittings are simultaneously beautifully designed and incredibly functional and well-thought through. The overall concept is open plan, contemporary and comfortable, enhanced by a colour palette that reflects the natural shades of this unique location, offering soft creams and pale blues occasionally punctuated by a pop of deep blue or pink coral brightness. The overall décor is exquisite but relaxed, creating a truly opulent feel amongst the most chilled and laid back of locations.
Added amenities that enhance living in this luxury estate include a well-equipped gym, a delightful reading nook, a wine cellar, a back-up generator, two spacious garages and an impressive eight and a half bathrooms throughout the two properties. Dining can take place informally in the lovely kitchens or more formally in the delightfully spacious, light and airy dining rooms.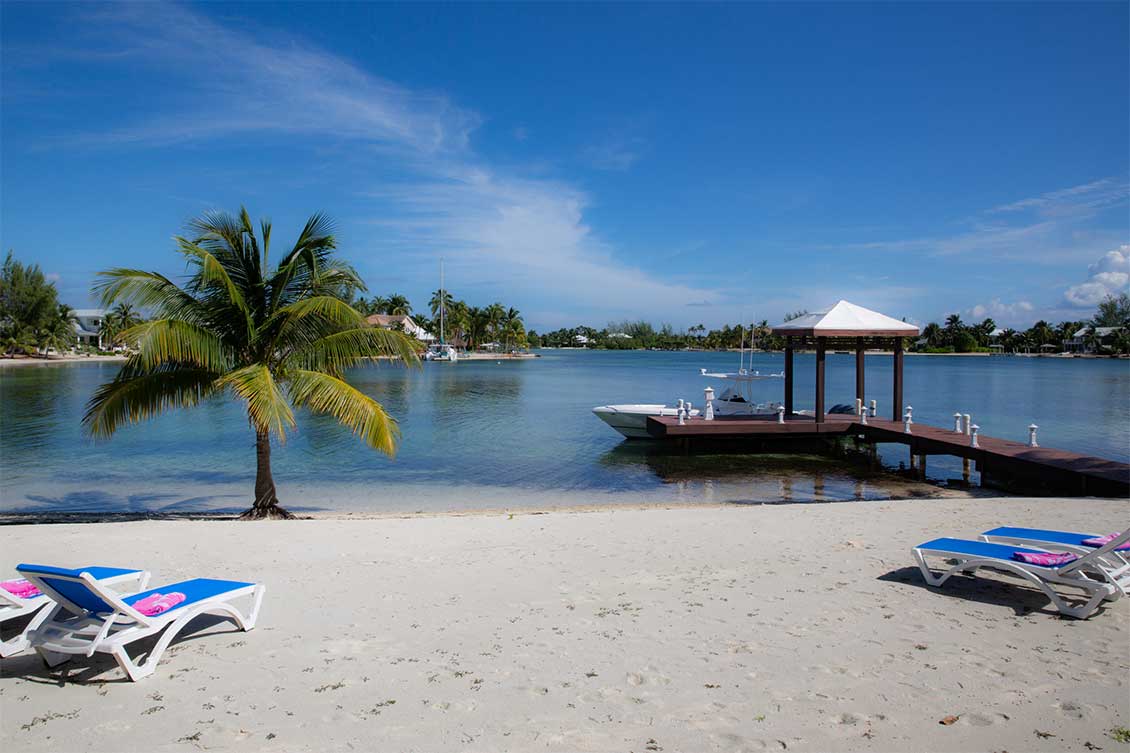 Outside, palm trees fringe the property, while the softest sand is yours for the squishing between your toes, creating a special oasis that is all your own. A boat dock leads you directly into the stunning ocean so you can enjoy the clearest of blue oceans by day or become mesmerised by the magical and rare bio luminescence light show which can happen in the pristine waters right outside your own home. Expansive, shaded decks dotted with beach cabanas lie around the property offering an array of idyllic spots in which to soak up the sun in privacy, or retreat under the shade, and a beautiful pool rounds off the delightful outdoors. The wide selection of outdoors spaces, the high quality of the finishings and the attention to detail at every turn mean this property truly offers the ultimate in luxury outdoors living.