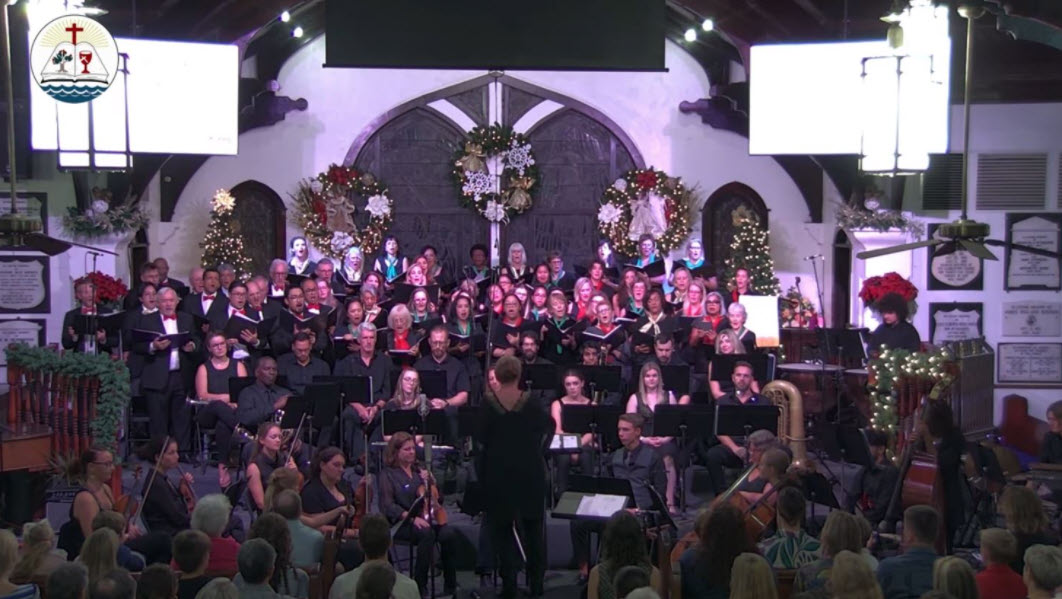 A treasured tradition among the many holiday concerts performed each year on Grand Cayman, 'A Christmas Blessing' from Elmslie Memorial United Church was slated to take place Tuesday the 8th and Thursday the 10th of December. In past years, this widely popular communal celebration has felt like one of those secret social signals: a reminder for everyone to ramp up their final holiday preparations and get ready for the hectic-yet-delightful parade of late-December Christmas parties.
But the COVID climate didn't stop this traditional celebration from continuing by any means.
Not only was the Caymanian institution able to go on as scheduled, but the Cayman National Choir & Orchestra actually managed to develop several ways for audience members to join in the fun of the annual singalong. Thanks to the efforts of the choir, the orchestra, and the company's supporters, 'A Christmas Blessing' for 2020 was broadcast and streamed live, much to the delight of seasonal music fans and 'Christmas spirit' junkies across all three of the Cayman Islands. And, for anyone who missed it, the concert is now available in its entirety online. (For a fast track to feeling festive, you can locate the recording on YouTube. If you're looking for more of a social holiday vibe, you can watch with friends and personally congratulate the choir and orchestra on a job well done via their Facebook video of the concert.)
Despite COVID restrictions, musical director Sue Horrocks noted, 'In this terrible time of COVID, we may be one of the few countries in the world where a large choir and orchestra are allowed to perform together to celebrate Christmas', adding, 'We in Cayman are indeed blessed, and we wanted to share this unique moment with people of all denominations, nationalities, and ages across Grand Cayman, Cayman Brac, and Little Cayman'.
Indeed, even though COVID protocols have caused similar events to be cancelled elsewhere, the 80-plus ensemble of the Cayman National Choir & Orchestra were able to perform beautiful renditions of Christmas favourites––as well as some surprise hits––just as they have in Decembers past. And, if the likes, loves, and shares are anything to go by, the concert is well worth checking out if you haven't already (or revisiting, if you were among the lucky listeners who caught the original live stream). Just think: Because of Cayman National Choir & Orchestra's quick and innovative thinking, you can now play the performance from home with a mince pie in one hand a beverage in the other…and maybe even sing along if the spirit takes you.
Though the past 11 months have brought with them many new challenges and unexpected sorrows, the recent presentation of 'A Christmas Blessing' offers proof that some wonderful things in Cayman never change. With the return of their Christmas concert, the musicians of the Cayman National Choir & Orchestra provided us all with a warm reminder of the power of our kaleidoscopic culture––pandemic or no pandemic. In fact, this year, 'A Christmas Blessing' afforded us something of an affirmation: We remain colourful and diverse, with all kinds of music wending through our hearts, regardless of the trials we face.
We encourage you to show a little appreciation for your intrepid Cayman choir and orchestra by listening, liking, and spreading the local musical cheer at YouTube or Facebook.
Looking for more Cayman culture? Our vibrant society hosts a smorgasbord of Caymanian community events, get-togethers, and special celebrations each Christmas. If you'd like some recommendations for great things to do over the Christmas season, drop us a line.
Learn more about the Cayman National Choir and Orchestra.