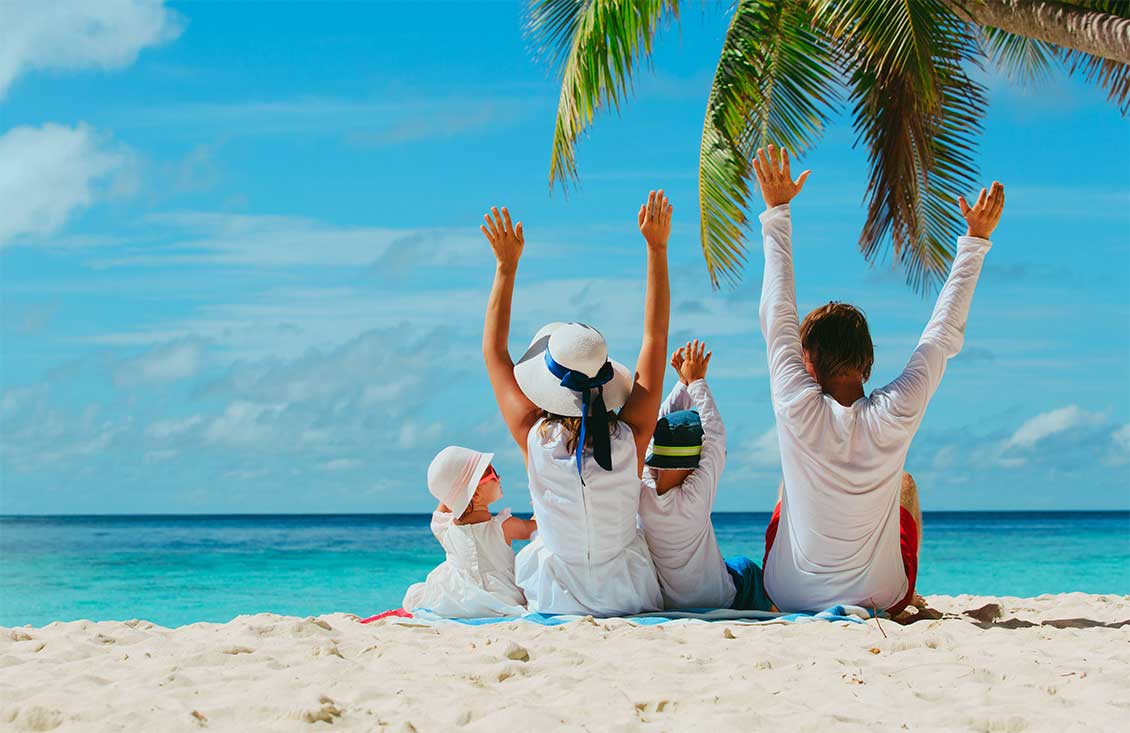 Looking for memorable times to have with your family in Cayman? We have gathered a list of 21 family-friendly activities that can be enjoyed time and time again. It's great to always have something to do or some place to go but remembering that time you get to spend together is what is important. Call your friends, invite the grandparents, or plan a birthday or group gathering. There is time to experience all the fun you can find in the Cayman Islands.
Stingrays

Stingray Sandbar is probably the most iconic activity of the Cayman Islands. Every day, you can enjoy crystal clear, shallow water where Southern Stingrays congregate. Snorkel and watch their saucer-like bodies skim through the water or, if you are adventurous, they say kissing a stingray is seven years of good luck. Local operators head to Stingray Sandbar daily offering different departures, features of the trip and price point.

Famous Beaches


For good reason, Seven Mile Beach is one of the most visited and enjoyed beaches in the Caribbean. However, Cayman has plenty of great locations to enjoy a family outing, picnic or playing in the sand. Experience an afternoon at any of these beaches- from Starfish Point and Rum Point to Collier's Public Beach in East End, Spotts Beach, Smith's Cove and Barker's. Remember to bring your sunscreen and a towel.

Let your competitive side take over at Cayman's first Laser Tag arena. Bring friends for hours of active fun mazing through black lights, fog and strobes. You must be 6 years or older, but we won't tell if you show up for team building during a corporate event.

Grab a pair of fun shoes and some friends for a round of bowling at King Pin Bowling. On Saturday you can even catch one of the theme nights, Glow Bowl, or plan your own party. For the fearless, there is also an outdoor climbing wall that is over 30 feet tall.

Enjoy family days on the beach

Developed by Jean-Michel Cousteau to introduce family friendly activities that educate about the natural environment, conservation and responsible living. Housed at the Ritz-Carlton, Grand Cayman, programs include snorkeling, cooking, educational videos, books and expeditions to the mangroves, coral reefs and beyond.

An entire day of entertainment can be enjoyed at the turtle center. From learning about the turtles themselves, to snorkeling and holding the juvenile turtles at the farm you will leave with a phone full of new Instagram-worthy shots. Spend time watching the predator tank or feeding the exotic birds in the aviary.

Offering classes from Toddler Art with sensory play and paints, to Children's Club that allows practice in collage and printmaking as well as pottery and art journaling, Art Nest Creative Studio can allow the creative side of your child to emerge.

World known skater, Tony Hawk, opened the skate park back in 2005 and since then the park has featured courses for anything from beginners to experts. Skaters and riders of scooters and BMX bikes all share over 50,000 square feet of concrete vert ramps, bowls and rails.

Get up close and personal with a turtle

Wander off the beaten path past exotic flowers and bright colours on display at the Botanic Park. A guided tour teaches you the history of Cayman and the ties to flora and fauna. You can even learn about the endangered Blue Iguanas in the Recovery Program. A great way to get outside and enjoy the Cayman outdoors.

Looking to spend more time out on the water or become a skilled sailor? The Cayman Sailing Club offers kids camps or private lessons to hone your skills. Boats are available for rent during sailing school hours for extra practice and technique building

Bounce, climb, slide and whirl at any age in Lil' Monkeys. The indoor play area offers unsupervised facilities divided by age groups, a full arcade, and concession lounge to enjoy a snack or for parents to sit and supervise. New features to the playground include a bungee trampoline and an interactive floor.

Racquet Sports

Looking for an activity with a bit of a competitive edge? Tennis, squash and the new craze sport, Pickleball are all available for that outdoor physical activity. Tennis courts can be found at many condo complexes across the island or you can join a club like Cayman Islands Tennis Club in South Sound for individual or group sessions. Racquetball or Squash can be played at Kings Sports Complex or the South Sound Squash Club. The new pickleball craze has everyone painting new lines on their tennis courts to accommodate both types of games. Look for group play or sessions at the Ritz-Carlton, Grand Cayman or contact Cayman Sports to learn this fun sport or become more social with a paddle!

Cayman Crystal Caves offers guided tours into the caves of North Side. Weave through natural formations of stalagmites and stalactites as you learn about the rocks and the time involved with the earth creating these wonderful alcoves. Go for a nature walk and spy a few bats as you enjoy a cool smoothie on the jungle deck overlooking some of the caves.

Head to Camana Bay for Story Time to engage the mind with a new story. An excellent way to share favourite children's books within a learning and group environment.

While you find yourself in Camana Bay, wander down to the Town Centre (or stay near the Cinema for an alternate location) to play in the fountains along the canal. Different levels and patterns of water spray will keep children busy and playful while you enjoy a seat under a palm tree with a coffee. At 10 am on Tuesdays, foam blocks are out on the Crescent to help create and imagine new ways to play in the water.

Jump on the back of a gentle, well-trained horse and splash along the surf as you ride along pristine beaches and trails of West Bay. The horses can even take you out deep enough for a little swim.

Catch the latest hit movies at the cinema in Camana Bay. Featuring six screens, including one VIP auditorium, the cinema offers an array of foods from pizza and popcorn to candy and french fries. A great way to break from the heat and sun of the outdoors.

Explore the natural and cultural history of the area from personal pieces that were donated to early manuscripts and animal specimens found along the shores. Long term exhibits are on display as well as temporary areas that rotate on a normal basis. Hands on workshops and activities for kids allow all ages to enjoy the history of the Cayman Islands.

See the magic of bioluminescence when you kayak Bio Bay on an evening trip. Learn about the organisms and how they glow to create this wondrous effect in the water. Only visible at certain times due to the bright light of the moon, Bio Bay in Cayman is one of the top places in the world due to the concentration of this special marine microorganisms. Travel by 2-person kayak or electric boat.

Scuba Diving

Well known as one of the best places to dive, Grand Cayman offers year-round warm water temperatures, amazingly clear visibility and lush shallow reefs to enjoy. Getting certified to scuba dive allows you to immerse yourself in another world and experience a life aquatic! Dive shops range in offerings and bookings, but a great place to start your search for information is on the PADI website. Kids can start as young as 8 years old!

Located at Camana Bay, this is the first mobile gaming truck in Cayman. Take the party to your location or stay in Camana Bay. From Fortnite to foam parties and allowing up to 28 people to play at one time, the game truck can handle a small family or larger group.