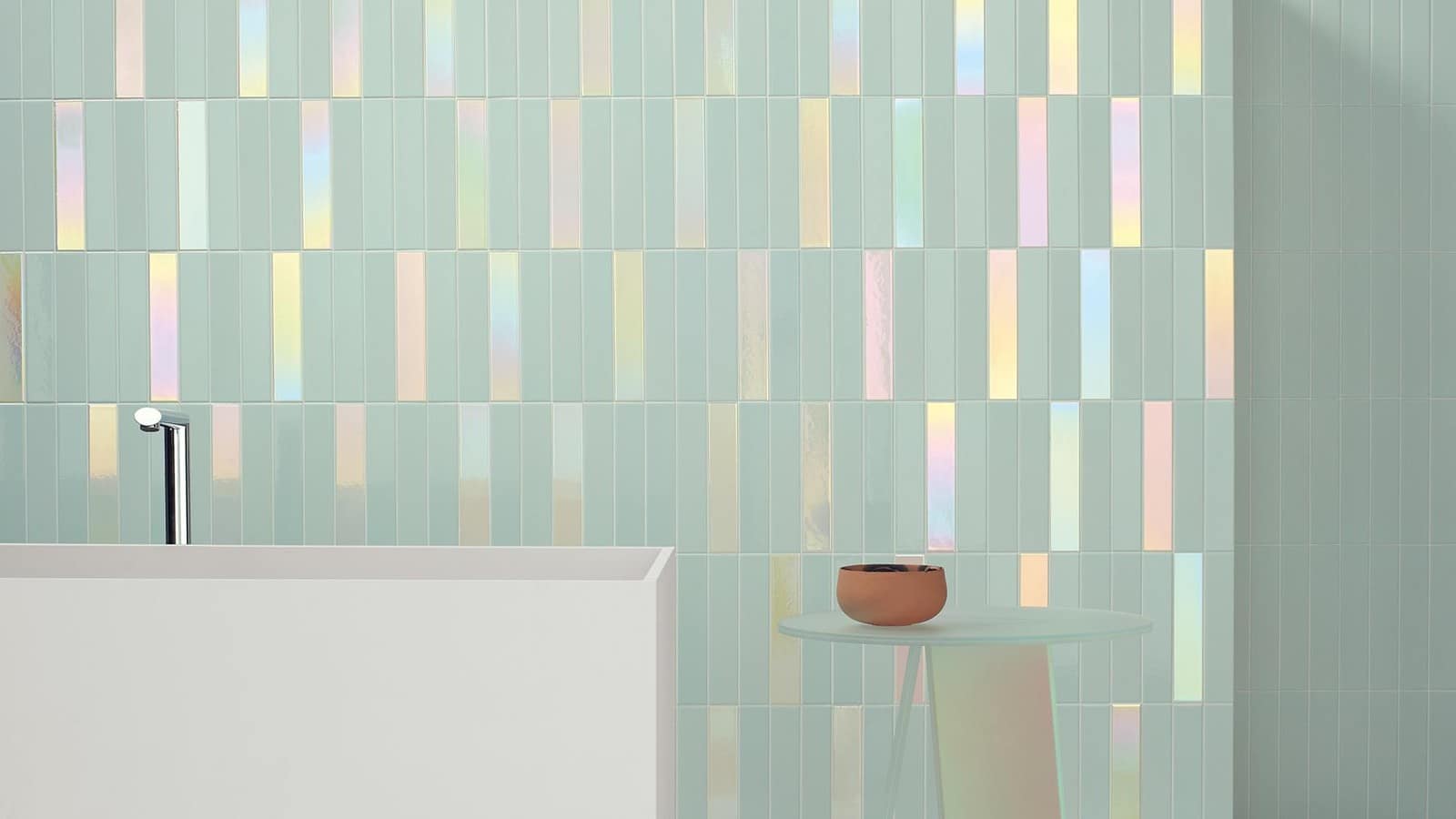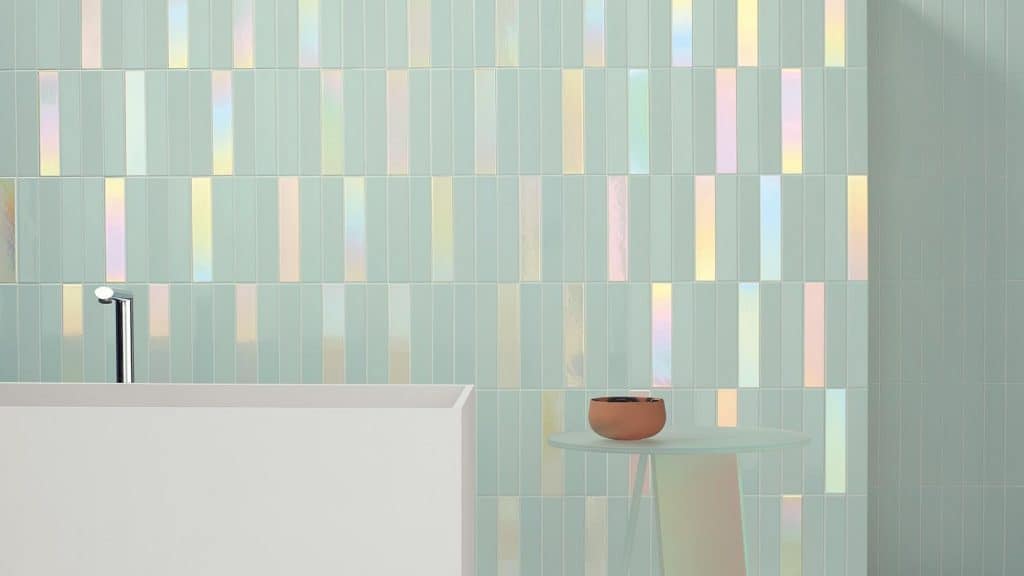 When the luminous gradient of iridescence hits light, it creates a kind of ethereal magic. And when that rainbow play of color is iterated on a tile—whether used for a kitchen backsplash, on a bathroom wall, or at the bottom of a pool—the effect becomes altogether lustrous. "The result isn't purely aesthetic, but also experiential," says Katie Michael-Battaglia, design director at Nemo Tile + Stone, with showrooms in New York, New Jersey, and Pennsylvania.
Iridescent tiles create drama that instantly draws the eye. "They add glamour to a room since they give off such a beautiful shine," says Robin Strickler, founder and principal of Design Works, an interior design firm based in Irvine, Calif.
The impact is all sparkle and shine and makes a bold statement, which is why they tend to be used in retail spaces, according to Michael-Battaglia. "Their jewel-like tones and sheen create a heightened luxury and larger sense of space," she says. And they're having a moment in the home.
Considering Color and Configuration
While iridescent tiles have a lustrous glow and glints of sparkle that can fancy up any space, the look and feel can vary depending on the base color you choose—and the time of day, as light within your home changes. "The tile is going to play off the colors surrounding it, so the shade you select can be emphasized by the hue of the cabinetry, the lighting, or even the furniture nearby," Michael-Battaglia says.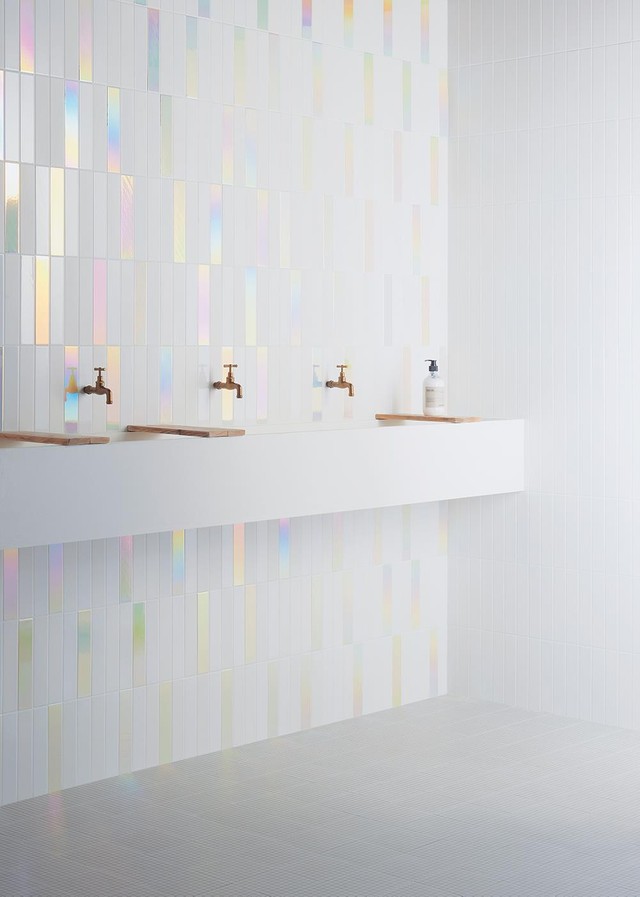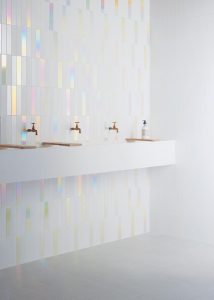 Los Angeles-based interior designer Carrie Livingston likes to use iridescent tiles as a "pixie dust effect." "The slightest hint of sparkle can bring light into a dark space," she says. As a general guide, Livingston says, the larger the space, the larger the tile can be. But, "small spaces with delicate custom mosaics done right can look like a true work of art."
Michael-Battaglia prefers the tiles in smaller formats, which "prevent designers from overdoing it." Mosaic and subway tile formats are the most popular styles as a result, she adds. Strickler, meanwhile, often opts for small hexagons, herringbone, tiny squares, or shell patterns.
In terms of color, there are many options. All white or mother-of-pearl lends a soft, elegant, opalescent touch; for a more modern, cutting-edge look, try black or gray; or, to create a brighter pop, choose tonal shades of the same color family, such as blues or greens.
Falling Into Place
In kitchens, iridescent tiles work beautifully as backsplashes, wall paneling, or as a surface detailing behind open-shelving units. "In this type of space, iridescent tiles, like those in our GLOW Collection, create an aesthetic that contrasts with the classic all-white kitchens we often see," Michael-Battaglia says. "Instead, the tiles take advantage of the larger color scheme at play within the space, reflecting and mimicking what else is in the room." With that effect in mind, these tiles also work well on fireplaces, where they can pick up the shimmering light of a fire, or on a ceiling where they ­­play with light and form a creative focal point overhead.
They can also add visual interest when used as detail work, bordering, or as an accent feature—particularly in an all-marble kitchen or bathroom—by breaking up large expanses of the same material with a different texture, Strickler says. "It creates an element of surprise; since most people use a matte backsplash, using an iridescent tile makes your space stand out," she explains. For even more of a statement, apply iridescent tiling to an entire wall in the bathroom.
As an artistic expression, Livingston prefers to outfit the bottom of a pool with iridescent tiles, create shimmering 3-D-like effects on ceilings, or craft decorative pathways on flooring. She also uses them as logos on the walls to delineate his-and-her bathrooms or as accents just inside the shower to define the soap and shampoo nook. The ideas for creative applications are endless.