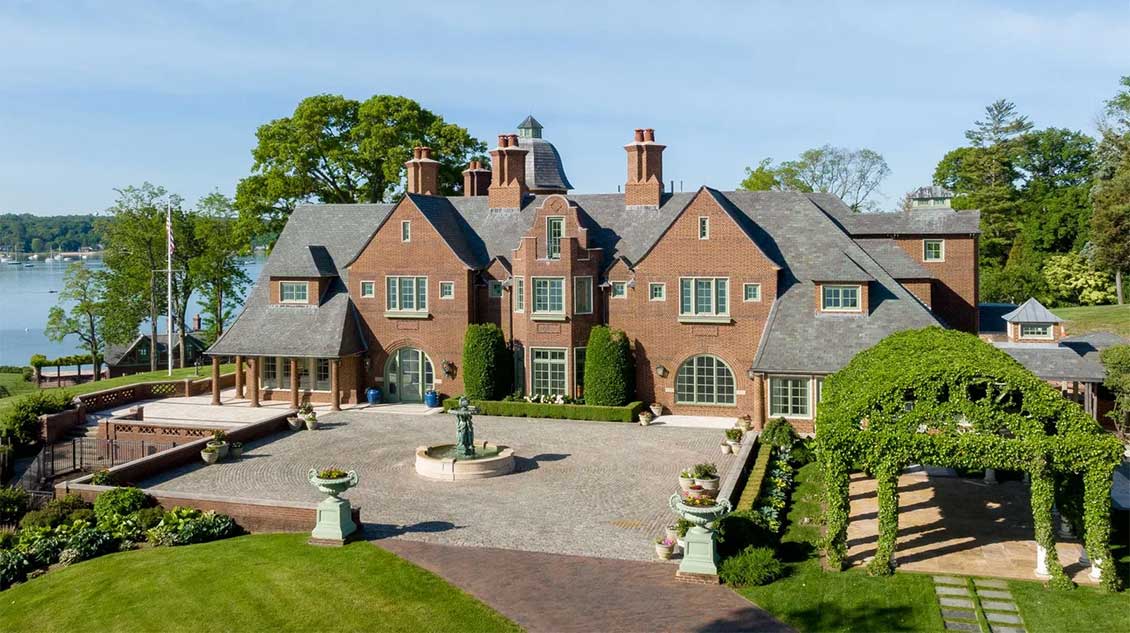 Billy Joel is not only celebrated in the Rock and Roll Hall of Fame and the Songwriters Hall of Fame, but in the Long Island Music Hall of Fame as well—since it's in New York's scenic town of Oyster Bay that he came of age.
Joel wasn't just raised in Oyster Bay. After his relentless run of hit records, from Piano Man in 1973 to River of Dreams two decades later, the platinum-selling singer-songwriter began purchasing the plots of property in 2002 that would eventually culminate in his waterfront estate on Centre Island. Here's a look at this landmark home which, thanks to its famous proprietor, has now become a part of modern music history.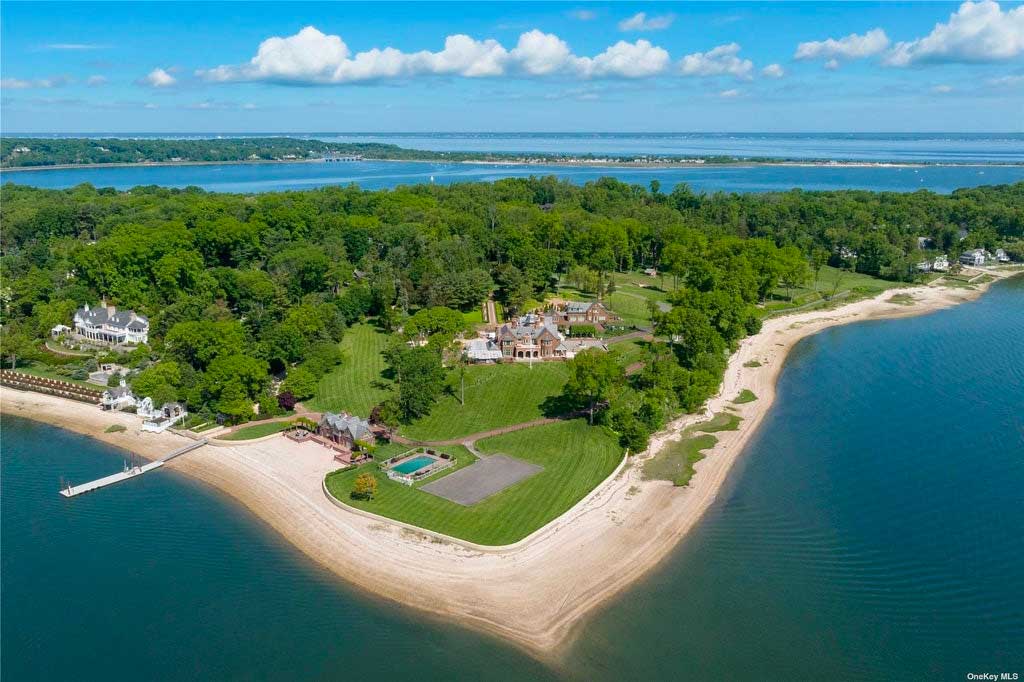 Finding Perfect Harmony
History is woven throughout the fabric of Oyster Bay. The picturesque seaside community is a hub of beautifully-preserved heritage buildings, while also encompassing part of Long Island's affluent Gold Coast—the expanse of Gilded Era mansions that inspired "The Great Gatsby" and includes such iconic residences as Teddy Roosevelt's Sagamore Hill.
It's no surprise that Joel's estate is in good company with its neighbors, considering that sections of it were first established by a railway magnate in 1914. However, the main house was fully reconstructed in 1994 as an Arts & Crafts mansion, whose elegant brick façades pay faithful homage to the original residence while modernizing it with some 20,000 square feet of living space.
But perhaps this property's greatest homage to history isn't its Gold Coast lineage, but its proximity to Hicksville, the Oyster Bay village where the future "Piano Man," at his mother's insistence, first tried his hand at the keyboard.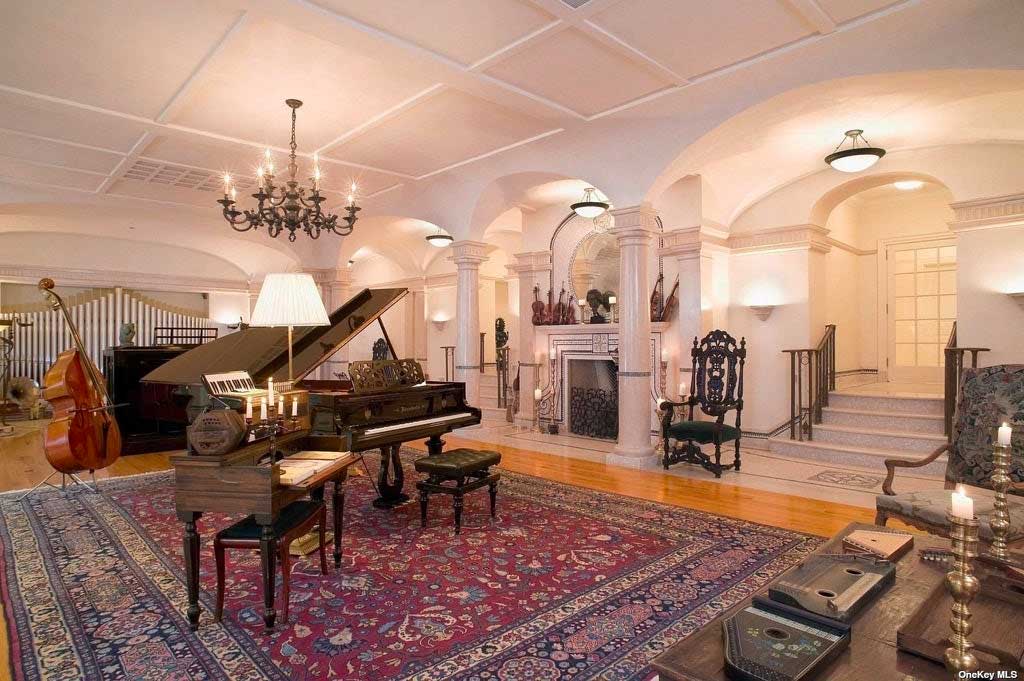 Aesthetically, the home reflects its storied past, with fine architectural detailing and thoughtful ornamentation—from the cathedral ceilings to the flooring of marble and hardwood. Yet it also dialogues with its present surroundings, as its bright, neutral interiors create an inherently nautical ambience.
The primary residence, currently undergoing renovations, features five bedrooms, six full bathrooms, and two powder rooms. And there are plenty of remarkable spaces throughout—such as the indoor pool-turned-music room, where Joel was so inspired by the space's acoustic resonance that he installed a wood floor to create a custom performance venue.
Striking the Right Chord
Appropriately, this home has been dubbed "Middlesea"—a playful paronomasia, since "middle C" is the first note learned by any budding pianist. But the name also alludes to the home's unique position on an otherwise unoccupied peninsula; it's surrounded by water on three sides, and nearly all of its windows offer panoramic perspectives spanning from Oyster Bay Harbor to Lloyd Neck. The property also boasts 26 acres of pristine, private parkland that parallels the seaside—unheard of in an area as compact and coveted as Centre Island, where a 10-acre plot has traditionally been considered immense.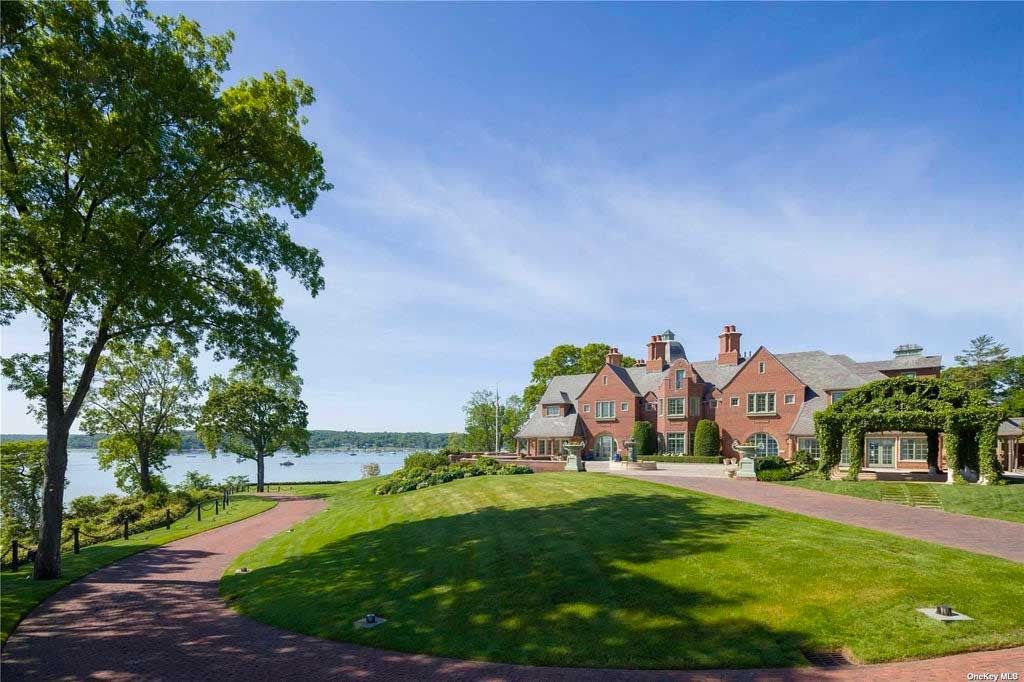 Throughout this acreage, mature trees and meandering pathways provide a quintessential East Coast setting, complete with a picturesque gazebo on the grounds, and a pergola-topped dining area alongside the primary residence.
Yet the grounds also have secondary residences, each on its own grand scale. The charming gatehouse has four bedrooms, along with a separate three-bedroom apartment. Yet another two-bedroom apartment can be found next to the 4-car garage, connected by the portico to the main estate. But it's the beach house that stands apart, literally and figuratively; with a soft bed of imported sand on its doorstep, it feels like an escape to The Hamptons, even though the primary residence is located right up the hill.
This all combines to create a dynamic design, where groves and gardens converge with beaches and bays, and houses of different ages and sizes ensure there's ample space to entertain.
Luxuriating in the Sound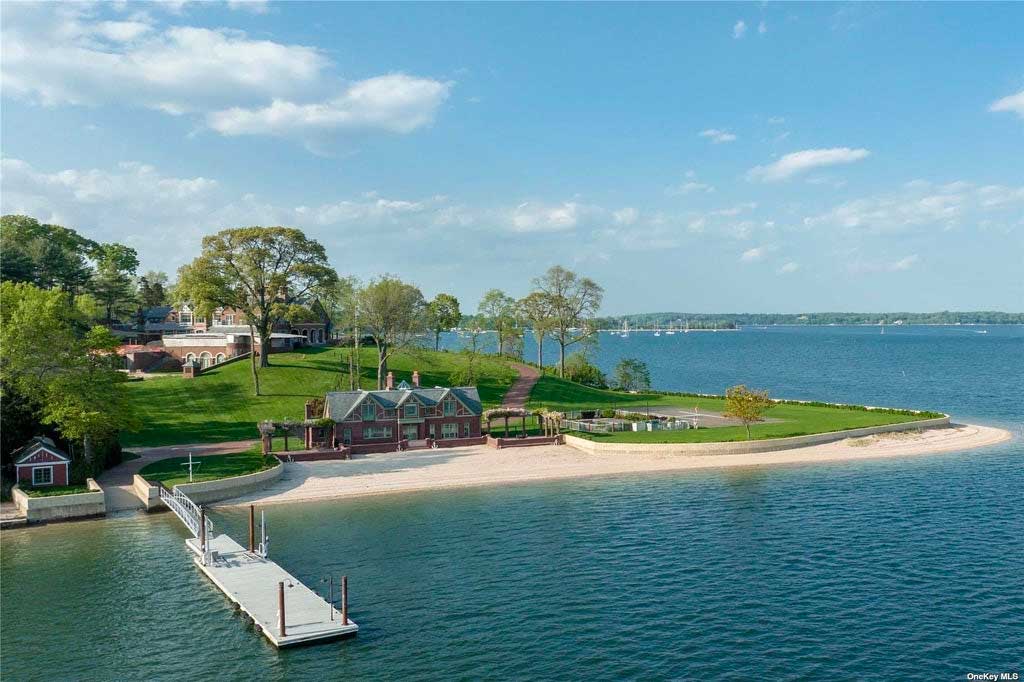 The amenities spread throughout this property are as impressive as the dwellings themselves. The outdoor pool complements the nautical vibes and coastal views. The capacious wine cellar guarantees the home is well-stocked with all varieties of reds, whites, and rosés. And the colonnaded brick patio is the perfect place to sip them. The two-lane bowling alley further contributes to the home's inimitable character. Yet it must be said that the standout feature is Long Island Sound itself.
With a boat ramp and floating dock just a short stroll from the backdoor, Middlesea is a sailor's delight. How simple it is to spend a day out on the water. This is the lifestyle that has made Long Island's Gold Coast such a desirable destination for generations—and Centre Island especially, with the esteemed Seawanhaka Yacht Club just a short distance away.
But on Centre Island, that lifestyle is elevated even higher by the effortless accessibility of Midtown Manhattan, just 40 miles to the west. This estate served Joel well during his widely-acclaimed residency at Madison Square Garden, which will conclude in 2024 after a 10-year tenure.
While there may be many spectacular homes, only a few are in locations as renowned and culturally rich as Oyster Bay—and fewer still have been restored, maintained, and cherished by living legends. In this regard, Middlesea is an exception in every sense and remains one of Long Island's most captivating estates.
POSTED WITH PERMISSION. COPYRIGHT SOTHEBY'S. Click to read original article.