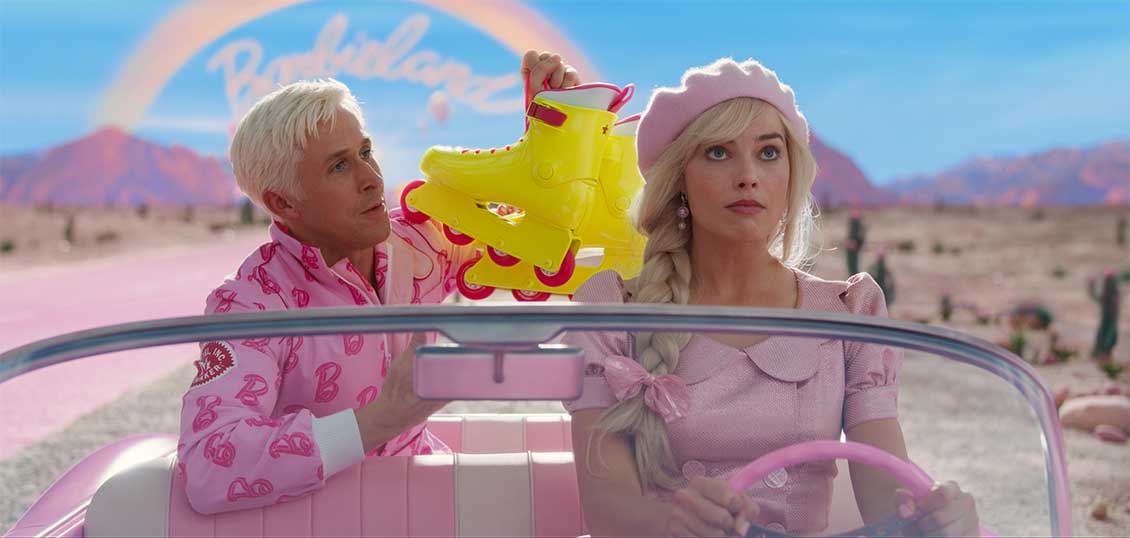 A Cultural History of Pink – Just in Time for the Pinkest Summer Ever
The movie of the summer – you know the one – is not just the pinkest thing ever to hit the big screen. It's also inspired moviegoers themselves to dress in various shades of bubblegum. And carry pink handbags. And sip pink wine. We, too, are swept up in the moment. Sotheby's summer offerings include a vintage Chanel suit worthy of a red carpet, an iconic Hermès handbag and a rose dial Rolex watch. See the specific items below. And keep reading for the history and significance of this most exuberant colour.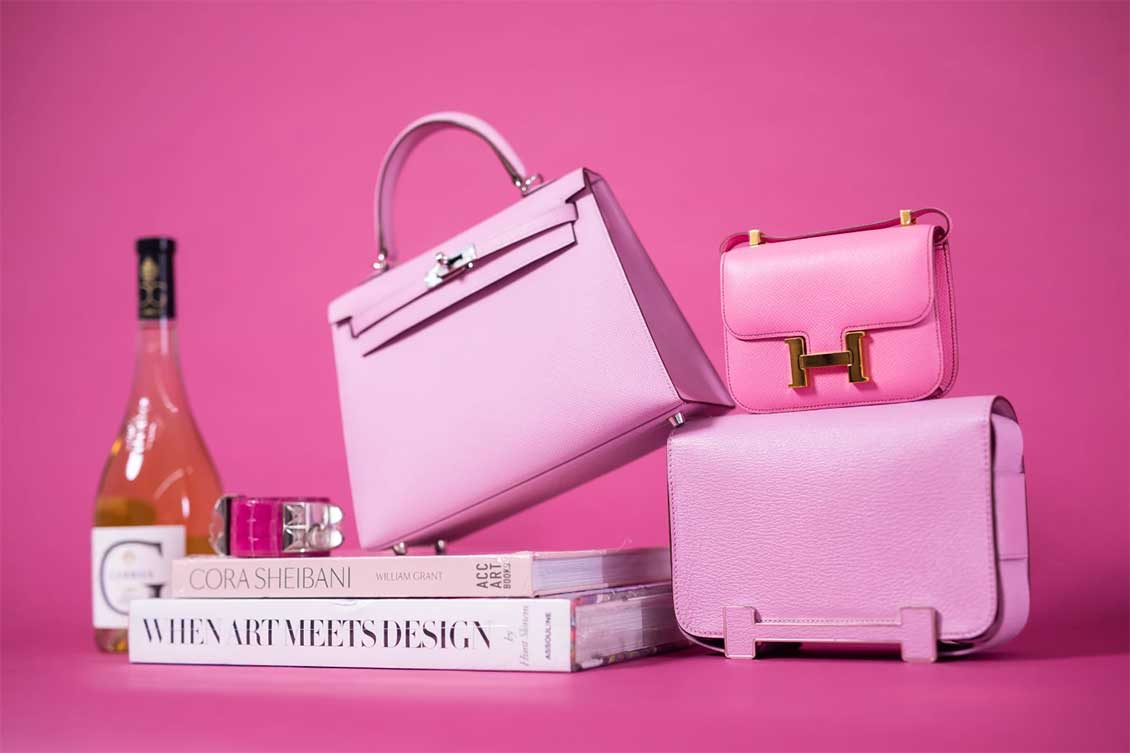 The colour pink tends to be associated with femininity – with little girls, ballerinas, and Barbie dolls. But the pink-versus-blue gender coding of children's clothes and toys developed almost accidentally, and only really became common in the 1950s. Even when pink is coded as feminine, it has many shades of meaning, from sweet and innocent (Blush Pink) to edgy and erotic (Shocking Pink). In recent years, it even became hip, ironic and androgynous (Millennial Pink).
Today, pink is not only pretty, it's also punk and powerful. When the Harlem Rapper Cam'ron wore pink mink to New York Fashion Week in Fall 2003, he started (or re-started) a movement that made pink cool for men, as well as women.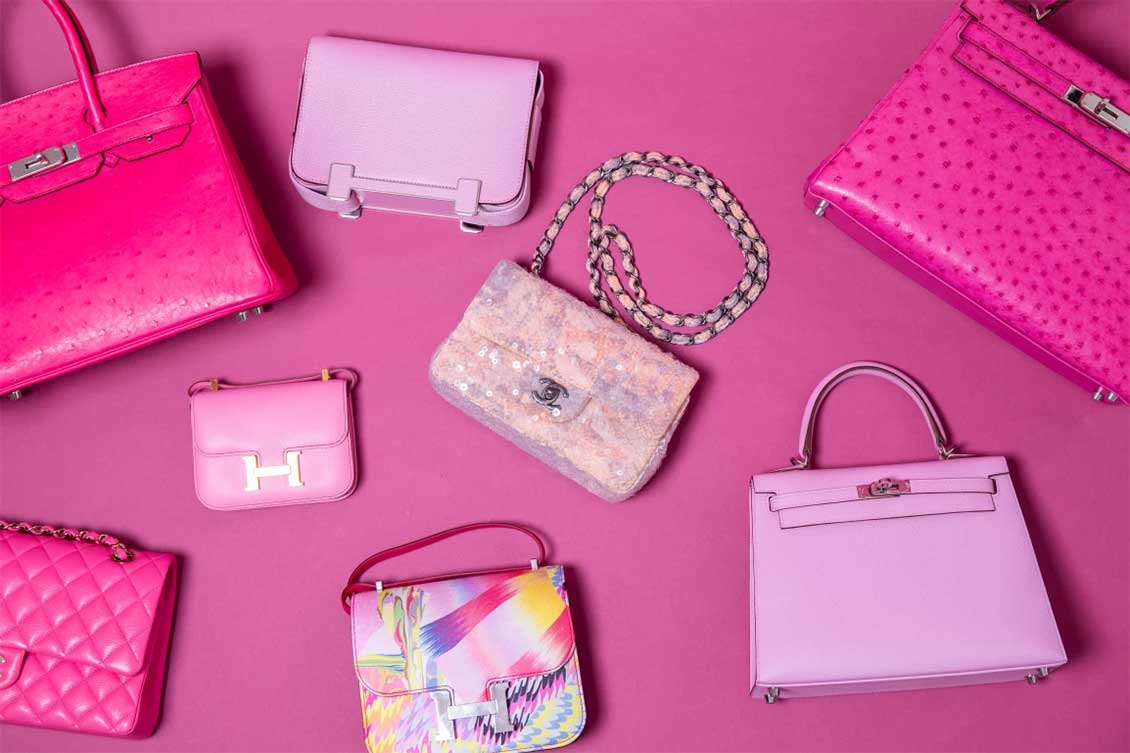 In nature, pink is relatively rare, except in flowers, where the colour attracts pollinators. Cherry blossoms are evocative of fleeting beauty, but cross-culturally, the pink flower par excellence is the rose, the flower of Venus, goddess of love. Couturiers, such as Charles James, have created gowns evoking the femme-fleur (woman-flower), while Christian Dior's Venus evening dress was shell-pink and shimmering. A ballet named Le Spectre de la Rose performed by Sergei Diaghilev's visionary Ballets Russes was in fact the inspiration behind the name of an exceptionally rare Purple-Pink 14.83 carat diamond that sold at Sotheby's in Geneva for $26.6 million.
In the 1953 film Gentlemen Prefer Blondes, Marilyn Monroe wore her famous "Pink Diamonds" dress, in which she sang "Diamonds are a Girl's Best Friend." The costume designer William Travilla had initially proposed a nearly-naked fishnet-and-rhinestones costume. When the Hollywood censors rejected it, he created a hot pink silk gown lavishly accessorized with diamond jewellery.
But even in the 1950s, when gender stereotyping was the norm, some men wore pink shirts or dinner jackets. Brooks Brothers was especially famous for its Ivy League pink shirts. Elvis Presley not only wore pink clothes, he drove a pink car and slept in a pink bedroom. He may have been influenced by the fashions, as well as the music, of the African diaspora. A 1950 photograph of the boxer Sugar Ray Robinson shows him wearing a pink jacket, leaning on his pink Cadillac convertible in front of a pink neon sign promoting his Harlem restaurant Sugar Ray's.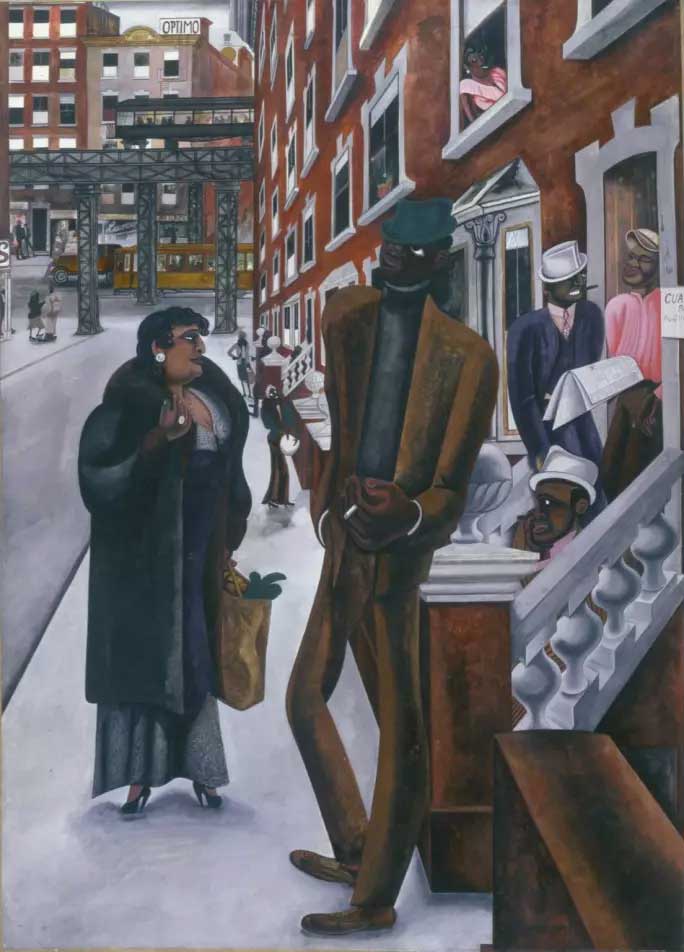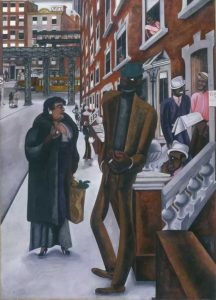 Dapper Dan told me that "Sugar Ray Robinson's over-the-top use of pink was completely acceptable" within the Black community in New York City. Edward Burra's painting Harlem (1934) already depicts three Black men wearing pink shirts and a Black woman in a pink dress. West Indians from the Windrush generation also recall how their "beautiful," bright clothes stood out in the UK. Wearing bright colours was not simply an aesthetic choice, "to celebrate the diversity of black beauty," writes scholar, Joy L. Bivins; "it was also utilized to express… freedom from rules that denigrated darker skin tones."
"Pink is the only true rock and roll colour," declared Paul Simonon, bass guitarist for the Clash. Popular music was a key vector of pink in fashion, with punk bands like the Sex Pistols and the Ramones highlighting the rebellious, "bad taste" aspects of the colour. Vivienne Westwood's London store, SEX, featured a huge fleshy pink sign. Ravers and cyber goths wore neon pink. The film Pretty in Pink (1986) was inspired by the song by the Psychedelic Furs.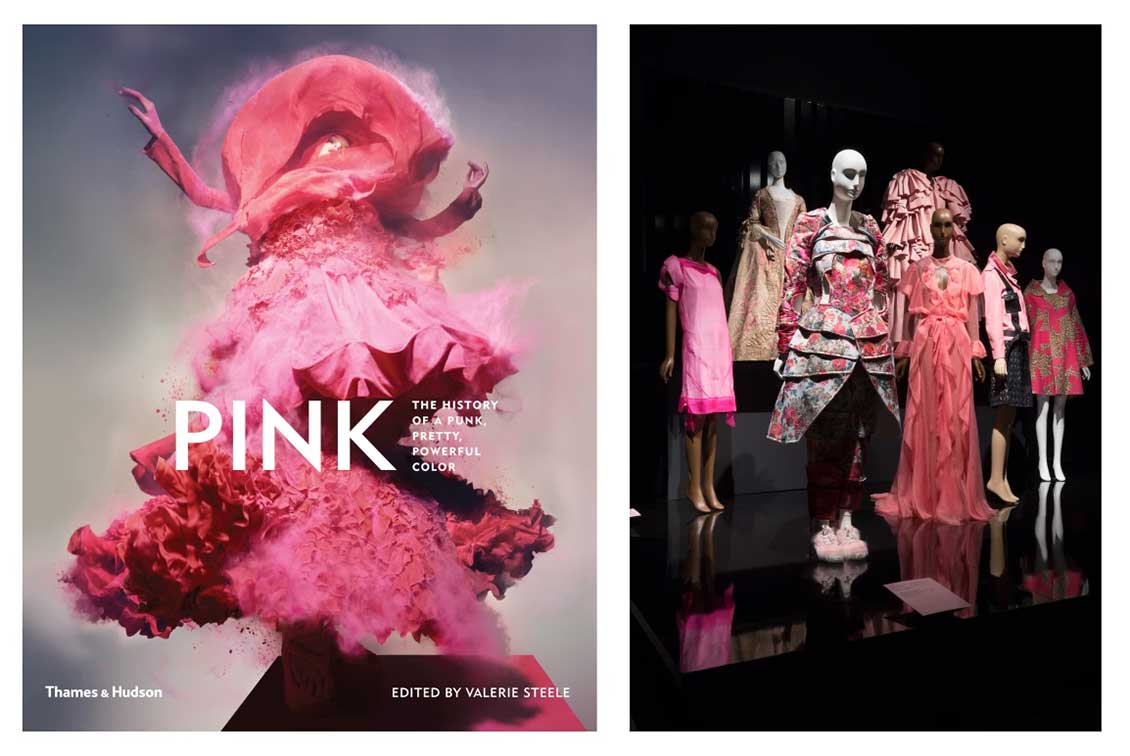 But in recent years hip hop has had the greatest influence on pink in popular culture. In addition to the female rappers, such as Lil' Kim, Rihanna, and Nicki Minaj, there are a host of male rappers who wear pink, beginning with Big Boi who wore pink to the 2001 MTV Video Music Awards. Kanye West adopted neo-preppy pink polos, while Pharrell wore the Japanese brand A Bathing Ape, which popularized pink camouflage for men.
Pink only became fashionable in Europe in the 18th century, but it was already fashionable in Japan a thousand years before that. The contemporary Japanese obsession with pink goes back at least as far as the 8th-century Heian court, when both men and women juxtaposed a constantly changing range of colours, including a variety of pinks. The fictional Prince Genji, for example, wore a robe of cherry-blossom pink. Fashionable young men in Japan have also adopted pink, encouraged by the example of Japanese boy bands, whose members frequently wear pink onstage. Pink is also visible in Japanese high-fashion menswear, by brands such as Sacai.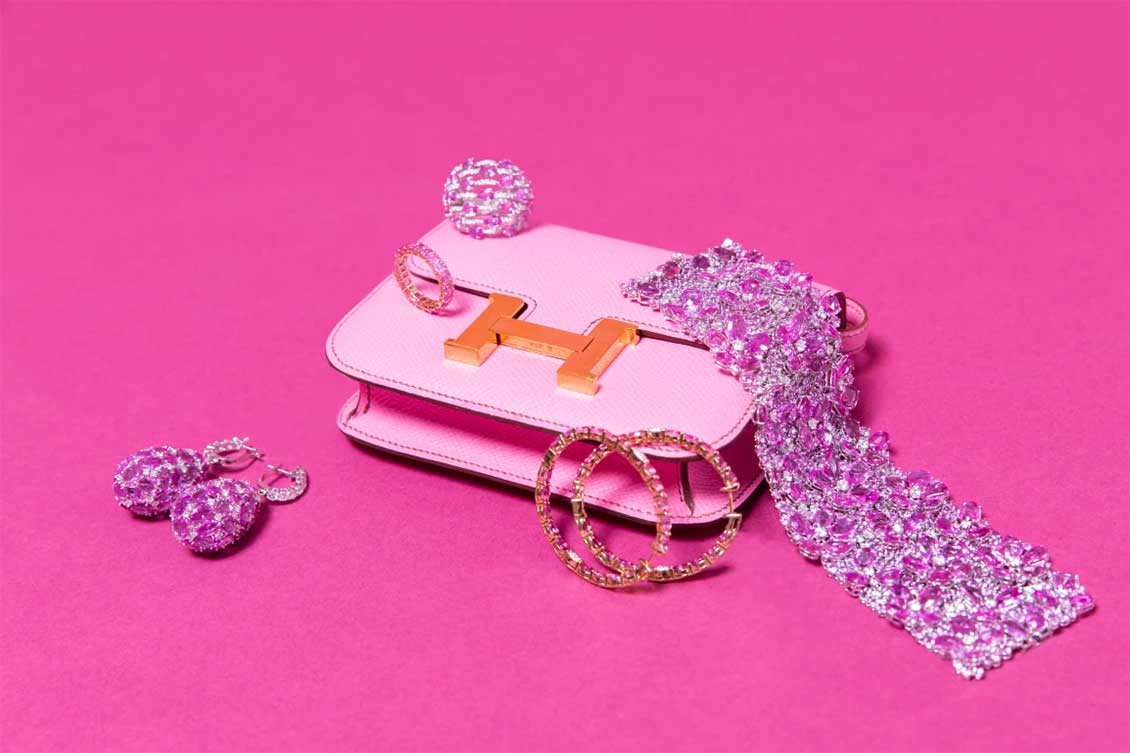 The cute/girlish connotations of pink were only introduced into Japan in the later 20th century, as part of the global pinkification of girls' culture, which began in the United States. Young Japanese women adopted this girlish pink enthusiastically, causing semiotic confusion. Was the so-called Lolita subculture childish or erotic? For many young Japanese women, pink seems to be a rebellious colour, albeit a kind of delicate, feminine rebellion.
Avant-garde Japanese fashion designers, especially Rei Kawakubo of Comme des Garçons, have long used pink subversively to question received ideas about femininity. In one collection, for example, Kawakubo juxtaposed black and pink, bikers and ballerinas, while in another, she envisioned an eighteenth-century punk subculture of powerful women in pink.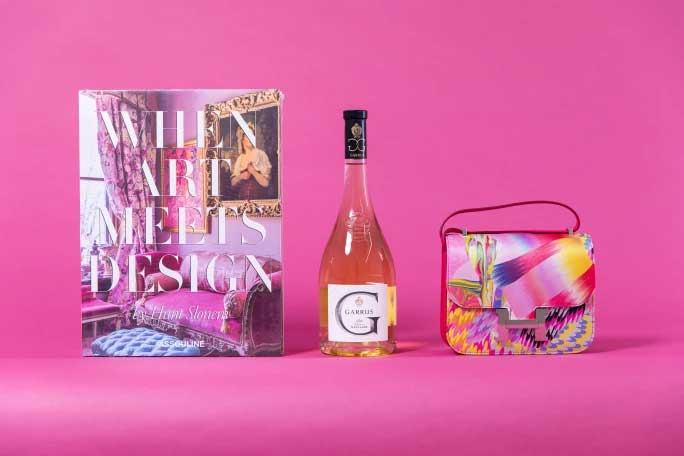 The pink 'pussy hats' worn at a protest the day after Trump's inauguration in 2017 are one of the most conspicuous examples of the politics of pink – and one which indicates how controversial the colour is. "Please, sisters, back away from the pink," urged journalist Petula Dvorak of The Washington Post. The issues facing women were "serious" – and "cute" pink hats only risked trivializing them. But the protesters argued that they were reclaiming pink from its anti-female history, just as gay men had reclaimed the pink triangle from its homophobic past in Nazi Germany.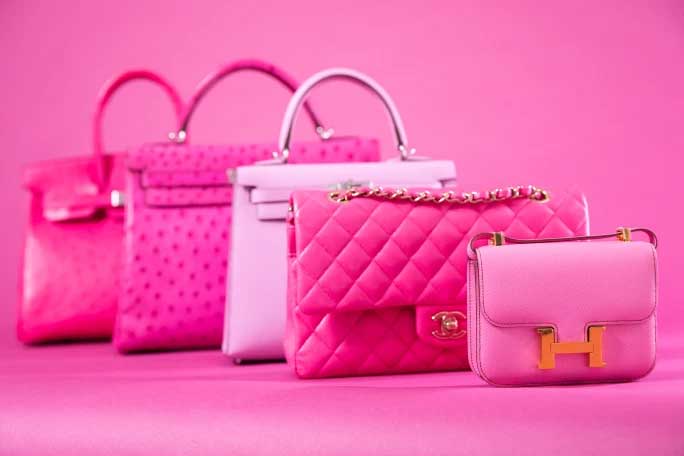 The stereotype of pink-for-girls and blue-for-boys originated in France in the 19th century, and was popularized as a merchandizing tool in the United States. The colour binary was essentially arbitrary and was disputed for decades, with many people arguing that "pink, being a more decided and stronger colour, is more suitable for boys, while blue, which is more delicate and dainty, is prettier for the girl."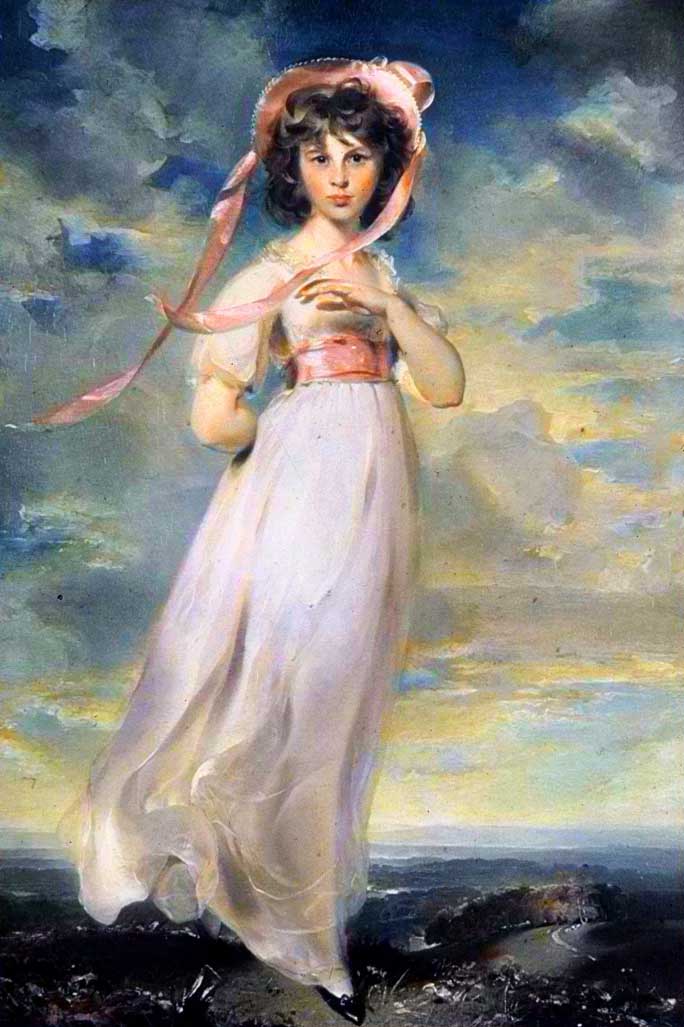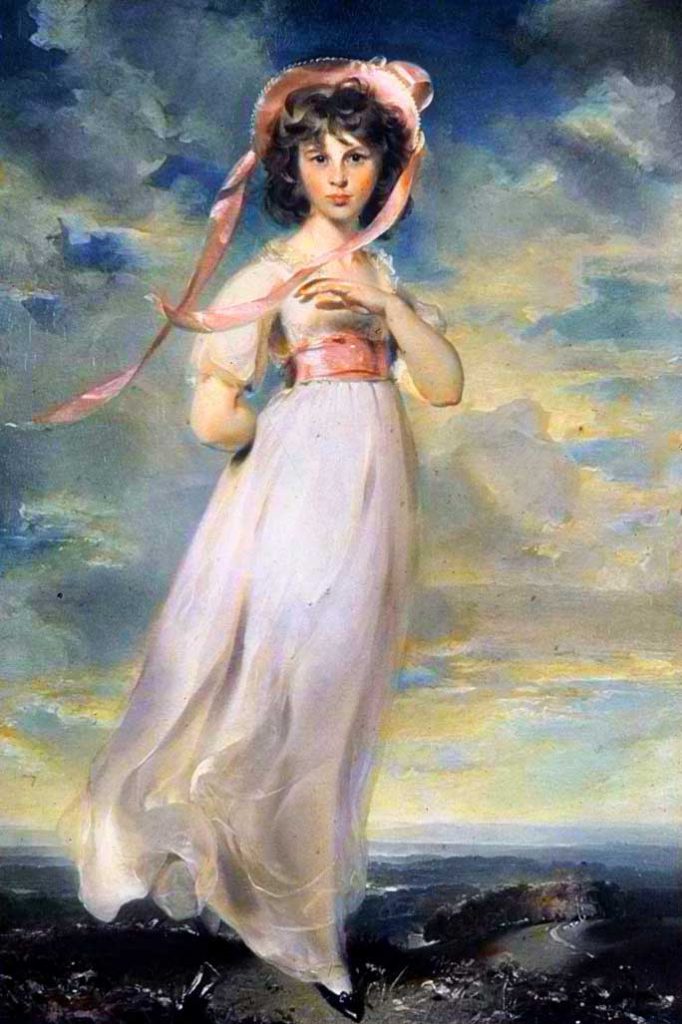 When the American millionaire Henry Huntington acquired paintings of children, Thomas Gainsborough's The Blue Boy (1770) and Sir Thomas Lawrence's Sarah Barrett Moulton: Pinkie (1794), the American public interpreted this as historical "evidence" that pink was feminine. In fact, 18th-century portraits and extant clothing prove that men and women, boys and girls, wore both pink and blue clothes. If Huntington had purchased Gainsborough's The Pink Boy (1782), the colour symbolism of pink might have turned out differently.
Today blue is only coded as masculine in early childhood, but pink became the colour of sexual difference. Every stereotype of otherness – childish cuteness, sexualization, exoticization, became associated with the colour pink. The pinkification of girl culture that began in the United States in the 1950s was part of a wider effort to restrict people to traditional roles.
In the 2001 film Legally Blonde, these anti-female stereotypes are subverted: the character Elle (French for "She") wears bright pink clothes – implying that she couldn't possibly be a serious candidate for Harvard Law School – and yet she proves that she is.
Pink is always fooling people that way. It even happens with wine. "The Garrus rosé is a testament to why you can't judge a book by its cover," says Vanessa Conlin, Sotheby's global head of wine retail. "It's delicate pink in colour, but on the palate this is a serious wine, with concentrated peach, dried apricot, tangerine, and marzipan. Outrageously gastronomic, it can be paired with summer vegetables, grilled seafood, or caviar." Pink is both lowbrow and highbrow, frilly and punk. And year after year, it continues to punctuate history and culture.
POSTED WITH PERMISSION. COPYRIGHT SOTHEBY'S. Click to read original article.